.
For the best in the spanking of Girls-Spanked-Bottoms, please go to Spanked Coeds by clicking on the bar below:

I previously published posts on another blog site during 2009 to 2011.  I published 33 posts in that blog.  You can see those posts at:

NOTICE:  Any comments concerning posts in that blog must be made in this current blog, as the older one is no longer reviewed and is inaccessible for updates.

Recently, many viewers have found my exceptional videos on Spanking Library.  For immediate download, go to Spanking Library to find some of my excellent spanking videos.

.
This report is from a German girl who came to the U.S. for school but needed a family to stay with both for some financial help in having a place to live and food to eat, as well as the spanking-discipline and punishment that she had been used to at her home in Germany.  Her dad routinely spanked her for disobedience, misbehaving, or failure to do well in school, and she knew that in order to do well in school, she would need the same kind of supervision and control. 
As such, this report covers several of our categories:  "Do 18+-year-old girls Get Spanked-at-Home?", "Domestic Obedience", and "Structure & Discipline Program for Girls". 
As a 20-year-old girl, Nadja certainly falls under the category of girls who are 18+ still being spanked-at-home.  She was spanked-at-home in Germany, and her U.S. family functions much as did her dad in Germany in that the dad, or HOH, or, as she called him, her Master, provided the spankings she needed to succeed.  And, as her "Domestic Obedience" was also obtained, her discipline falls under that category.  And then, as her U.S. family controlled her with a very strict "Structure & Discipline Program" she also falls under that category. 
Also included are 2 movies that you will enjoy that depict the sexual use of Nadja that was part of her services provided the family that cared for her. 
For easier reading of the photo-stories, click on the photo to enlarge it.  Also, instead of just clicking the "+" to enlarge the photo, which makes it very large, hold down the "Control" key and enlarge it incrementally with the roller on your mouse. 
.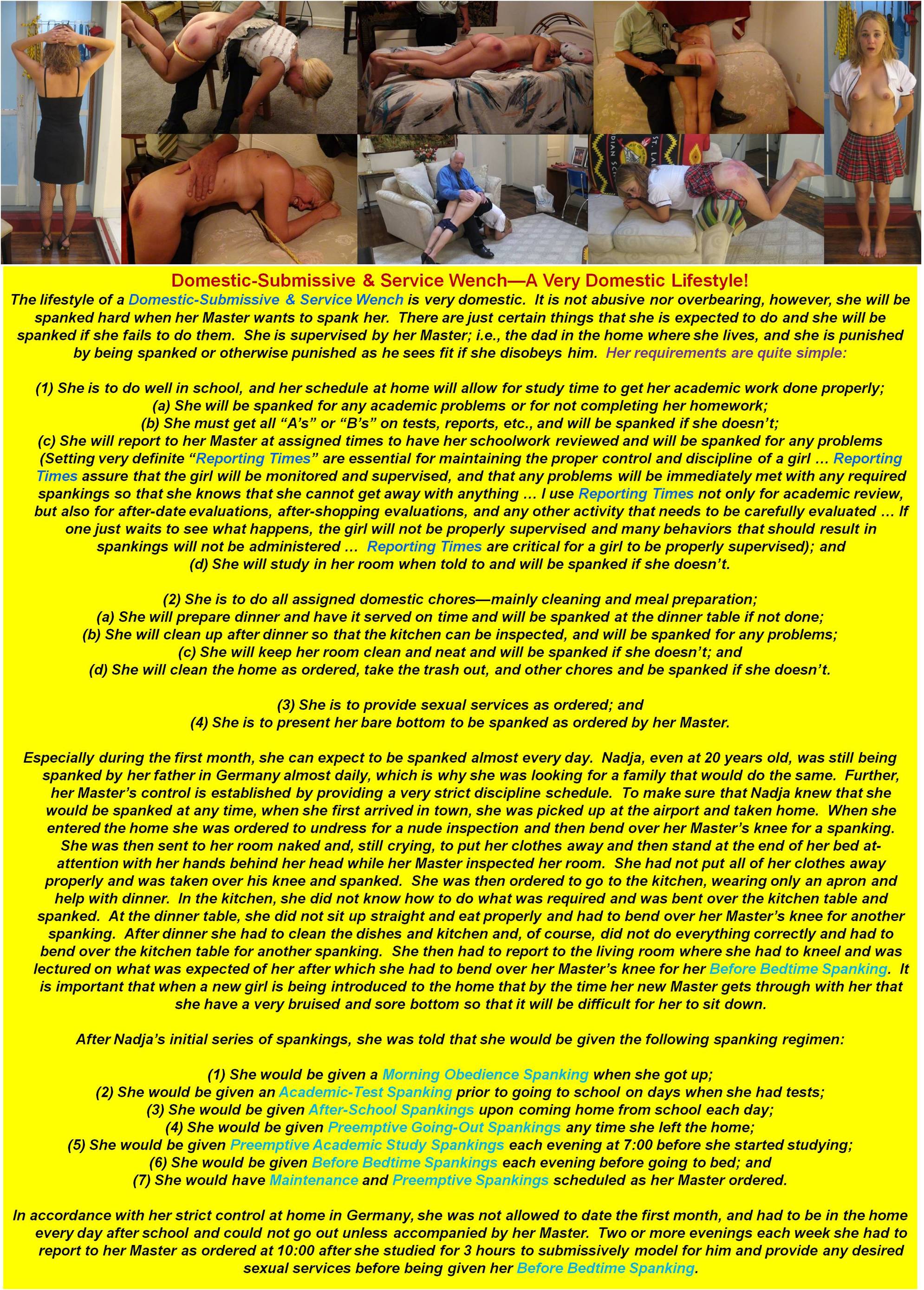 Click on the following title frame to see movie. 








.
Click on the following title frame to see the movie. 

To see more of Zara being spanked and punished, please go to Spanked Coeds and search for "Zara".