OK!  Now we have a decent post!!!  🙂  
This is the second post about a very lovely girl from India, Ishita!  She has been so considerate and kind in providing me with the details about her spankings and punishments, and how important they have been in helping her to become the fine, young lady that she is.  As she says:  "I felt I needed a very strict master for my supervision."  I have heard from many girls recently who have recognized that they need the supervision, control and spankings of a Master so that they can actually achieve the goals that they want.  We will consider some of these girls in this post. 
For the best in the spanking of Girls-Spanked-Bottoms, please go to Spanked Coeds by clicking on the bar below:


I previously published posts on another blog site during 2009 to 2011.  I published 33 posts in that blog.  You can see those posts at:

NOTICE:  Due to the amount of spam being received, no comments will be accepted.


Here is the lovely Ishita.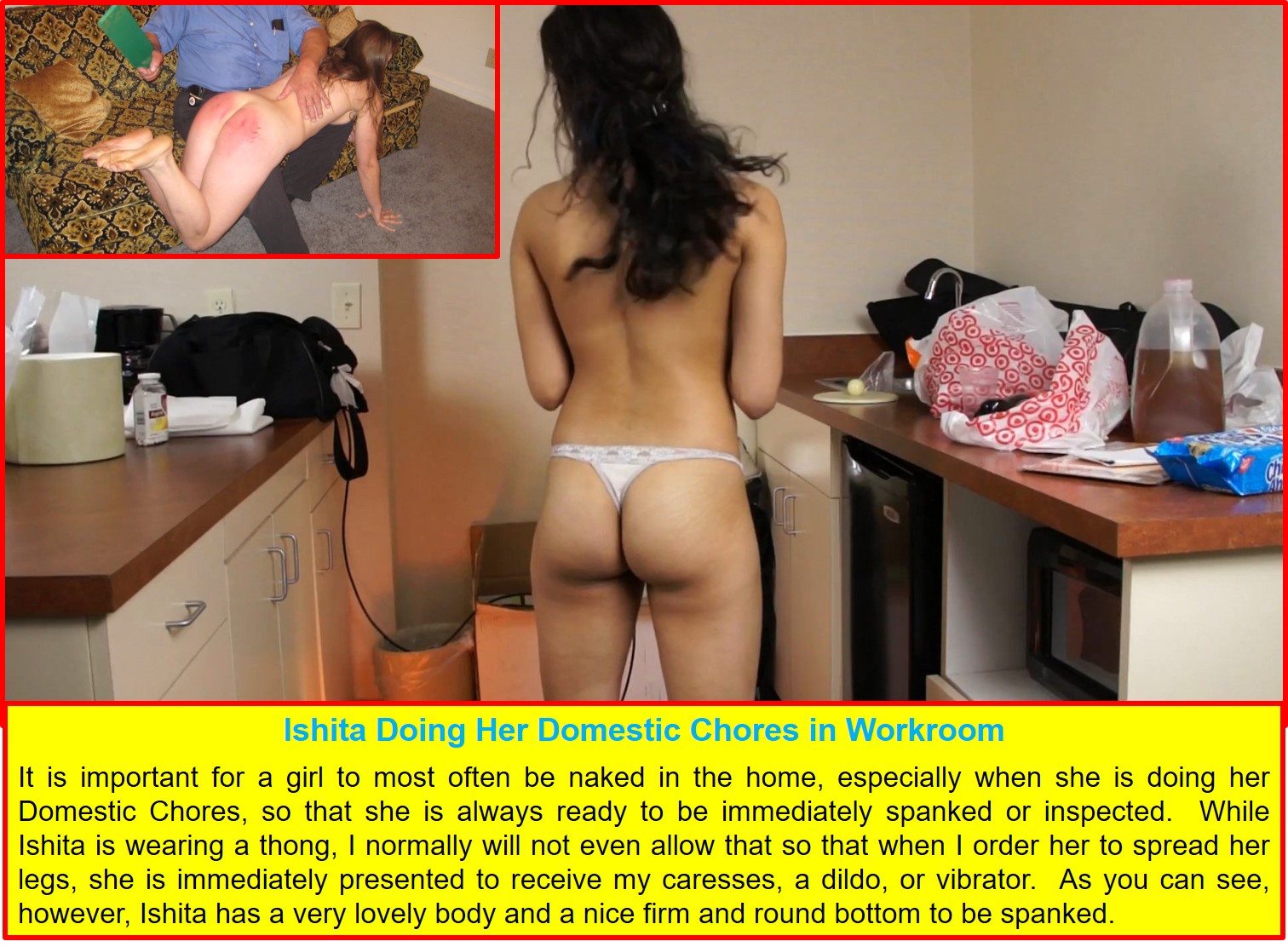 As noted in the photo-story at the top of this post, long spankings, prolonged and sustained spankings, are administered so that the girl knows that she has been spanked, and will think more before misbehaving again every time she sits down with a very sore bottom.  One girl wrote and asked to be spanked hard because:
If I am spanked hard so that every time I sit down my bottom hurts, then I will think twice before I do something.  If I think that I will be spanked for doing something, then I will stop and consider whether or not what I am thinking about doing is worth getting spanked.  For example, if I want to have sex with a boy, but know that I will be spanked really hard when I get home because I did, then I will have to decide if I really want the boy bad enough to have the sex and then get spanked.  Or, if I want to masturbate and don't want to take the time to ask permission to do so, whether or not my passion is worth not asking you for permission, and get spanked if I don't ask.  And, I know that if you do give me permission to masturbate, that I will have to do it in front of you.  If I want to do it in private, I know that I will be spanked.  Or, if I want to buy new clothes without asking you and will get spanked when I get home, then I will think first whether my getting spanked is worth buying the clothes.  Spanking my bare bottom hard enough so that it hurts when I sit down is very effective in helping me to behave properly and be obedient.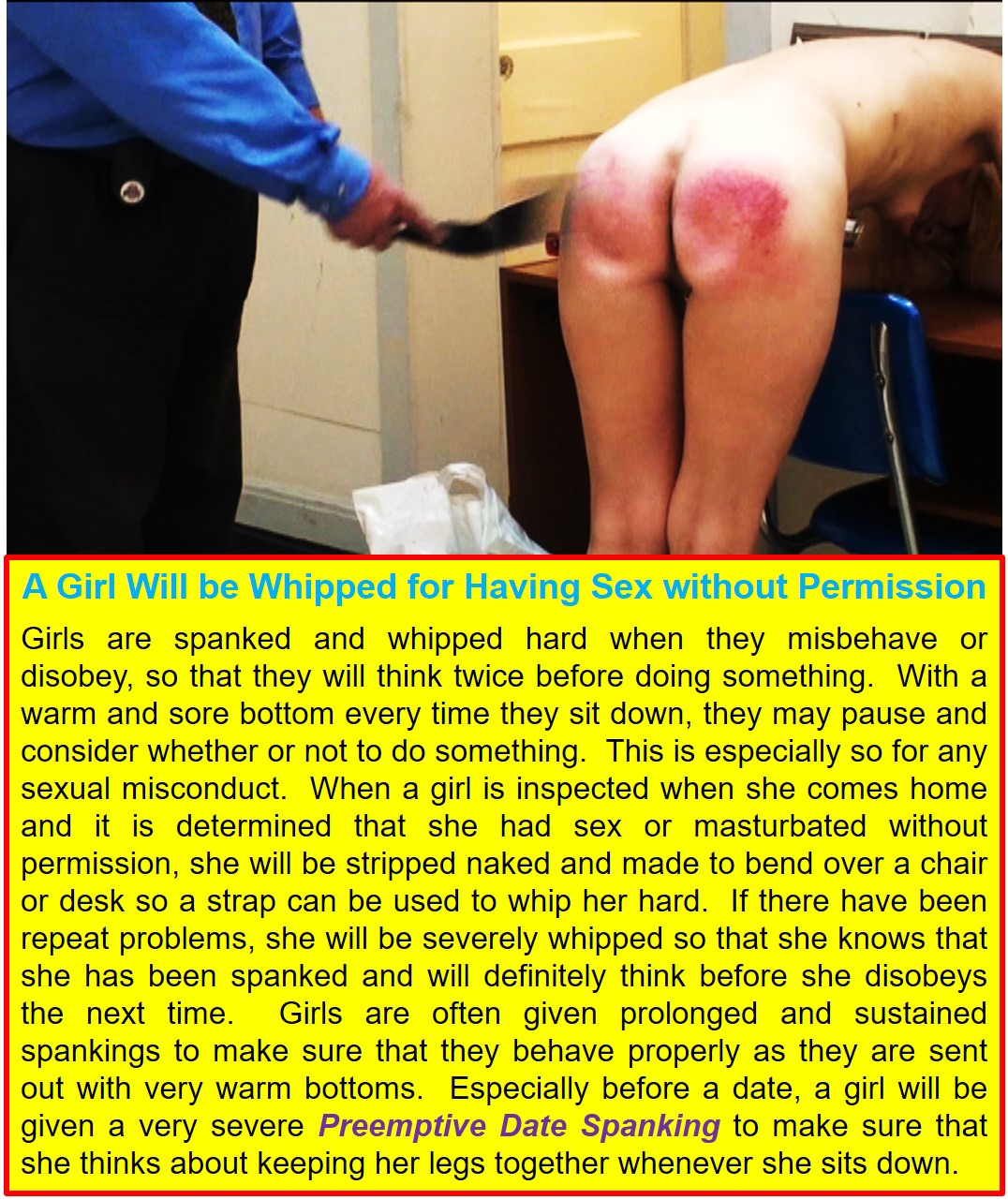 Here we continue with Ishita's emails:
Hi Sir,
Thanks for your mail. I've always loved reading your blogs sir.
The caste system in India, you mentioned, doesn't exist in cities anymore but can still be found, to an extent, in villages and remote areas. The government has taken a lot of steps in creating the necessary awareness but it will need a lot more to take that to the less developed areas.  In our country, sir, superstition in people leads to such imbalanced caste systems and will need more time before it is eliminated. 
 Spanking is not legal in our country sir, even mutually agreed spanking or making real punishment videos is not legal.  So, it's really very difficult finding strict disciplinarians like you in our country sir.
And even if there are some people, they need to maintain complete privacy and secrecy and keep everything away from the society. 
 I feel sir, that discipline and punishment is not needed that much before 18 but needs to be enforced more after teenage, maybe between 18 years and 30 years of age when outside distractions are more prevalent and also for study or work discipline is very critical for career options. What do you feel, sir?
NOTE:  Of course, as seen from many posts in this Blog, girls have recognized the need to be supervised, controlled and spanked not only for domestic and academic purposes, but also to help a girl improve her ability to succeed professionally.  Many years ago I had a girl come to me and ask to be supervised and controlled so that she could learn to behave properly so she could get promoted at work.  She had been counseled at work about her attitude and behavior and told that she could not be promoted until she could behave better.  Of course, they could not actually make her behave better.  She came to me and asked me to help her behave better and spank her when she didn't.  I put her in a 10-week training program where she came in for 2 to 3 hours a day during which time I supervised and controlled everything she did and frequently spanked her during the sessions.  At the end of her 10-week training program … she got her promotion at work.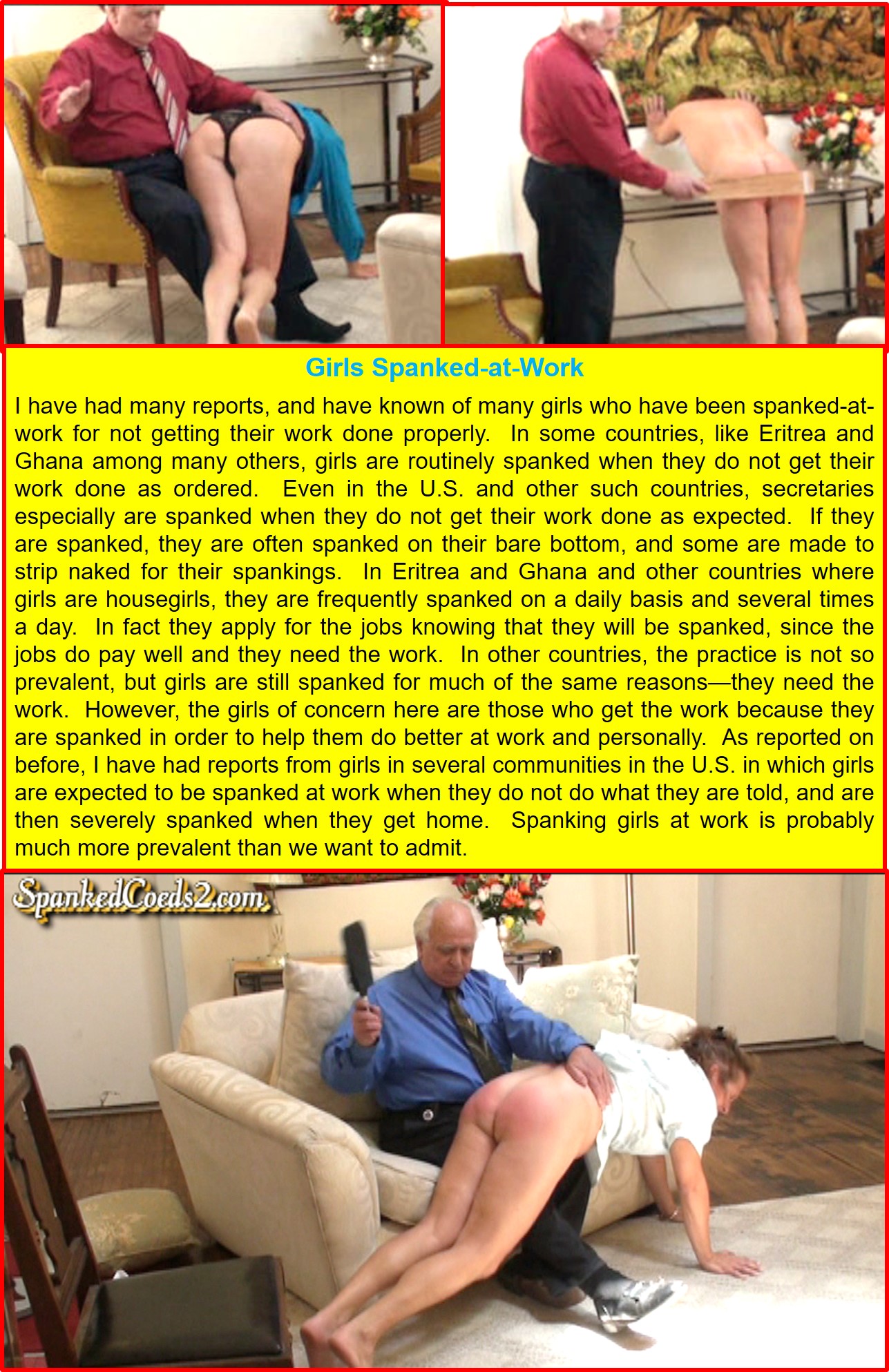 As seen in the following two films, girls learn to behave better and be more responsible after some firm spanking sessions.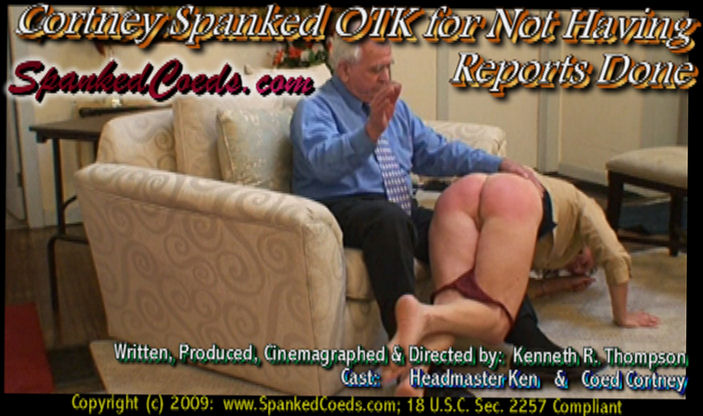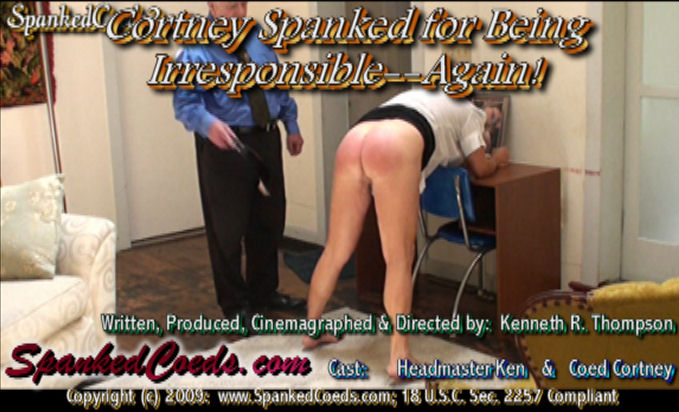 Ishita continues: 
I felt I needed a very strict master for supervision, especially after my 2nd year in grads sir when I couldn't qualify and had to repeat the year. I got very lucky to get him as my master and I also need to improve my domestic work skills since I've been very lazy and unpunctual during my stay with my parents sir.
But not every girl here can manage to get a master even if she wants or needs sir.
 Regarding me, Sir has started my study supervision 6 months back sir, he's said he's soon going to start working on my domestic work skills.
 Thanks, Ishita
This is an area where many girls contact me to help them do better domestically, whether it is with getting their domestic chores done properly or providing the sexual services expected of a girl in the home.  Housegirls, in particular, are spanked very harshly so they learn to behave properly and be obedient.  To see a film of the proper spanking of a housegirl, please click on the following photo: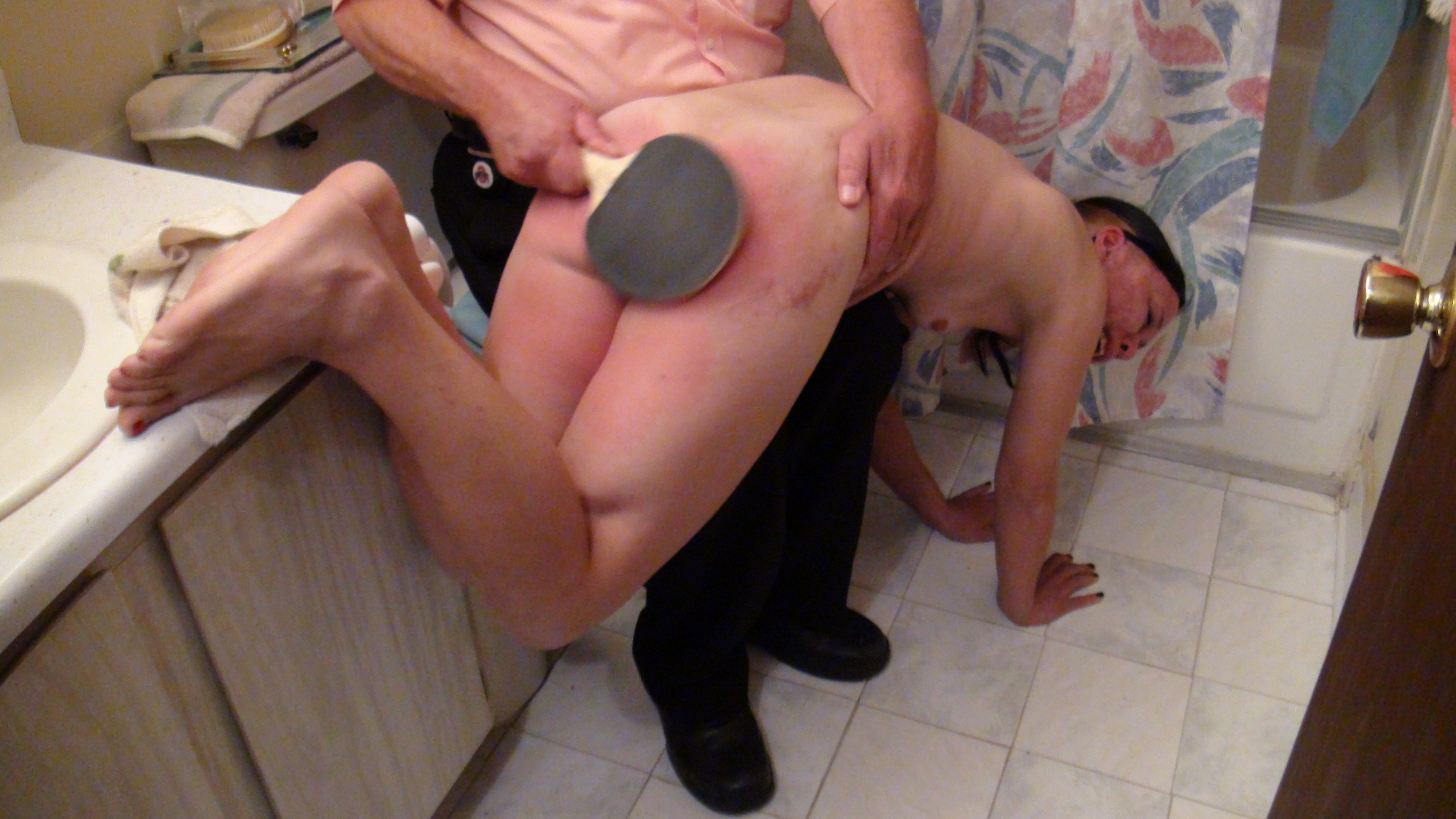 Girls who have contacted me have requested to be spanked quite severely.  Several girls have asked to be treated as a slavegirl so that they can be severely punished so that they learn to be the submissive girl they should and want to be.  Ishita lives in a loving household where she is well taken care of, even as a slavegirl.  However, many girls write to me who want to be severely punished, and sexually used and abused.  One very lovely Serbian girl, Elena, from Michigan lives in a Serbian community where girls are frequently harshly spanked and sexually enjoyed.  As reported previously, one Serbian girl lived in a community where she had to stand naked with her hands clasped behind her head as a bathbrush was used on her with 25 strokes very hard to each cheek before sending her screaming and crying to the Punishment Room where she was going to be severely and harshly spanked and punished.  The lovely girl Elena wrote the following: 
I know that you love me.  Although I know you punish in a very safe manner and no permanent damage is caused, I will still give my full consent to even cause injuries if punishment requires so as I described above. 
I don't mind whether you call me domestic submissive or slavegirl, I am your property to do with what you want.  So, I guess that I am a slavegirl.  My only concern is to give you a total power exchange with my extreme submission.  I want you to control my every act and dominate me to an extent where I need to ask permission from you for even my basic activities, and you are to punish me harshly for even minute infractions of any rule or order you give me.  I must ask permission to go to the bathroom, to take a bath, to go to bed, to get up, and anything else I do all day long.  And when you order me to take a bath, I must obey.  When you order me to shut up and keep my mouth closed, I must obey.  When you order me to present my body to you in a certain way, I must obey.  When you order me to present my bottom for you to spank, I must obey.  When you order me to hold my head up so you can repeatedly slap my face, I must obey.  When you order me to kneel and suck you, I must obey.  When I do not obey you, I want you to just beat the crap out of me, spanking me severely and harshly, spanking me brutally.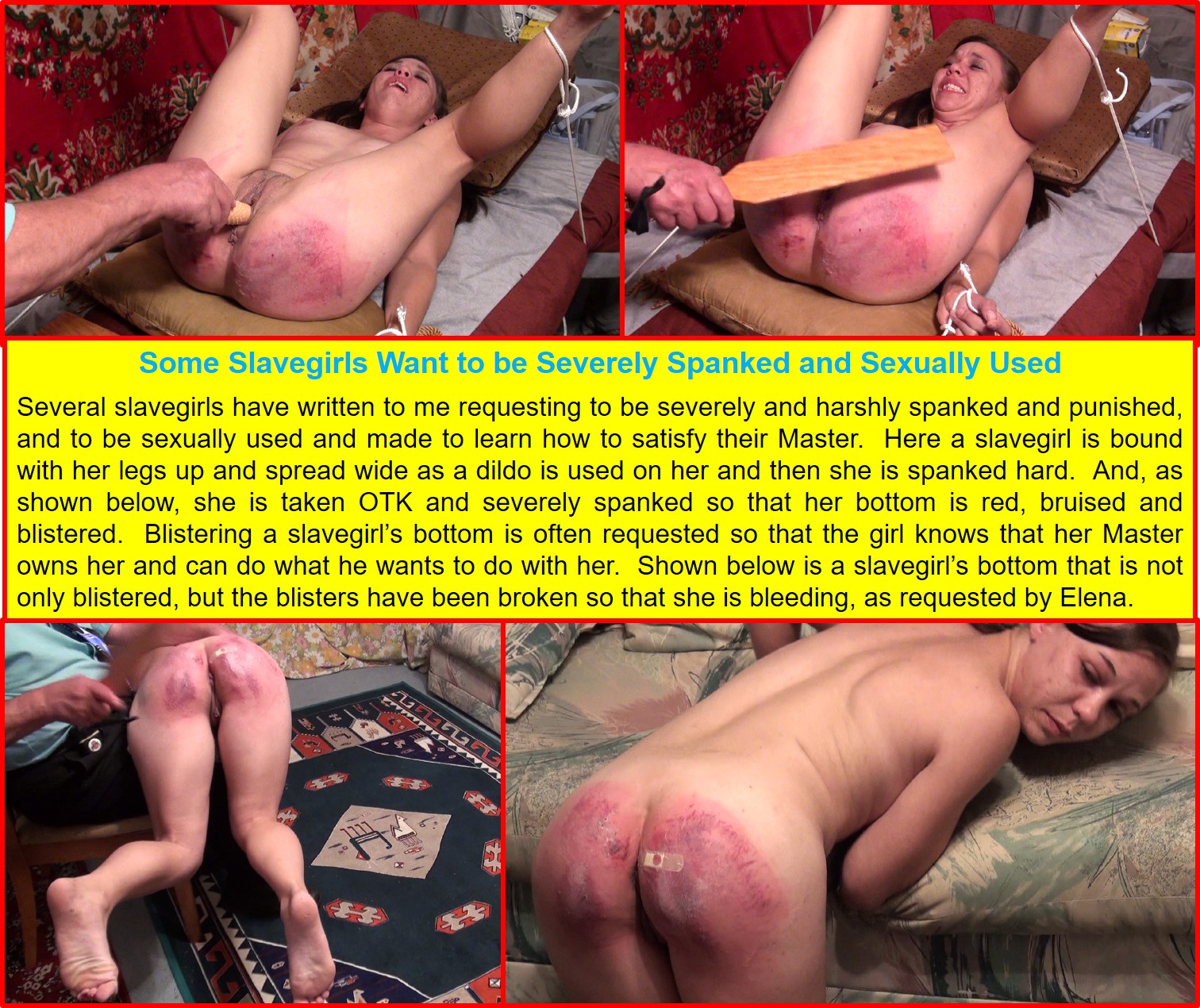 I know I will resist a lot when I am being spanked and punished, and after a few minutes I will tell you to stop and will try my level best to stop the spanking immediately due to the extreme pain which that spanking will cause me. But I suggest that I be made to sign all waivers beforehand that state that I have no say in my punishment and no matter how much I plead, I won't be given a chance to change the rules of the waivers and in no case am I allowed to have any safe words or rights to let go of any form of punishment you administer to me.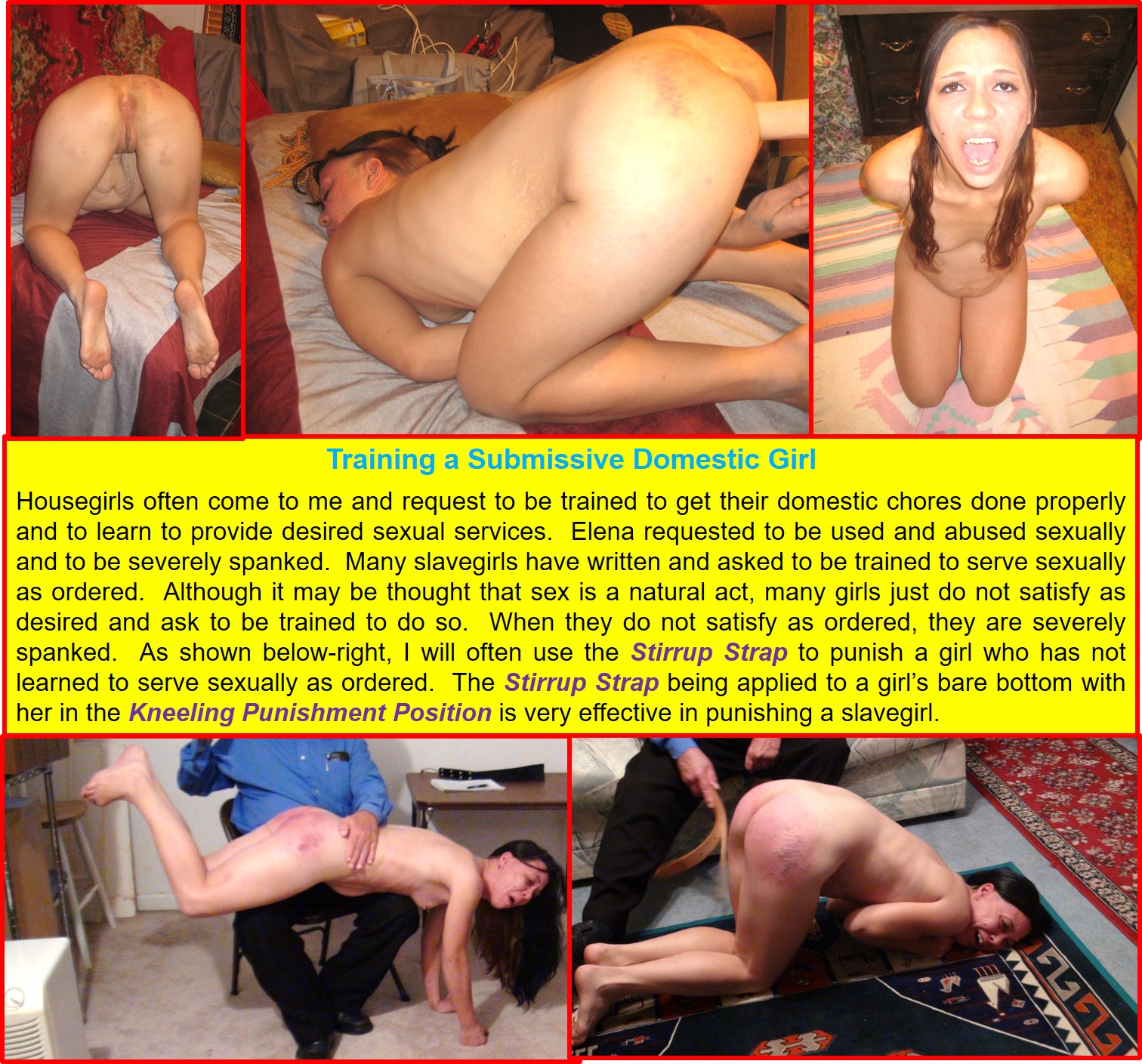 NOTE:  I do not use safe words, since such are used when there is a possibility of injury.  Spanking a girl will not cause injury, and anyway, Elena has said that even if she is injured, that is alright.  Regardless, safe words are not used, and if a girl thinks she needs one, she can go somewhere else where someone may have a tendency to injure a girl.  I do not injure girls.
You will spank me brutally and will cause a lot of bruises and I may even bleed profusely, but you will continue to hit me for as long as you desire and no amount of pleading or crying will stop you and there are absolutely no safe words that I can use to stop the spanking and extreme pain.  I may be asking for a lot from you but I do hope that you understand my requests.  You may also tie me up and gag me if that is what you want to facilitate my spanking.  I will also suggest that you take away all my clothes and belongings when I enter your home so that in no way can I get away from my punishment.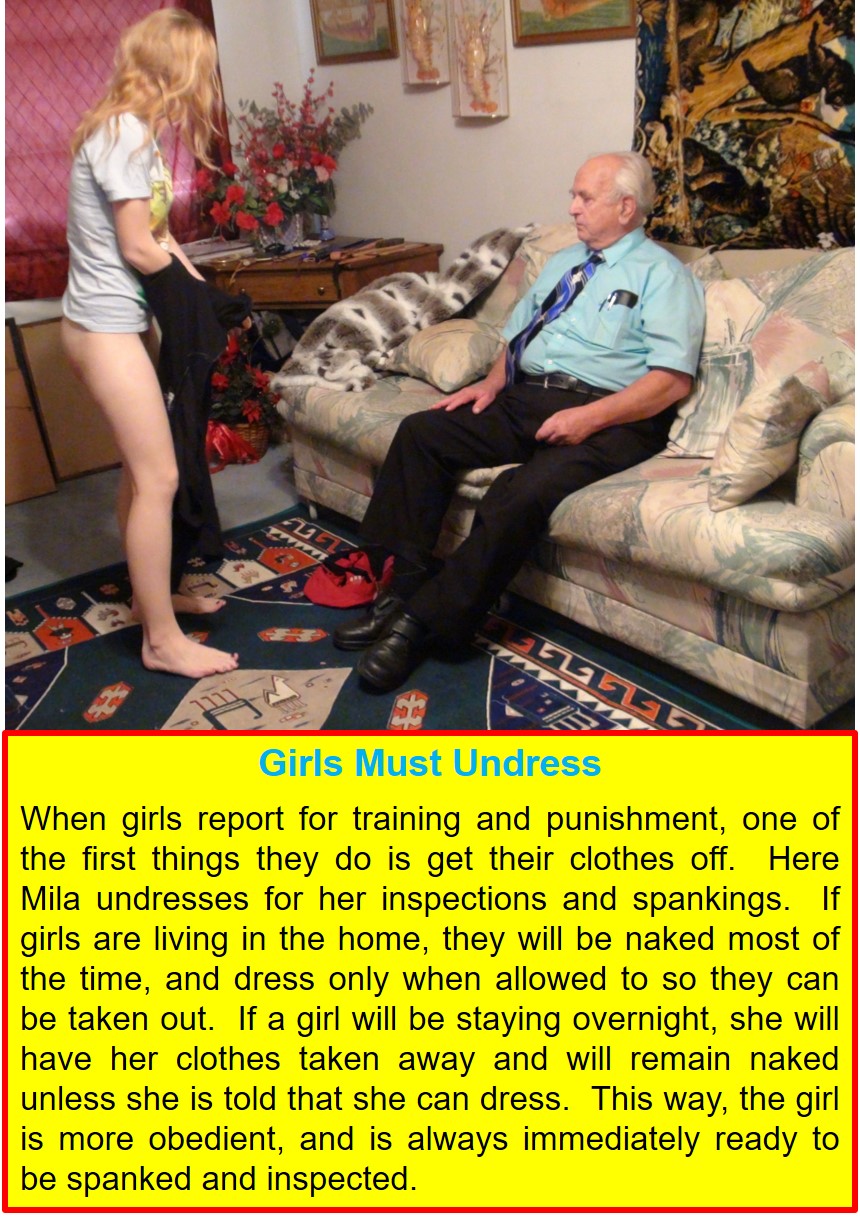 NOTE:  Actually, taking a girl's clothes away when she enters for training is not unusual.  Most slavegirls who write request the same thing, since they know that they must be controlled completely, and the only way to do that is if their clothes are taken away.  Penne is another slavegirl who wrote to me and had a better idea—she would walk to my door naked, leaving her clothes in her car.  Among other things, she wrote:  
I accept being stripped naked when I arrive.  I will let you take my clothes away and put them where I cannot have them and I will be naked and remain naked all day and in front of whoever you decide me to be naked in front of.  How embarrassing would it be to be punished in front of people as they watched?  I want that.  I do not want you to stop when you are spanking me.  I do not want to just leave.  I do not want that option!  So, you must take my clothes away and lock them up where I cannot get to them. 
I choose to have my clothes taken away from me the moment I arrive.  I understand that I will be undressed by you or anyone of your choosing or be required to strip in front of whoever you choose.  I understand that I will be naked and stay naked for the entire day in front of whoever you put me in front of.  I will do chores nude.  I will bathe and will use the restroom with permission only as you watch.  I am extremely afraid that I will not be able to keep my bare bottom in place over your knee as you spank me.  Being bound is going to be best for me.  I assume I would lay nude on my back on a bed, have my hands cuffed to the headboard and then have my legs raised over my head so my ankles are cuffed to the headboard as well.  I understand that this will lift my bottom up into the air so you can easily spank it with a strap or paddle.  This will be a very humiliating, embarrassing, and painful position, but might be necessary for me to stay in place.  And it will be enjoyable for anyone else who is there watching me get spanked.  I will then present my nude body for a complete inspection.  I understand that while I am tied with my bottom open and exposed that you will masturbate me, that you will give me a vaginal inspection, and that you will climax me.  
Also, I want you to invite friends over, especially men, and you will order me to kneel and suck them, and if I do not please them, you are to beat me severely and then made to kneel and suck again.  I want you to train me to satisfy men as I should and be spanked hard when I don't. 
My friend has now recommended that we leave all our clothes in the car when we come, and both of us walk up to your door and ring the doorbell fully nude!!!  When you open the door there will be two completely nude girls standing there, with me wearing handcuffs behind my back and her delivering me to you for discipline and punishment.  Both of us will be nude the entire time we are in your home.  I like this much better and look forward to being delivered to you naked for you to spank and enjoy.  
I have had many other similar requests. 

NOTICE:  Of course, contact me FIRST to make sure that i even want you to continue with any application.  DO NOT send any money until I tell you to proceed … of course, unless you just want to make a contribution … which would be greatly appreciated!  🙂  
If you want to apply for Slavegirl Training to be spanked, punished, used and abused, please contact me at:  Headmaster@SpankedCoeds.com.  To be considered for such training, there is a $500.00 non-refundable application fee.  Go to my promo site, www.SpankedCoeds2.com, and scroll down to the "CONTRIBUTION!" box and click on "Donate".  Send the appropriate amount of money.  Then we will discuss your expected training and the various Consent Agreements will be prepared for you to sign that will include the Training Fee, which is normally $1,200.00/weekend, starting Friday evening at 7:00 and continuing through Sunday evening at 5:00.  Then you will pay for the first weekend of training as above.  Then an appropriate time for you to report for your training will be established.  No prolonged discussion will be tolerated concerning your training.  A few email exchanges will be allowed, up to about 10, and then you will proceed or quit.  You are a "slavegirl", so you will essentially just show up on time and submit to whatever is done with you.  If you are not EARLY for your assigned training, you will not be trained—or you will be made to submit to a severe spanking.  There is no sex in the training, although I will use dildos and vibrators on you. 
Elena continues: 
And all this is no fantasy.  As we discussed earlier, from my very first session you will give me a prolonged, sustained, proprietary and submission beating—not just a spanking, but a beating.  And, I emphasize again that it is to be a beating!  I should be given a pussy scrubbing, flogging, dildo punishment, and repeated vibrator use to climax from the very first session.  
NOTE:  Elena is correct in that much of a girl's punishment is by spanking.  But, a pussy-scrubbing, flogging, dildo punishment, and other such sexual punishments are often more effective, even if I do end with an OTK spanking.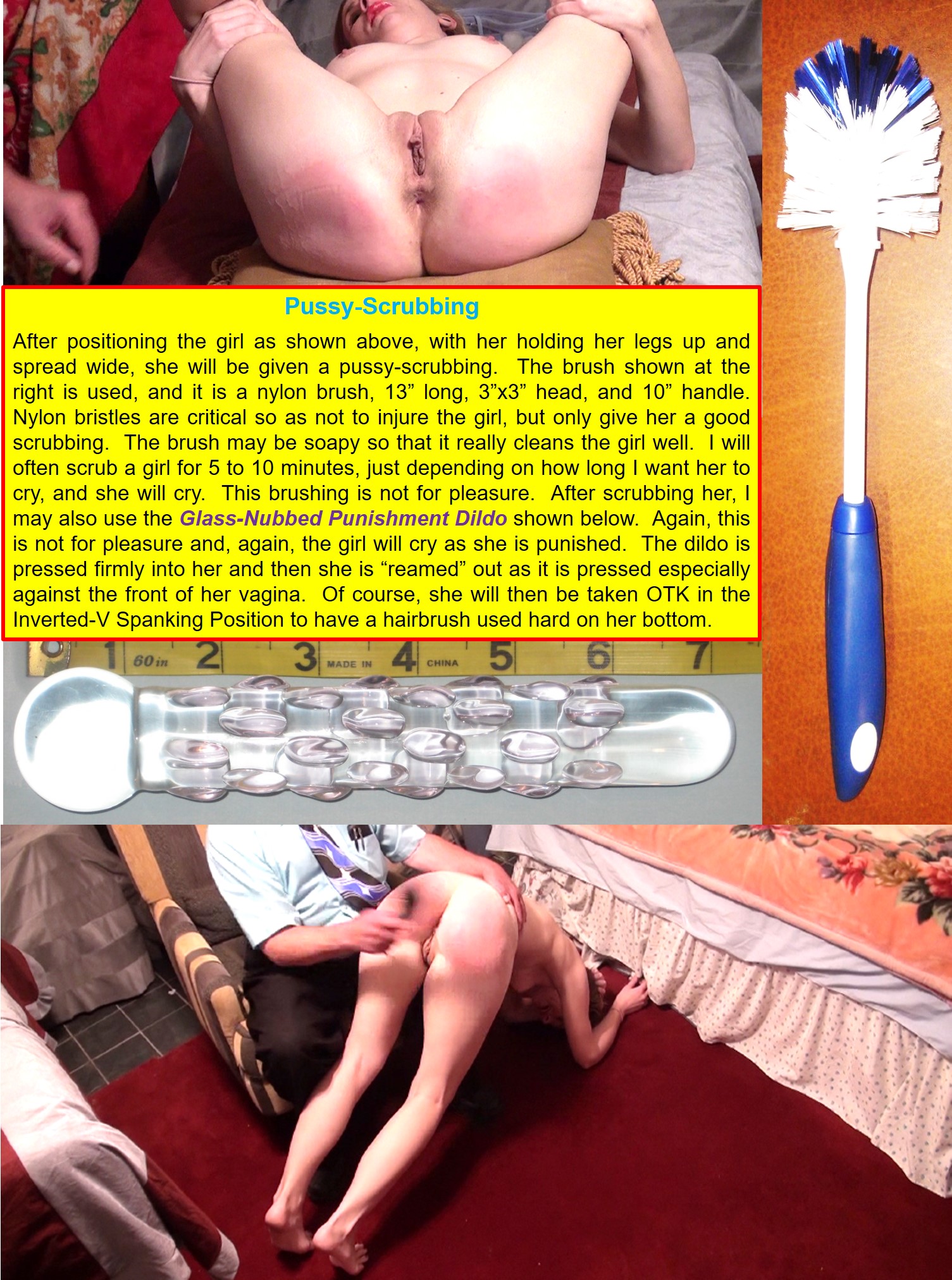 One more thing which concerns me is that I did not find enough scope of sexual punishments and sexual use of girls in your videos or blog.  I know you massage, probe, use dildos and vibrators but I guess sexual use is one of the most important aspects of domestic lifestyle.  I expect to be used sexually daily and I would love if more things are added for my sexual punishment and your sexual use so that you also enjoy using me sexually.  I would appreciate it if more new things in sexual punishments and sexual use are added.  Although I can only suggest, all my punishments are totally up to you.  I also suggest that I be made to sign many waivers so that there is no escape for me.  I also think that you should treat me as your true slavegirl and make me submit to a daily thrashing of 1 hour with your Master's Correction Blistering Punishment Hairbrush.  I know that hairbrush is very severe and hard and I will cry beyond convulsively but I guess that is what a true slavegirl deserves, and I know that I deserve it whether I am a slavegirl or not.  I deserve to be severely beaten.  Even you will love training me to such an extent. 
I will also like to know about what you think about caging me for several days without food and water and hanging me upside-down, legs spread wide as you beat my entire body. 
NOTE:  Caging is one thing, but withholding food and water is something else, especially for "several days".  I wrote back and explained to her that withholding food may be alright, but not water.  After all, if she becomes too dehydrated, she will not respond properly to being spanked!  Regardless, water must always be provided several times a day, whether she is caged or not.  Actually, I did have a large dog house that I put the girls in.  If I can find the photos I'll post them later. 
You could also use vibrators and dildos on me in that position and massage me so that you enjoy my passionate responsiveness followed by a severe whipping of my entire body.  And, of course, you can force yourself into my mouth to satisfy you.  And I also want to know about your opinion about you and Daija Ma'am teaming up on certain occasions and plan a spanking day for me where both of you take turns whipping me.  I also expect you to scold me very hard while over your knee when you will be punishing my naked body.  And one last thing, I would also want harsh punishment of my breasts and nipples. I could also find very limited information about breast and nipple punishments on your blogs except you pinching them, flogging them and nipple clamps. I suppose you could also punish them manually.  Grab hold of one my nipples, stretch it as far as it goes, and then stretch another inch and make me hold that position for 5 to 10 minutes or more as you desire as I scream in excruciating pain.  However this is only one of the suggestions. You can also devise new ways to punish my breasts. Please let me know what you think about all this.  I would like to know that apart from this, encaging and hanging and other stuff what all things you are planning for punishment of your new slavegirl. 
Master Ken, you know what I appreciate about you the most is that you are extremely humble and take efforts from your valuable time to reply to all queries of girls.  Such humbleness, generosity and kind-heartedness is rarely seen in today's selfish world.  Looking forward to acquire this humbleness from you and awaiting your reply.