For the best in the spanking of Girls-Spanked-Bottoms, please go to Spanked Coeds by clicking on the bar below:

I previously published posts on another blog site during 2009 to 2011.  I published 33 posts in that blog.  You can see those posts at:

NOTICE:  Due to the amount of spam being received, no comments will be accepted.


.
Whether controlling a girl's penchant for cheating on her boyfriend, cutting, drug use, shop lifting, being compulsively disobedient, or whatever, Whipping Therapy can help a girl to behave herself and overcome her compulsions. If a girl has a compulsive behavior, Whipping Therapy may be able to help correct her compulsive behavior. But, if used, the whipping must be severe. The difficulty with many "punishments" designed to correct behavior is that they are not serious punishments—which is why the behavior persists. A firm, but not severe spanking will not correct a girl's behavior. To be effective, a spanking or whipping must be severe so that the girl is crying convulsively and is hyper-obedient after her punishment. 
For example, as seen in the top photo-story, if a girl cheats on her boyfriend, then she must be whipped severely so that the whipping is such that it is not worth it to the girl to cheat. If she is just spanked, she'll cheat again.   But

Whipping Therapy

is for more serious compulsions than a cheating girl.  Also this is one reason why it is important that a girl be submissively-obedient.  A submissively-obedient girl is more likely to focus her attention on her boyfriend, fiancé, or husband and not cheat.   A cheating girl is one who is only focused on her own personal pleasure rather than what will make for a truly happy and productive relation.  She becomes self-destructive and harms herself and her partner.  And, to be submissively-obedient a girl will need to be routinely spanked and punished in front of anyone who is present.  As I have previously said:  "A crying girl is the sign of a well-run home" and "A well-run home is necessary for a long-term and happy relationship."  A girl who has to look forward to her next spanking and punishment will not have time to think about running around and cheating. 
I have helped several girls overcome their "cutting" compulsion by administering "

Whipping Therapy

".

Whipping Therapy

is very effective for overcoming cutting since the whipping replaces the pain of the cutting, but in addition, once the cutting stops and the whipping satisfies the compulsion, then the whipping can be controlled and gradually reduced to where the girl no longer needs the whipping; i.e., she can actually be "cured".   And, the whipping is more effective if it is given in the room where the girl frequently does the cutting; e.g., in the bathroom.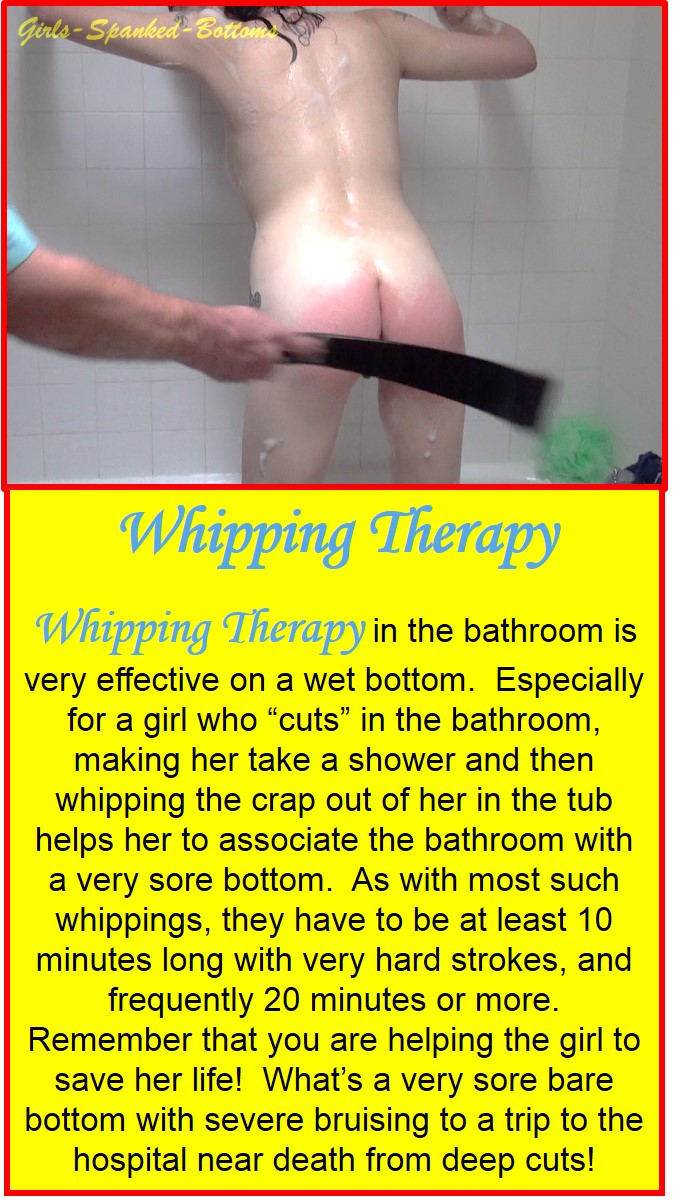 But Whipping Therapy may also be effective for controlling drug use as confirmed by the experiences of a girl who wrote to me concerning her drug use and desire to quit.   Nikkei contacted me as follows: 
hi Ken, My name is Nikkei. I have seen your videos and think they are awesome.. great job… I need that kind of discipline in my life, but can never find it… I need to be scolded like you do with the girls and then stripped naked and spanked and whipped hard—just like you do with your girls. I don't know if you would like to help me or not… but I did want to say that your videos are awesome. Please let me know if you can scold me, spank me and whip me to help me behave. Nikkei
I replied and she responded: 
Dear Master, thanks for responding, and I am sorry that I did not address you properly. Yes, if you are really going to help me, then I must know my place and you are my Master. I have to say that I thought I was weird because I am interested in such things and believing that severe whippings could help me. So I appreciate your info on folks that have been spanked and whipped before and have modified their behavior so that they are now over their compulsions. I know that you have a wealth of experience in this area and am confident that you can help me. I will arrange to get to Columbus, and I will be able to pay the consulting and training fee for a 10-week program. I have to say that you are pretty darn strict and spank very hard, but that is what I need. I have not been a good girl. I lack self-control and make really bad choices. My bad choices are related to alcohol and drug use, especially drug use. I am very bad I know, and need my bottom spanked and whipped very hard. I tend to get caught up in the moment and just let loose. I need you to help me overcome my compulsive behaviors! I will be obedient to you and do whatever you tell me to do and take whatever spankings and whippings I need. Nikkei
I replied and she responded: 
Dear Master, I am willing to take whatever whippings you think are necessary to help me move in the right direction and overcome my drug use. I'm worried that I'm going to fall into very bad habits this summer that will cause me to lose total control, which is a reasonable fear for me considering the last 2 summers. I'm willing to do whatever it takes to help me overcome my drug habit, even if it is severe, I have had a very bad week over here and am ready to change, seriously, sir, I'm ready to change.   Nikkei
With that, a very strict and severe 10-week Whipping Therapy program was initiated. The results were confirmed by her follow-up message shown after the following photo-stories.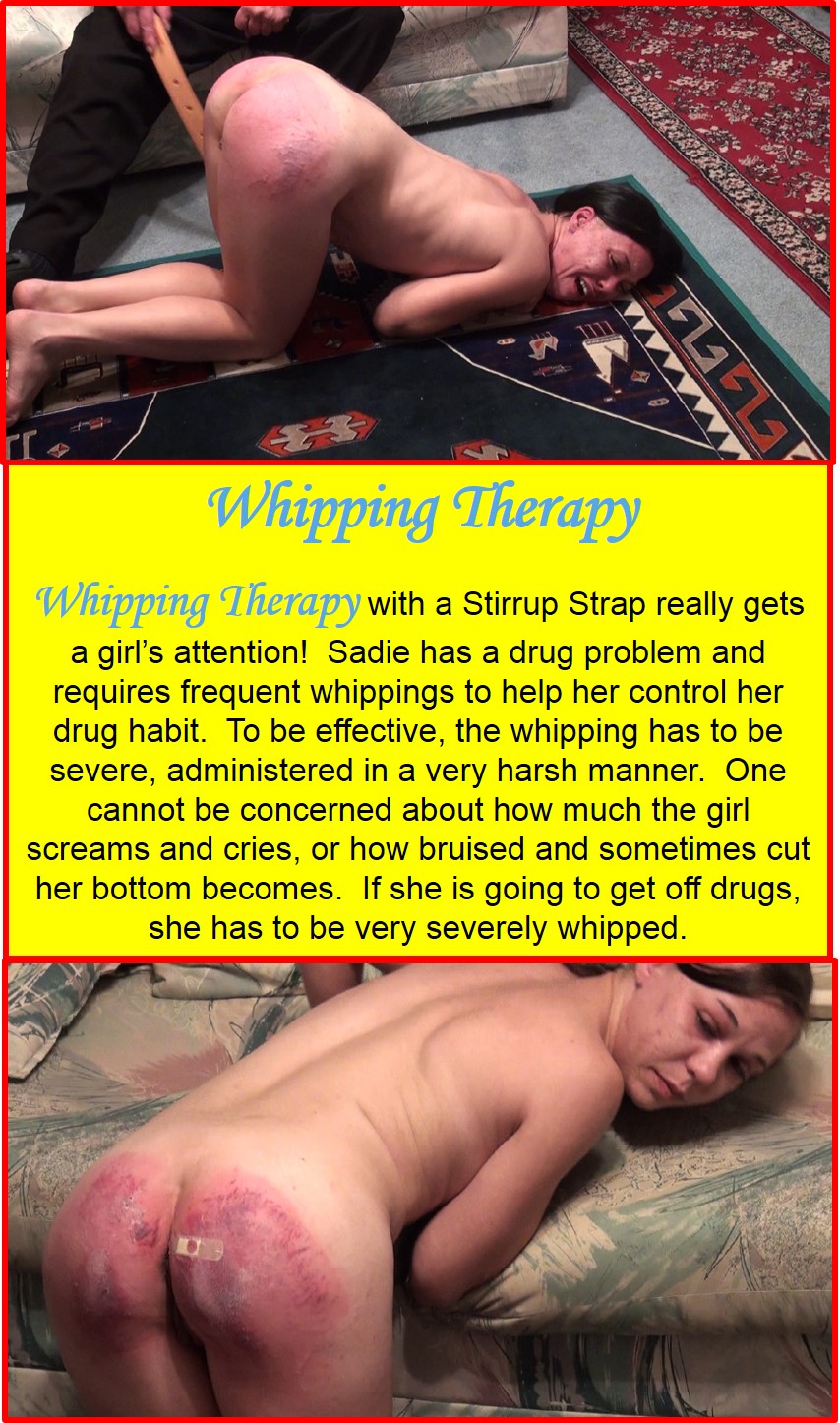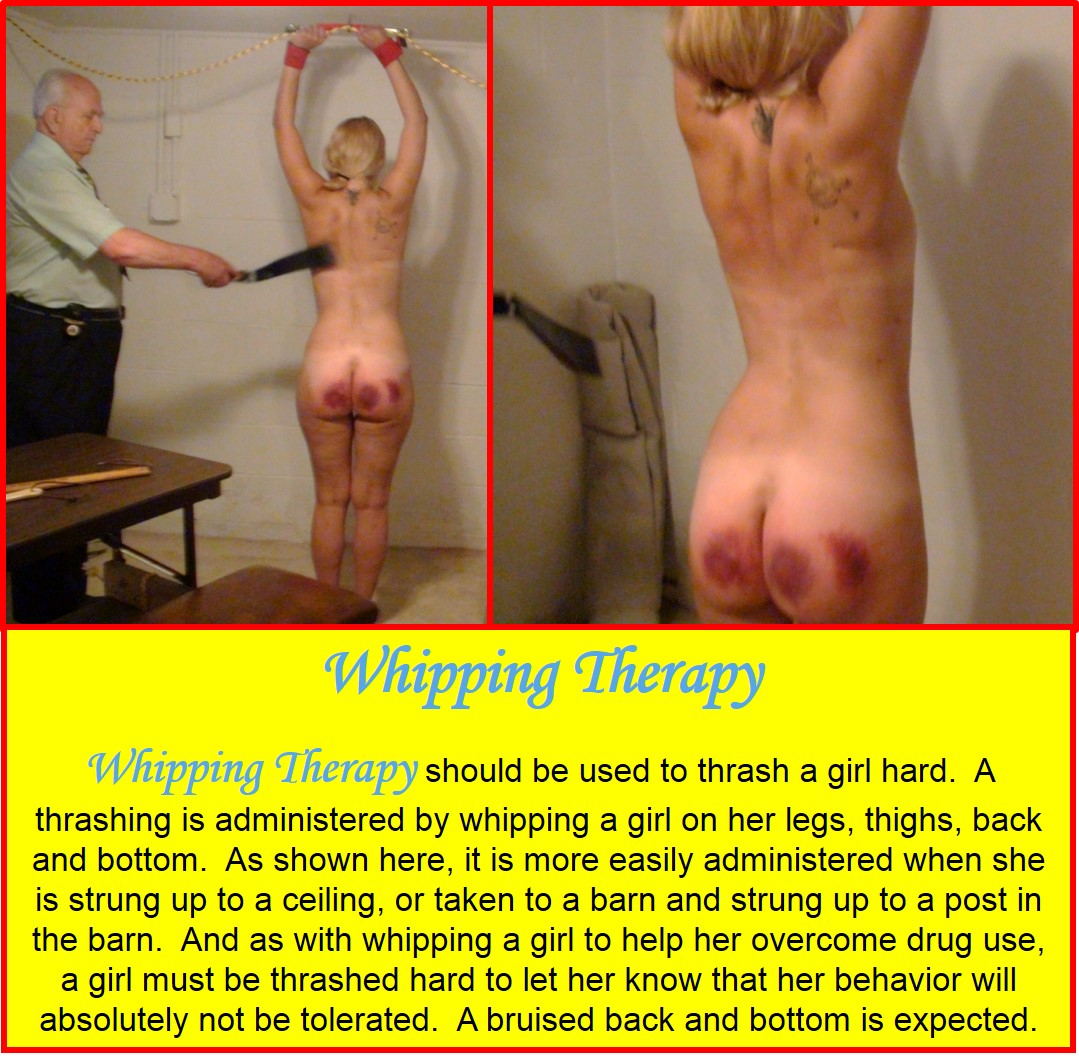 Dear Master (and you really are one!)- Just wanted to say hi and thank you for whipping the crap out of me during some rough times. I could not have succeeded without the whippings you gave me. I haven't done coke in 7 weeks, since the end of your program, which is the longest I have gone in the last 2 years. So thank you!!!   I will not have to go into treatment, because your Whipping Therapy program helped me to control my own behavior … and if I mess up I will have severe consequences as I will have to return for more severe whippings! … which I now know I will never need!  Stringing a girl up and just whipping the crap out of her really works to control her compulsions!  I know it did for me!  – take care, Nikkei
If you have compulsive behaviors that you need controlled, please contact me for your own Whipping Therapy program.