Check out this post to see 7 spanking clips!!!
.
For the best in the spanking of Girls-Spanked-Bottoms, please go to Spanked Coeds by clicking on the bar below:

I previously published posts on another blog site during 2009 to 2011.  I published 33 posts in that blog.  You can see those posts at:

NOTICE:  Due to the amount of spam being received, no comments will be accepted.
Recently, many viewers have found my exceptional videos on Spanking Library.  For immediate download, go to Spanking Library to find some of my excellent spanking videos.

.
I'm a junior in college and have been spanked routinely while in college.  In fact, I still get spanked several days every week, and, especially on the weekends when I may be spanked 2 or 3 times a day.  I am very rebellious on the weekends, not doing my chores, not coming home when told, and other such things.  Dad just spanks me anytime I misbehave or whenever he just wants to spank me.  I go over his knee several times a week to get spanked.  He'll come in and tell me:  "It's time for you to get spanked" and I'll immediately jump up and strip naked, regardless of who is there.  My girlfriend is often there as well as others may be there, but I get naked.  Then I run to my room to get my paddle, return and hand it to dad and go right over his knee for a 5- to 10-minute spanking.  These spankings are a combination of Discipline-Maintenance-Preemptive Spanking.  Dad never tells me why I'm getting spanked, but I know it is for something I've done for which I have not yet been spanked, or it is a Maintenance Spanking to help keep me behaving myself, or it is a Preemptive Spanking to make sure I am good when I go out.  Sometimes though, it is just-because he wants to spank me.  He says that I need to be frequently spanked since I behave much better when I am.  So, if I have not been spanked in a few days, dad will just give me a real good spanking, just-because! 
For example, dad has my academic test schedule, so any day that I am going to have a test, he'll be in my room first thing in the morning sitting on my bed as I knowingly get up, take off my nightgown, hand him my paddle and bend over his knee for my Preemptive Academic Spanking.  That way I'll be sitting on a very sore and warm bottom when I'm taking my test, knowing that I had better do well on it.  He'll spank me for 5 minutes.  Then when I come home the next day, I have to give him my test so he can check my score.  If it is anything but an "A", I'll have to get spanked.  And, since this is a punishment spanking, I'll also get a Before-Bedtime Spanking.  I get these any time that I am spanked for punishment during the day.  But I do not get them when I receive a Preemptive or Maintenance Spanking.  I also receive Preemptive Spankings before I go out on a date on Friday and Saturday, or go out for any special events.  When I come home from a date, I have to go right to dad and get undressed since I'll probably have to be spanked for being late, or if he determines that I did not behave myself on my date, which I probably didn't.  So, I frequently will get spanked 5 or 6 times a week, even without being punished.  And, since I am punished 2 or 3 times a week, and have to get a Before-Bedtime Spanking when I do, I actually get spanked at  least 10 times a week.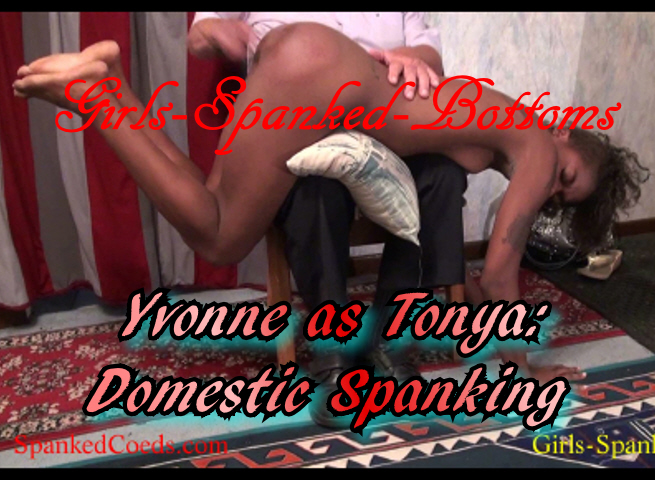 My dad started spanking me when I entered high school.  Before that my mom did the spanking.  But when I entered high school, mom said that I needed to be spanked harder and dad would be doing it.  In high school, dad spanked me almost every day, and often 2 or more times a day.  Of course, he used his hand to spank me, but he also used a Ping-Pong Paddle, hairbrush, a paddle and strap that I had to go with him to buy at an adult store and tell the clerk that I had to buy them so my dad could use them to spank me (that was embarrassing), and he uses his belt.  He still uses all of these implements to spank me, but when I started college I had to get a Jokari Paddle for him to use on me when he wants to spank me really hard.  He said he knew that I would be doing things that I am not supposed to do, and he will have to spank me harder to make me behave.  After high school, I could have objected to being spanked, but I didn't since I know that I need the control and I always feel better knowing that dad is there for me and making me do what I really should do.  It is especially helpful when I am out with a boy I find out I really do not want to be with and can tell him that dad said I had to get home early.  We have very definite rules for the home, and if I disobey dad or do not follow the rules, I know that I'll get spanked.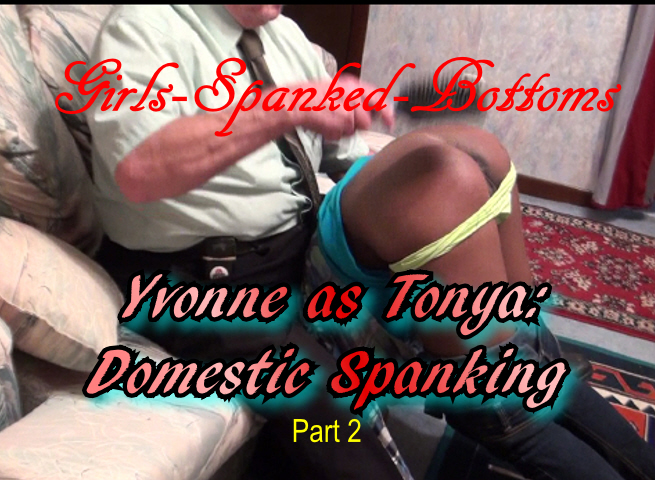 He has always spanked me on my bare bottom.  Most often I have to be naked when I get spanked, but sometimes I just have to pull my jeans and panties down and bend over for him to spank me.  Or, sometimes I have to pull my panties down and raise my skirt and bend over his knee.  After I get ready for my date, I have to go to my dad and bare my bottom to get spanked.  I just pull my panties down, raise my skirt and bend over his knee for 5 minutes as he spanks me.  I feel very comfortable when dad tells me to get my clothes off and get ready for my spanking.  He'll come in, like to the living room, and say:  "Tonya, get your clothes off for your spanking, and bring me your paddle."  I just obey as I run to bring him the paddle, hand it to him and stand there naked until he gets through lecturing me and telling me what position to assume.  And I do run when he tells me to get the paddle or strap.  If I let him stand there too long waiting for me to return, I'll get an extra spanking for making him wait.  Most often, he'll just sit down and tell me to get over his knee.  I do.  Then he spanks me for as long as he wants, but normally for only 5 to 10 minutes.  Sometimes he spanks me longer, like if I get a poor grade in school, back to him, or come in way past curfew.  When mom spanked me, she always made me get undressed.  She normally sent me to my room to be spanked and by the time she got there I had to have my clothes off.  She'd come in with the hairbrush and sit on my bed and I had to immediately go over her knee.  She'd then spank me for 2 or 3 minutes.  Dad spanks me much longer and harder, so I obey him more.  But, now I also obey mom more since if I don't, she'll have dad spank me!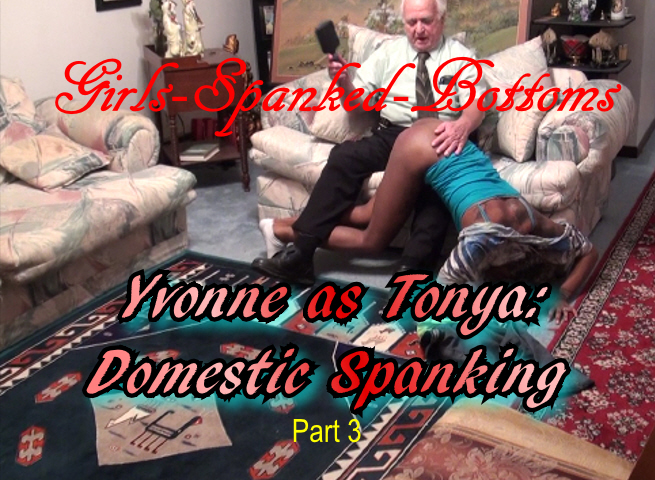 Dad also makes me bend over and grab my ankles when he wants to spank me, or kneel on my bed with my head down and my bottom up for him to whip me, and just any other position he wants me in when he has to spank me.  Just whatever he decides, I have to obey and get spanked—if I don't obey or resist getting spanked or obstruct my spanking like placing my hand over my bottom, I'll get spanked harder and then spanked again later as well as at bed time, so I seldom resist being spanked.  Frequently now he'll send me to my room to "get ready" to be spanked.   When he tells me that, I know that I am going to get spanked really hard, probably with my strap as I bend over the end of my bed, followed with the Jokari paddle as I bend over his knee.  When I'm sent to my room, I take my clothes off, place my paddle and strap on my bed and bend over the end of my bed and wait.  When he comes in, he picks up the implement he wants to use on me and proceeds to spank me, or he'll tell me to kneel on my bed if he wants me to. 
If dad has to spank me during the day, I know that I'll get spanked before I go to bed.  He says that if I need to get spanked during the day that I "obviously" need to be reminded at night that I had better behave better the next day.  So, I do get a lot of Before-Bedtime Spankings. 


This past week has been fairly typical of the spankings I get, although the reason will be different, the number of spankings is about right, although many weeks I will not get quite so many, and then, other weeks I may actually get more!  I was out late Sunday evening and did not get up in time to get to my first class on Monday.  Dad called me into his office and took me over his knee and spanked me.  Of course, I then also got spanked before I went to bed Monday night.  On Tuesday I brought home a test that I had in English on which I got a "C".  I normally get "A's" in this course, so dad sent me to my room to "get ready" to be spanked.  He came in, made me kneel on my bed and spanked me hard, telling me that I had been running around too much and I was going to start studying more.  He also grounded me for 2 weeks!  Even if I get  grounded, he still spanks me.  And then, again, I got spanked before bed Tuesday evening.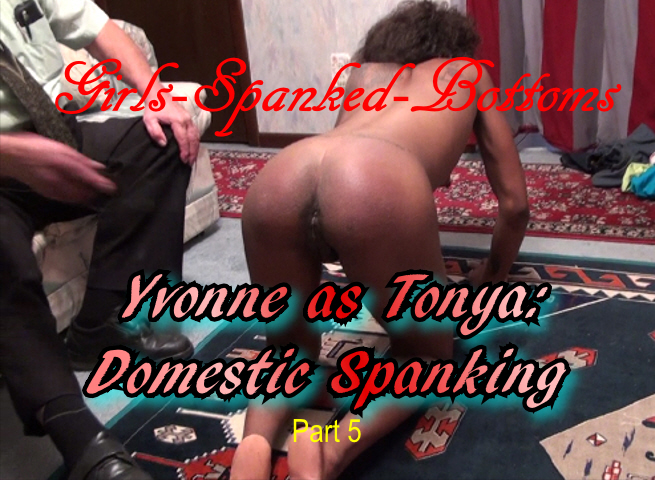 Wednesday went alright as I did not get spanked. 
Thursday I was helping mom prepare dinner and talked-back to her.  Dad heard and came in and made me get undressed and bend over the kitchen table as he removed his belt.  He
used his belt on me really hard for about 10 minutes as mom just kept preparing dinner.  When dad finished with me she
asked if I was ready to help.  Crying hard, I put on my apron and said I was.  After dinner, dad told me to go to the living room for another spanking at 8:00.  He said that I needed to
improve my attitude and behavior and he was going to spank me hard.  When he came in, I had to bend over and grab my ankles as he used my strap on me.  Of course, I got another spanking before bed.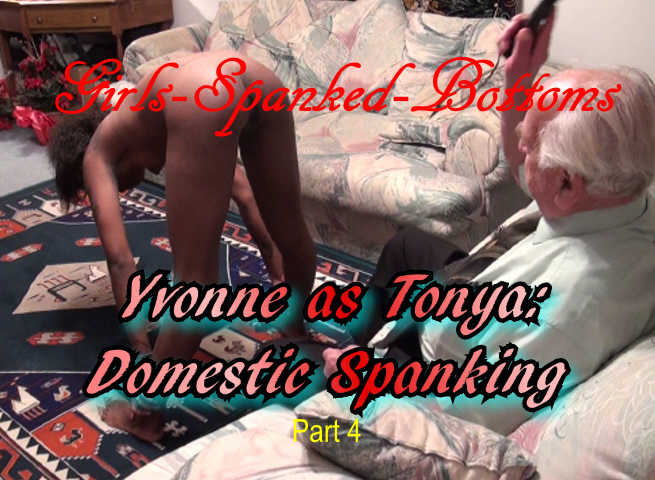 Friday evening I was still grounded and I complained since I had already agreed to go out with my boyfriend.  Dad wouldn't have any of that and took me to the living room, took me over his knee and spanked me hard.  When I know that I'm grounded, I can't beg to do something, like go on a date.  Of course, I got another spanking at bedtime. 
Saturday morning I was not getting my chores done as I was still pouting about not going out on Friday.  Dad came in, made me strip naked and spanked me and said that I had better get to work and he was going to check up on me
later.  After lunch, dad checked my chores and found that I had not cleaned the bathroom as I should have and had not taken the trash out as I should have.  He took me to the bathroom, made me undress and get over his knee as he
sat on the toilet seat.  He spanked me for about 5 minutes and said that I'd be spanked again an hour later for not taking the trash out, and that I had better get to work.  Well, this time I did, hoping I would not get spanked later.  But, an hour later I had to report to my bedroom for another spanking.  The rest of the day went alright until bedtime when I got spanked again!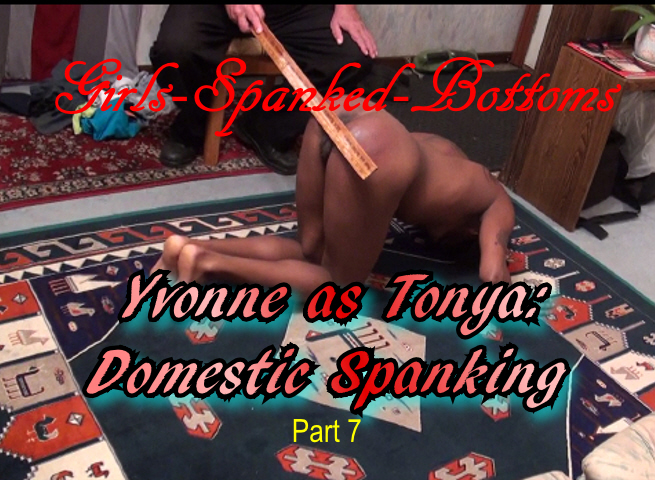 Sunday went alright until the afternoon when I started complaining about not being able to go out.  Dad said I should be studying and sent me to my room to bend over my study desk so he could use my paddle on me.  After he spanked me, he sat down on my bed, made me hand him my Jokari Paddle and bend over his knee.  He spanked me really hard for about 10 minutes and told me that I had better straighten up or I'd be getting a lot more spankings. He said he was tired of my attitude and behavior.  After dinner I got spanked again with a Maintenance & Preemptive Spanking.  I normally do not get these, but with my very poor behavior over the past week, dad decided that I had better get a rather hard spanking.  He spent 30 minutes punishing me before sending me to my room to wait for my Before Bedtime Spanking! 
So, I got 17 spankings during the week.  It sounds like a lot, I guess, but it really did not seem like a lot since I did need every one I got.  I have gotten spanked as many as 30 times in one week, and then other weeks, it will only be 5 or 6.  But, I can count on getting spanked at least 5 or 6 times every week, with few exceptions. 
.
Tonya's spankings are characteristic of girls who are frequently spanked and in college.  That is, they are closely supervised and are spanked for the slightest infraction of any rule.  Before-Bedtime Spankings are routine as are Preemptive Spankings.  If a girl is being spanked often, she will be spanked a lot. 
Go to www.SpankedCoeds.com to see more of Yvonne getting spanked.