It is very important that Submissive Girls cry convulsively when they are spanked and punished. This is a report about 3 more girls who are over 18-years-old and are still being spanked-at-home.  In addition, a movie is shown of a girl being spanked during a 6-hour Punishment  Session.   And, you can apply for your own punishment session.
.
For the best in the spanking of Girls-Spanked-Bottoms, please go to Spanked Coeds by clicking on the bar below:

I previously published posts on another blog site during 2009 to 2011.  I published 33 posts in that blog.  You can see those posts at:

NOTICE:  Due to the amount of spam being received, no comments will be accepted.
Recently, many viewers have found my exceptional videos on Spanking Library.  For immediate download, go to Spanking Library to find some of my excellent spanking videos.

.
Recently I have had several emails from girls who want to be spanked for misbehaving at home as further punishment than what they have already received. Karen (19), Susan (21), and Lori (22) are all being spanked-at-home but know that they need to be spanked harder and more severely. They have contacted me to see if I will give them the hard and severe spankings they think they need and do want. 
Each girl is being spanked by her dad, normally OTK on her bare bottom, but she can be made to just bend over and grab her ankles, bend over furniture or made to kneel to be spanked—just whatever is convenient at the time. Karen's dad uses a paddle on her, Susan's dad uses his hand, and Lori's dad uses whatever is available—hairbrush, Ping-Pong Paddle, belt, strap, piece of wood, etc. Susan's mom also spanks her, but she uses a paddle since she cannot hit as hard as Susan's dad. Karen says that although her dad spanks her hard, it is not hard enough. Susan says that she is never spanked hard and seldom cries, even when her mom spanks her although her mom actually spanks her harder than her dad, and she knows that she should be crying when she is spanked. Lori is spanked hard and cries a lot, but wants someone else to really beat her severely. She says that her dad is very strict with her and spanks her very hard, but after he's done, she still feels as though she should be spanked longer and harder. 
The current punishment of each girl is shown on the photo-stories below: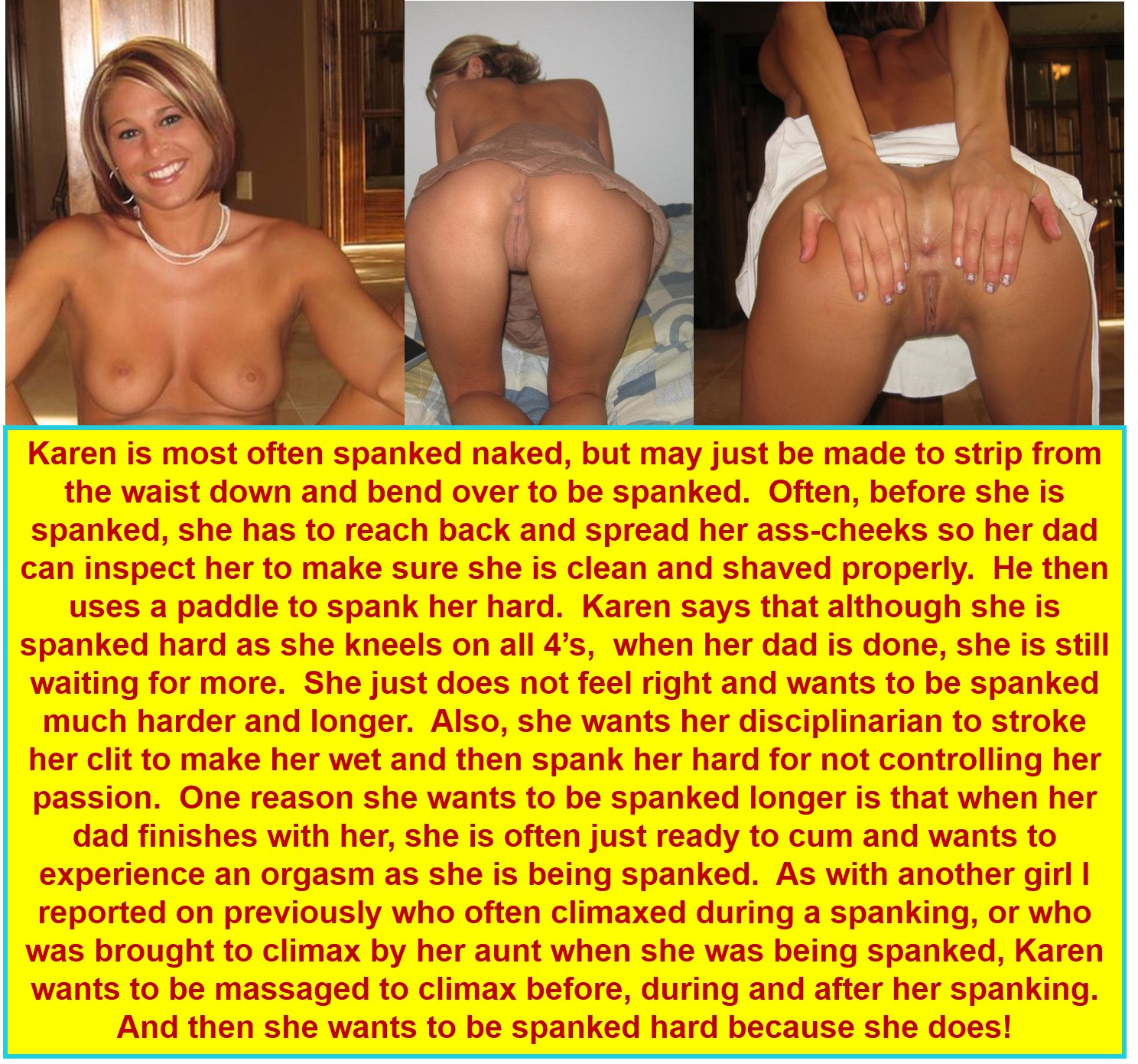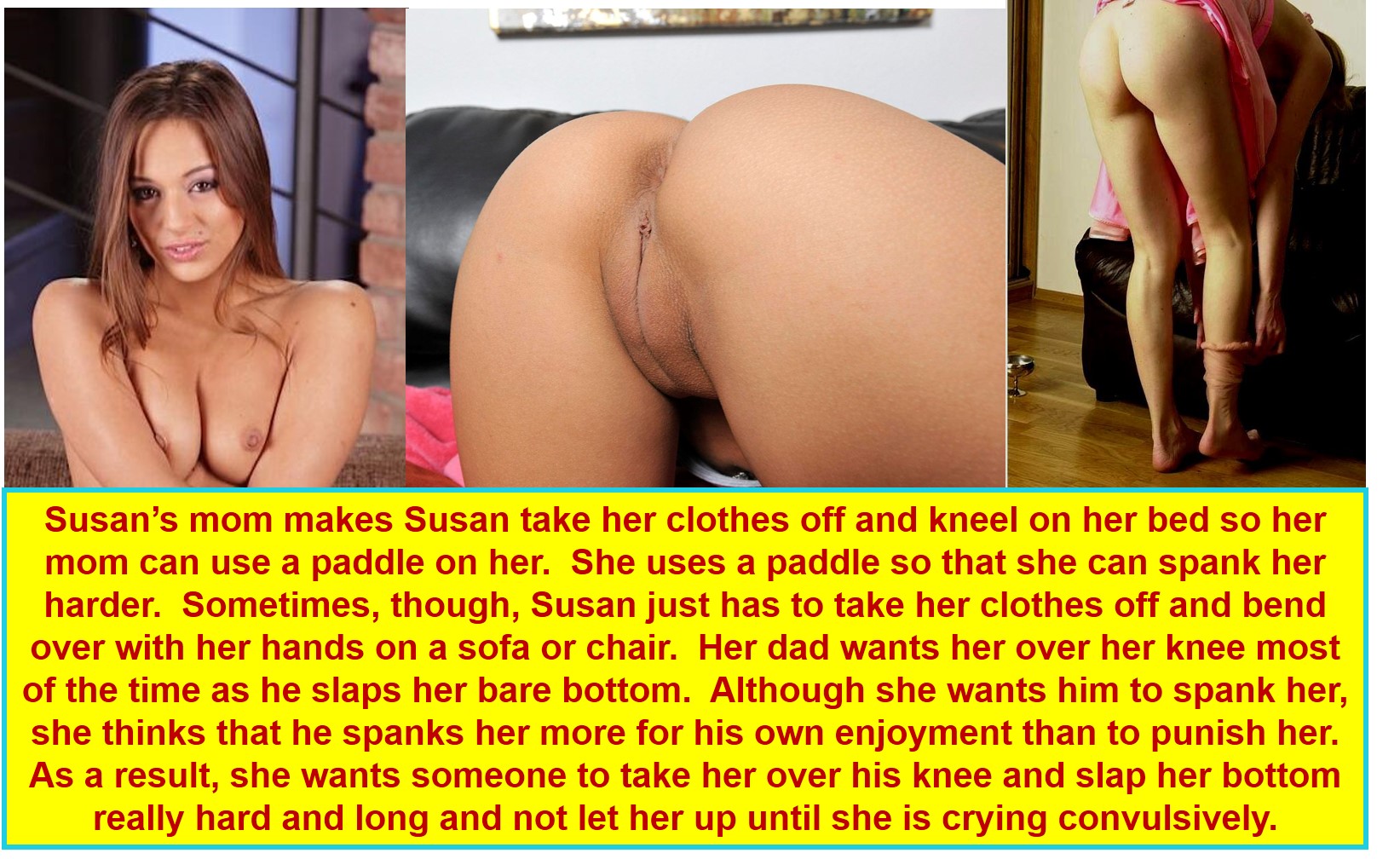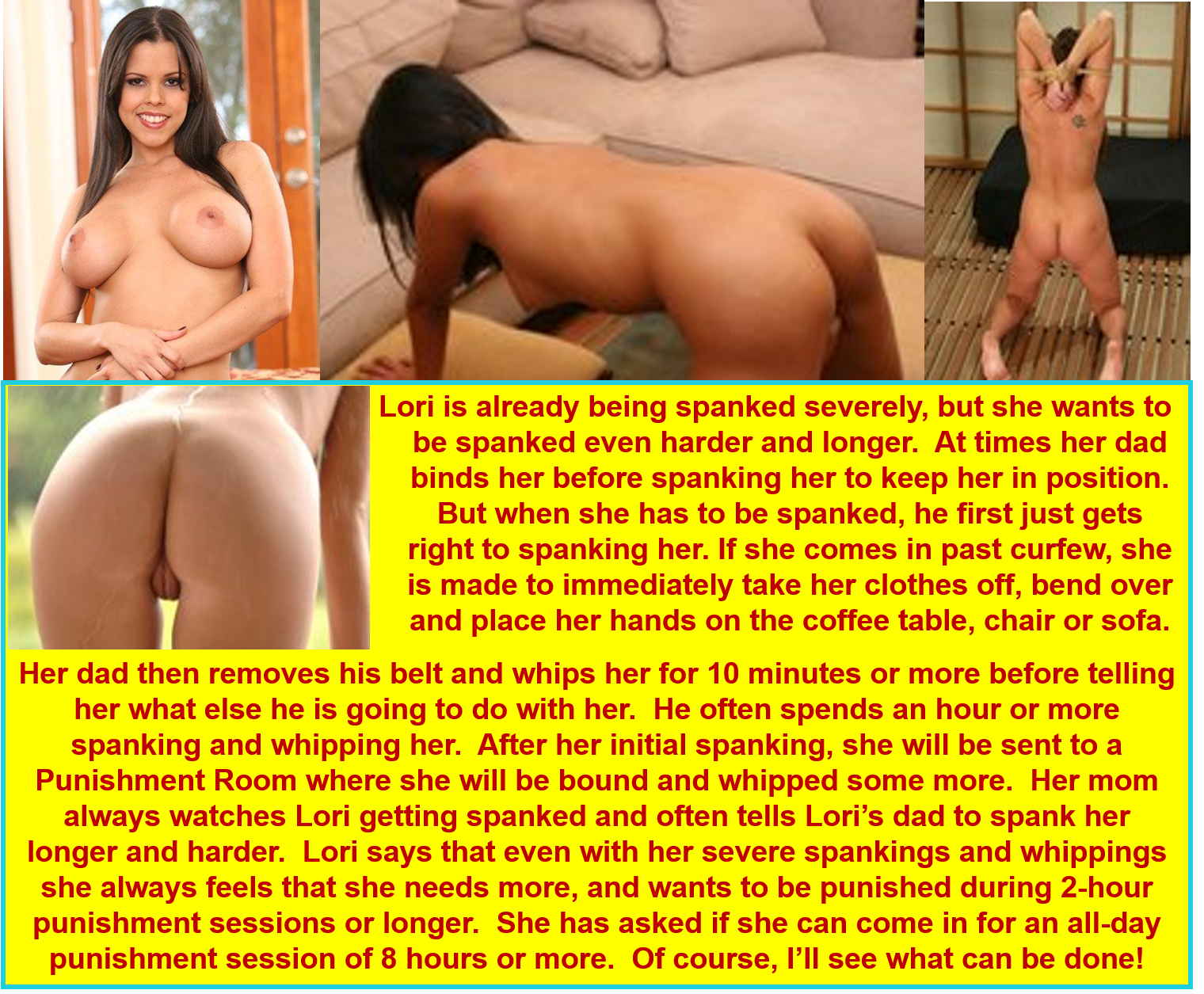 With each girl I am planning punishment sessions that will last at least 2 hours, and most will be 4 hours or more. The movie shown at the end of this report depicts a 6-hour Punishment Session and is recommended when a girl really has to learn to obey and be spanked hard. When a girl comes in for special punishment, it is important that she be punished for a long time so that she knows that this is not a game or just for her own enjoyment, but to actually punish her. Too many girls think that this is a game and that they are going to experience some kind of sexual satisfaction from being spanked. Although they may, that is not the intent—even if clitoral and vaginal massaging is part of the "punishment". Such massaging is to establish my control over her to let her know that her body is mine and I will do with her what I want, and when I start in whipping her, I will whip her for as long and hard as I want.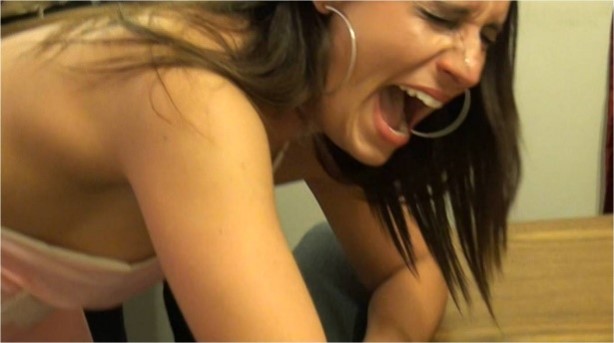 And, it will be important that the girl is crying most of the time, and crying convulsively before I get done with her. Any girl who applies for a punishment session and begins to qualify just how hard she is going to be spanked, will not be accepted. I am not abusive, but I will not have a girl telling me how hard she is going to be spanked. And, if I want to stroke her clit to bring her to climax, then that is what I will do. When a girl has to be punished severely, then she will be punished severely and will take whatever I do with her. If she wants to play games, she can go somewhere else. It has been interesting that some girls who write think that they can dictate just how hard they are to be spanked and what they need in order to punish them properly. However, when a girl is properly punished, she has no say as to how long or how hard she is spanked, and she has no say as to how she will be inspected and massaged. Quite often when a girl is spanked, she is expected to kneel and provide oral services after her spanking to thank her disciplinarian for taking the time and effort to spank her. Such is not expected here, but the practice does provide the standard that is expected of the girl—total obedience and submission.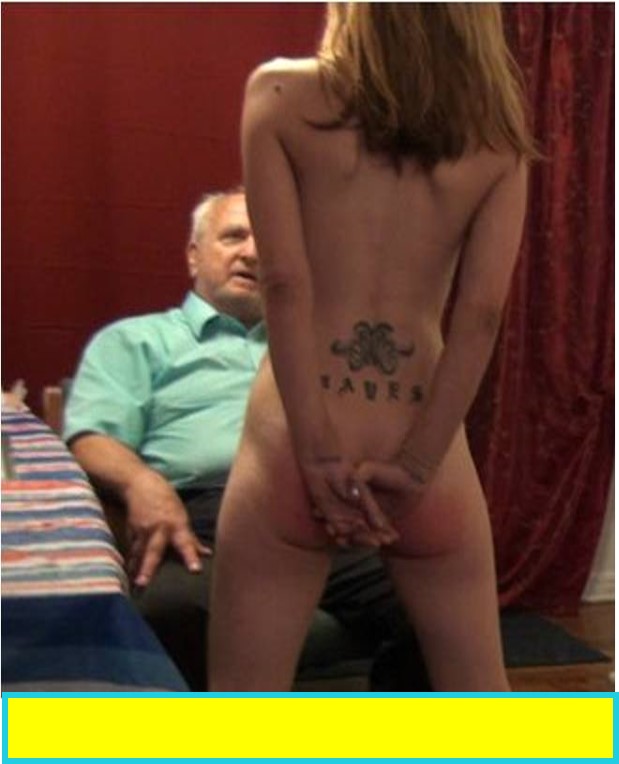 With me a session starts, of course, by making the girl take her clothes off and stand in front of me for an inspection and to determine just why she needs to be spanked.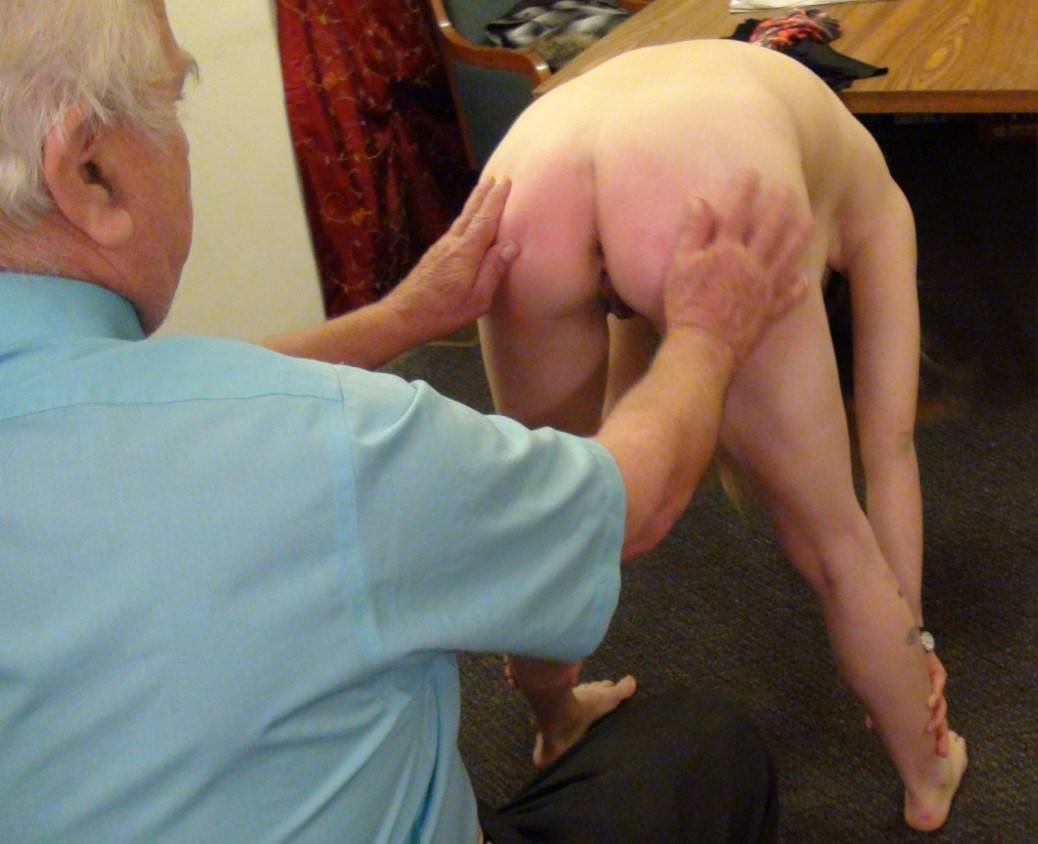 And if she is told to turn around, bend over and grab her ankles as I spread her cheeks to inspect her, then that is what she will do.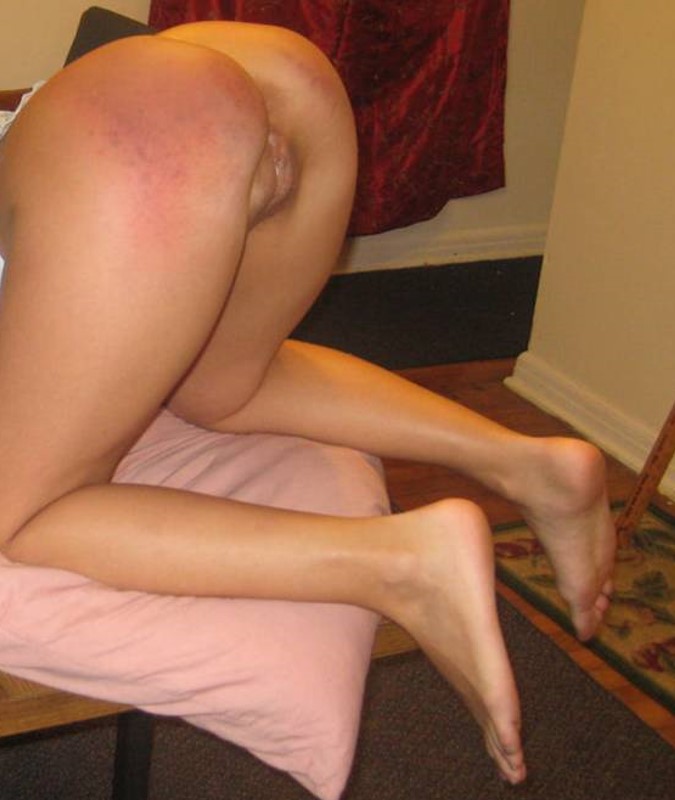 And if I tell her to kneel on a table and get her hips up, arch her back, and spread her knees so I can inspect her and massage her clit and vagina, then that is what she will do. Just whatever she is told to do she will obey or will get whipped hard. The problem with most girls is that they just do not obey, and they must learn to be obedient and do exactly what they are told to do. 
Karen, Susan and Lori understand this and that they want to come to me so that I can make them obey and spank them hard when they don't. So, the Punishment Session is actually an Obedience-Training Session in which the girl is also spanked as part of her Punishment Session. When a girl applies for punishment and then begins to qualify what she will allow to be done with her, I will not accept her. When a girl comes to me to be punished, she will do so as one girl has done when she wrote the following: 
So, does a little white girl with a tight little bottom get a hard spanking for taking 32 jumbo black dicks in an 8 hour session? Will you promise me that you will spread my bottom as wide as you can and as open as you can and then spank it as hard as you can for as long as you want and no matter how hard I kick and scream and cry and beg for you to stop, that you will not stop? I think I dreamed about the 32 dicks. Do I need to be spanked for dreaming about 32 dicks? I want them to be so big they hurt!
Here is a photo of my little white, tight bottom presented for you to spank. Please use a strap and paddle on that bottom hard and for a long time. Use the Stirrup-Punishment Strap, it looks as though it would really hurt a lot, and I want to be hurt a lot! Spank my bottom, my thighs, especially my inner thighs, and keep on spanking me as I scream hysterically! I have already signed the Corporal Punishment Without-Limits Waiver, and I will submit to anything you want to do with me! Please beat me long and hard.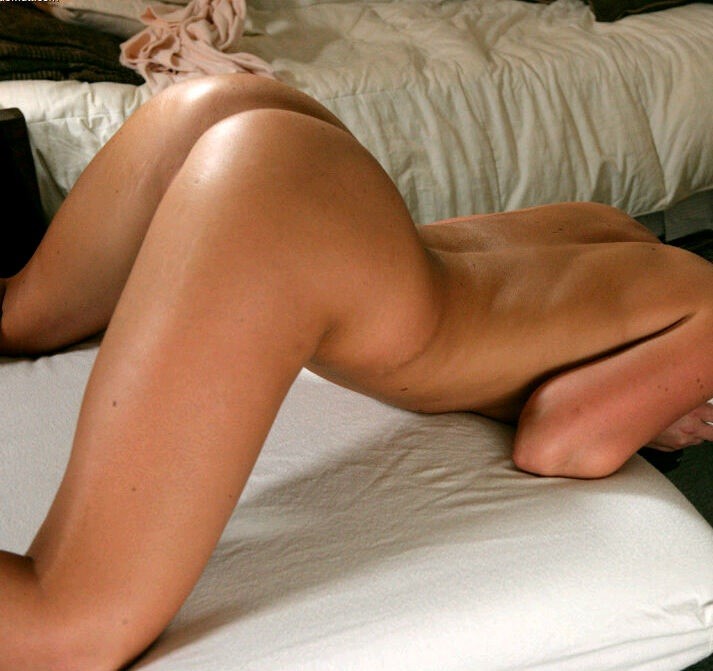 I am beginning to realize that I am supposed to be spanked, that it is good for me to be spanked, that I need to be spanked, and that I even want to be spanked. I think there are some girls out there that really need to be spanked and don't even know it. Maybe every single girl on the planet should have to stand completely nude every week before the male in her life and be spanked by whoever that male is, someone in her home or even a city official, or, preferably, a church official like the minister. I would really like to be spanked hard by a minister to cleanse me of all of my faults. Maybe girls that live alone have to be spanked by the man next door, but every girl must stand weekly nude before a man and be spanked. That could really do a lot of good and could solve a lot of problems and fix a lot of attitudes. I know spanking me is changing me for the better, I can see it and feel it. I am becoming a good little girl, an obedient little girl who serves my man as I should. I know that after you spank me that I should kneel and take you in my mouth to satisfy you, and take and swallow all your cum, and be whipped hard if I spill any. I know that you have said that is not what you want, but I just feel that I should do it. I am understanding that it is good for me to be spanked and that I need to learn to be obedient and submissive. Please let me take you in my mouth when you finish beating me so I can show you how much I appreciate the whippings and spankings you will give me.
It would be a pleasure for me as well to be bent over your knee completely nude for a 1,000-stroke nonstop spanking with a Ping pong paddle! Have you ever spanked a girl that many times nonstop? I read that and wanted that and get all wet and wiggled.
[NOTE: A Ping-Pong Paddle spanking of 1,000 strokes is a 17-minute spanking. Yes, I have spanked a girl that long in that I have spanked a girl for 20 minutes or more. Although, most spankings are only for about 5 to 10 minutes long.]
I am now glad that I am being spanked daily instead of only once a week.  And I am wondering if 100 strokes is    enough. She did give me 200 in the morning and then 200 again in the evening but that was for only 3 days. I was restrained for those and that does hurt more when you are stretched tight. Oh man I want to be spanked right now! I wonder if I should ask for more than 100 strokes.  Would that be a stupid question? I really do like my girlfriend being spanked too. She had already been watching me be spanked but now I get to watch her too. I would love for you to spank us both together! And I would really love to have you in my mouth sucking you as you whip my girlfriend's ass hard, and when you finish, you whip me as she sucks you. I want 32 dicks, but you should at least have 2 girls! [NOTE: Of course, I told her that she should ask for more than 100 strokes!]
When considering a girl to be brought in for punishment, the appropriate attitude is:
"Will you promise me that you will spread my bottom as wide as you can and as open as you can and then spank it as hard as you can for as long as you want and no matter how hard I kick and scream and cry and beg for you to stop that you will not stop?"
Of course, most of the time is spent spanking and whipping the girls! When a girl is told to kneel and present her bare bottom to be spanked, then she must obey!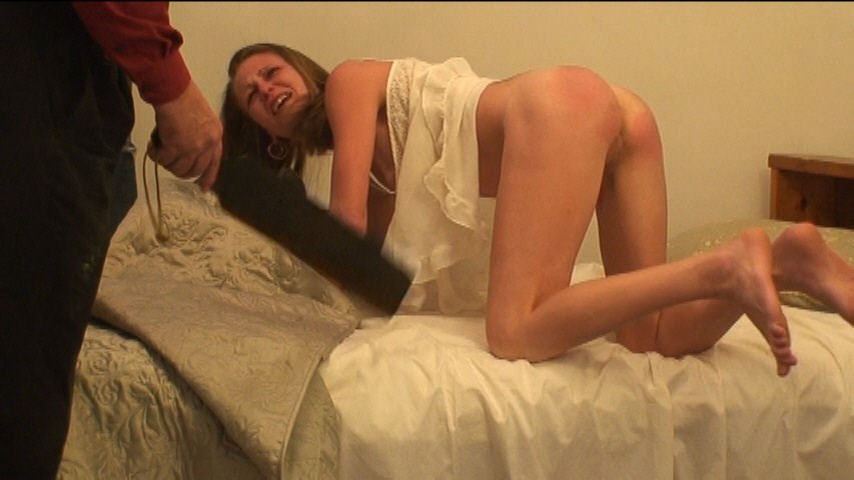 Girls may apply for punishment, but do not begin to qualify what can be done to you when you do. I will control you and your body, and will do whatever I want to do with you. Of course, the main reason is to punish you with spankings and whippings, but you can also expect clitoral and vaginal massaging to climax. If you want to learn to be obedient and spanked hard when you aren't, then you will do exactly what you are told to do. 
For your own punishment session, please contact me at: Headmaster@SpankedCoeds.com. 
Punishment sessions are normally for 2 hours at a cost of $300.00. Live-in weekend sessions are also available at a cost of $750.00 for Friday evening through Saturday night, with a final spanking Sunday morning when you get up. The weekend session includes meals. A "Guest Bedroom/Study" is available where you will stay, and you will be taken out for your meals. When in the home, you will be naked and will dress only when we go out to eat. As soon as you enter the home, you will be shown to your room where you will immediately strip naked and bend over my knee for your first spanking. Your Obedience Training and Spanking Sessions will proceed from there. You must be able to travel to Columbus, Ohio for your sessions. To be clear, the sessions are actually Personal-Development Training Sessions for Obedience, and any spankings are the result of them being for the purpose of correcting your behavior as a part of your counseling and training. This is not simply a spanking session for your enjoyment. If that is what you want, go somewhere else. The emphasis is on you actually modifying your behavior so that you can achieve certain objectives. You will inform me of what you want to accomplish and why you need to be spanked. Of course, if you have misbehaved or been disobedient, then that will be a part of the program for which you will be spanked. 

The following movie depicts a Punishment Session that was administered during a 6-hour session.  Due to the length of the movie (of course, it is not 6 hours!), it is in 2 parts.  Also, the clitoral and vaginal inspections and massaging are not shown, although they are shown in other movies of Zara.  Notice how Zara asks to be spanked more even after I have finished with her.  This is what is expected from girls who know that they need to be spanked.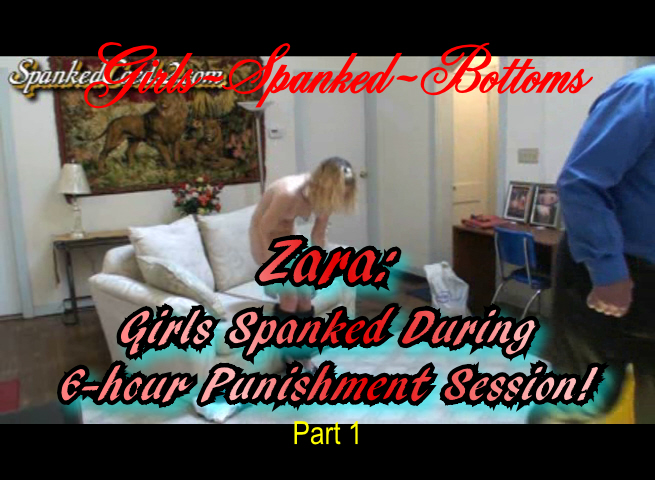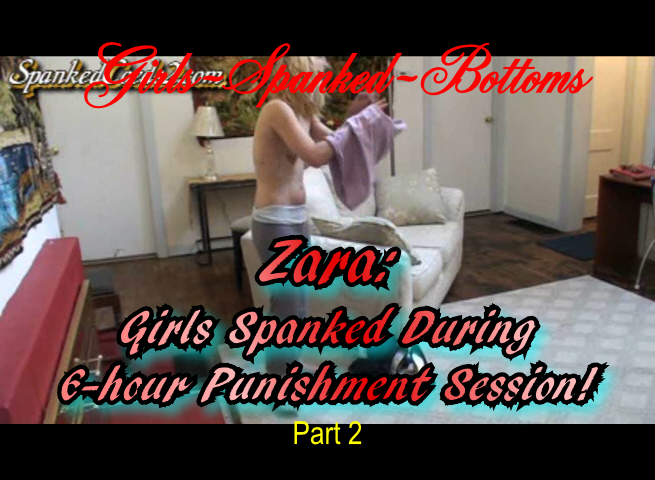 To see more of Zara's spankings, please go to: 

.