NOTE:  Due to an excessive amount of spam, I am no longer accepting comments.    However, you can still contact me with your comments at:

 

Headmaster@SpankedCoeds.com

.

This is a follow-up to my post entitled:

Are 18+-year-old Girls Actually Spanked-at-Home?—Husband/Uncle Giving Spankings

. Jessica wrote to me and updated how she was being punished and gave a few more details about how she and Tonya were being spanked.
.
For the best in the spanking of Girls-Spanked-Bottoms, please go to Spanked Coeds by clicking on the bar below:

I previously published posts on another blog site during 2009 to 2011.  I published 33 posts in that blog.  You can see those posts at:

NOTICE:  Due to the amount of spam being received, no comments will be accepted.
Recently, many viewers have found my exceptional videos on Spanking Library.  For immediate download, go to Spanking Library to find some of my excellent spanking videos.

.
Jessica was being spanked by her uncle, Kevin, who also spanked his wife, Tonya. He was much older than either of them and treated them more like disobedient daughters than a niece and wife. They lived on a farm and Kevin worked the farm, so he had many opportunities to spank both Tonya and Jessica.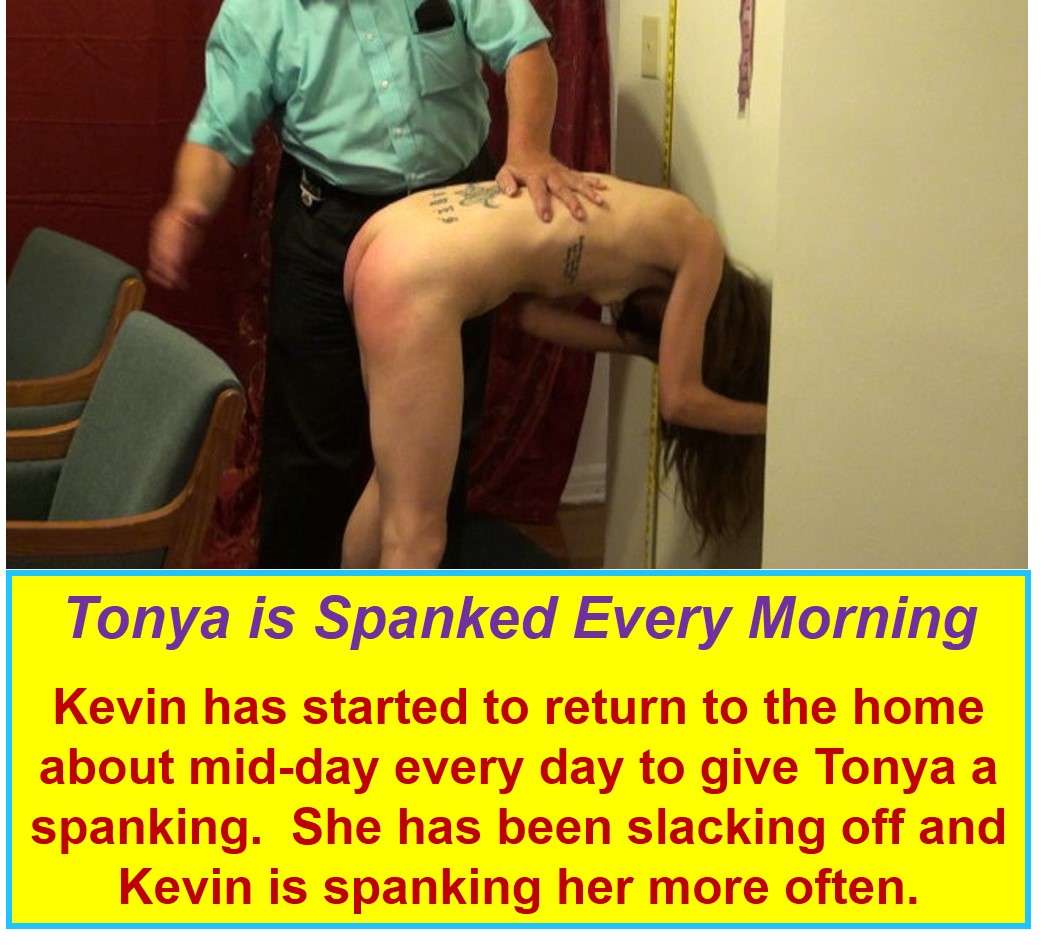 Kevin continued to spank Tonya almost every day for something. Jessica said that he was becoming stricter with Tonya since she had been slacking off some. When Jessica came home from school each day she would often see Tonya bending over the picnic table in the back as Kevin used a strap on her. But, Tonya was also being spanked more in the morning. Kevin had started going to the house mid-morning to check up on her and most often found her relaxing rather than getting her chores done. He would strip her naked and make her bend over as he spanked her with his hand, belt, strap or paddle … just whatever he wanted to use on her. Jessica said that Tonya did need these spankings since she had actually not been getting her work done.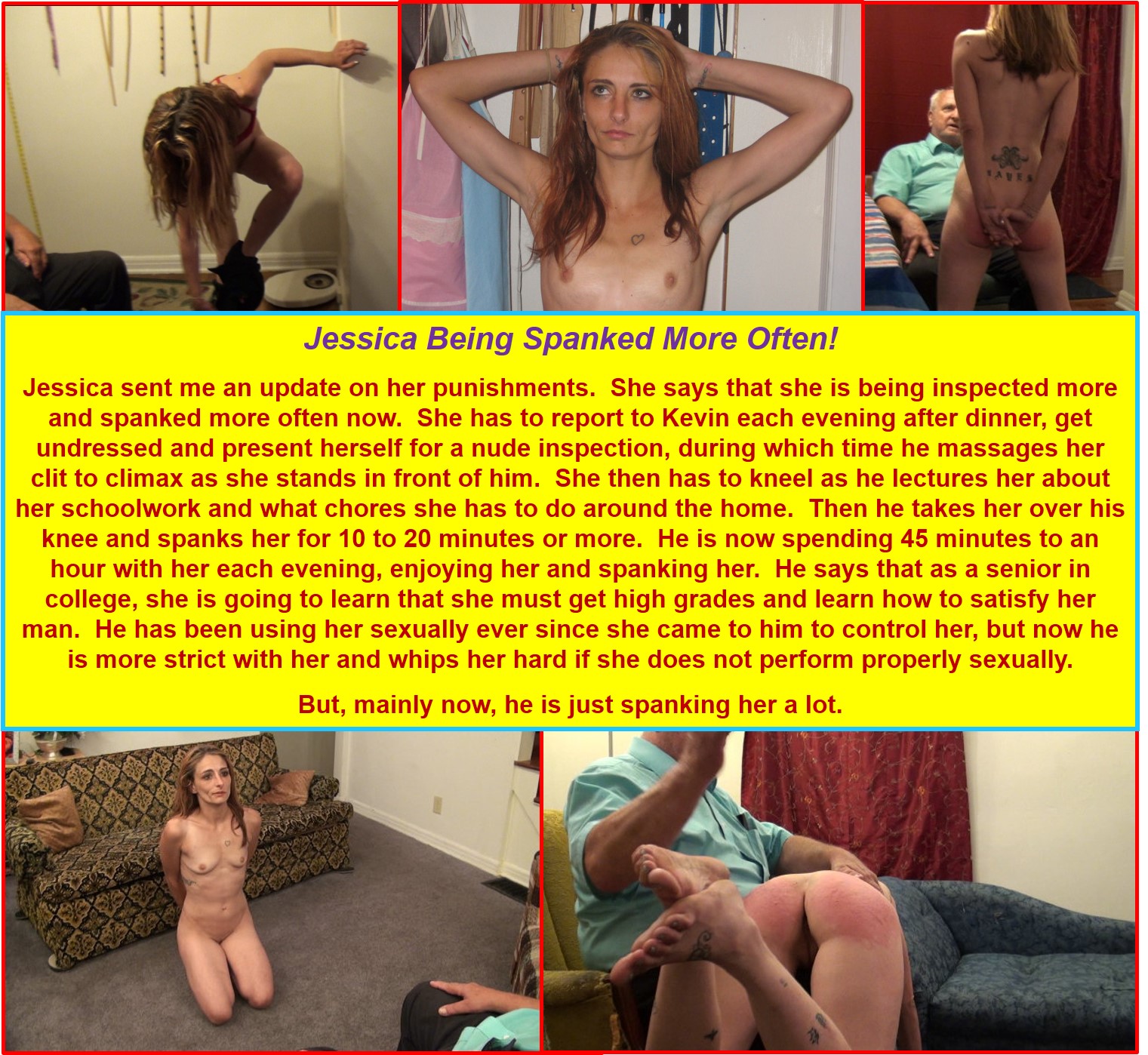 Jessica said that since she became a senior, that Kevin was being much more strict with her and had started spanking her every day in the evening whether she needed to be punished or not. He made her report to him about 8:00 when she had to take her clothes off so he could "inspect" her for 15 to 20 minutes or so. Of course, a lot of that time was spent massaging her clit and each evening she had to climax. If she didn't climax or he thought she was faking it, she had to bend over so he could use her strap on her for 10 minutes or so. Often, he just said she had faked it, even if she had not, just so he could whip her. And, she had to obey and bend over, or he would punish her with an hour-long whipping-punishment session. In fact, she was getting these punishment sessions anyway. Every Wednesday evening at 10:00 she had to report to the Punishment Room to be spanked and whipped for an hour. He said that she "needed" these sessions to "remind" her that she had better do well in school or she would be whipped during a 2-hour session! Jessica said that evidently the threats and punishment were working, since she was in fact doing much better in school, and she was in fact very scared of Kevin. Now when she comes home with anything but an "A" on a test, she will be whipped for 1 hour during a punishment session.  She is very nervous when she is bringing home a test with anything but an "A" on it.  She begins to cry as soon as she gets inside the door even though Kevin may not be there.   She tells Tonya about the grade and Tonya orders Jessica to go to her room and take her clothes off so she will be ready to be whipped when Kevin gets home.  And, she is to place her strap out on her bed ready for Kevin to use on her.  The photo-story below describes Jessica's poor grade-punishment.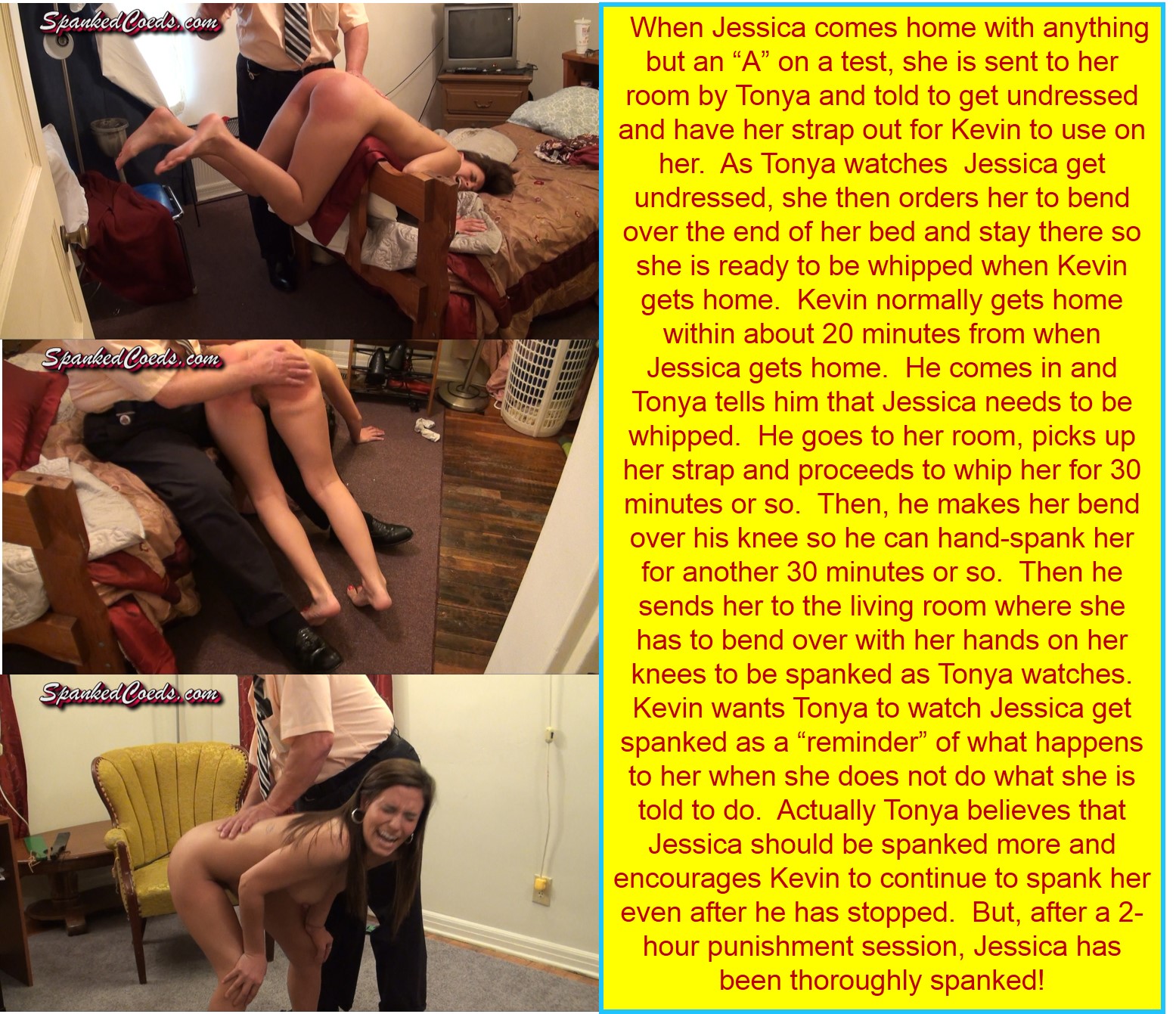 But, each evening, after she climaxed, she had to kneel so he could lecture her. He just really enjoyed lecturing her for 15 to 20 minutes or so, telling her how hard he was going to spank her if she disobeyed him, and that she had better learn to satisfy her man sexually, and if she faked a climax, he would whip the crap out of her. Then she went over his knee and he spanked her hard for 10 to 20 minutes. She was becoming very hyper-obedient and would jump any time that Kevin told her to do something. If he told her to get to her room to be spanked, she ran to obey, taking her clothes off as she did so, and would be naked within 5 seconds after getting to her room, and would bend over the end of her bed ready to be spanked! Both she and Tonya were learning to be much more obedient and do much better with their chores and she with her schoolwork … and in serving her man.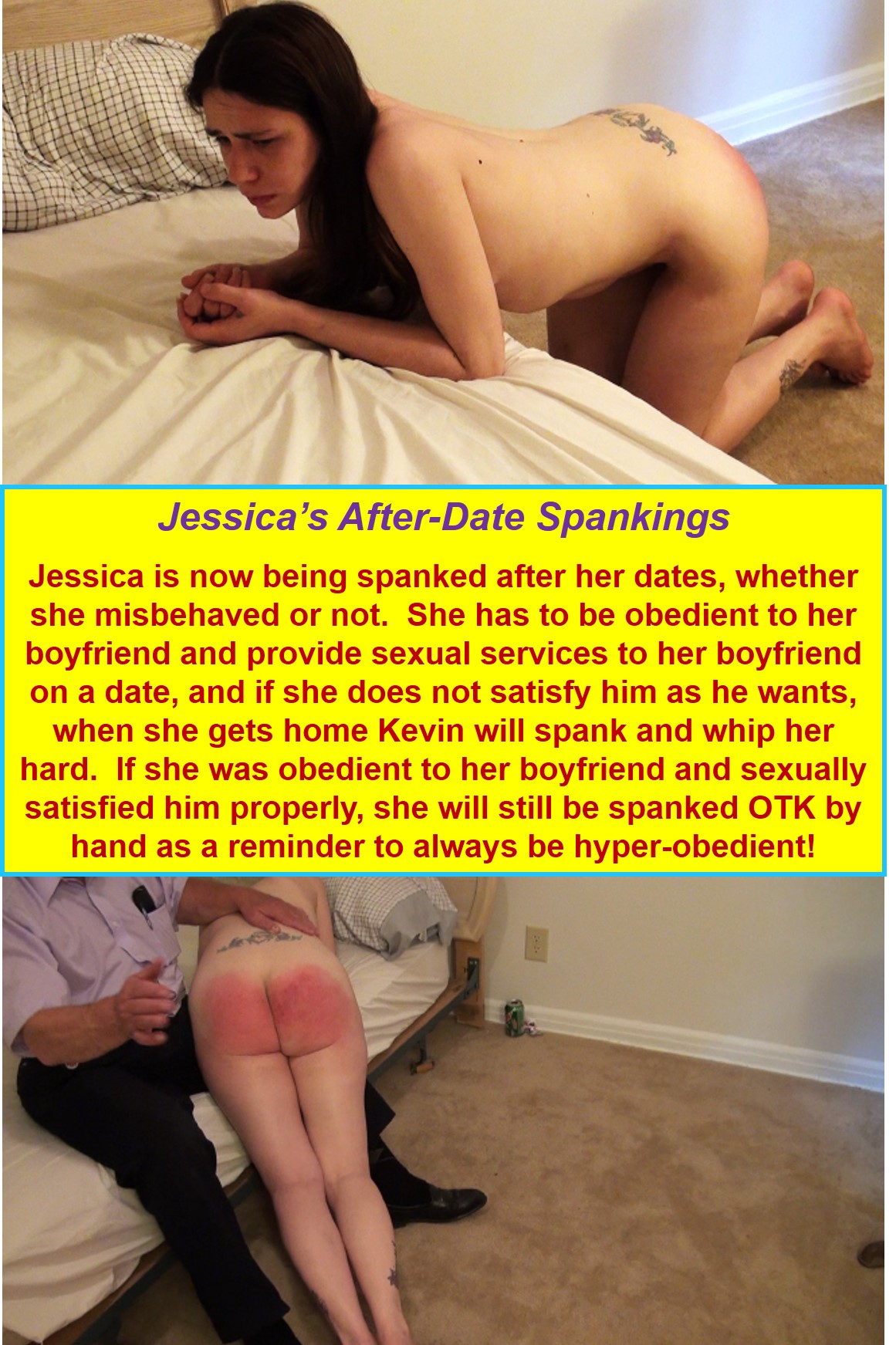 Jessica has to now report to Kevin when she gets home from a date and tell him if she was obedient to her date and sexually satisfied him as he wanted. Of course, she had better be honest since Kevin always talks with her date when he brings her home to see if she had been obedient and satisfied him as he desired.  As soon as she enters the home, she has to run to her room, get undressed and kneel on the floor beside her bed to wait for Kevin to come and punish her.  She has to place her strap and paddle laying out on the bed ready for Kevin to use on her.  When he comes in, he already knows if she will have to be punished and will pick up either the paddle or strap.  Standing over her, he asks her about her date.  She tells him if she was obedient or not, and if she satisfied her date or not sexually.  Kevin then administers her punishment as required. If she had been a good girl, he will still spank her with an OTK hand-spanking.  He says that it is important that she receive these Maintenance Obedience Spankings so that she is always hyper-obedient to whoever controls her.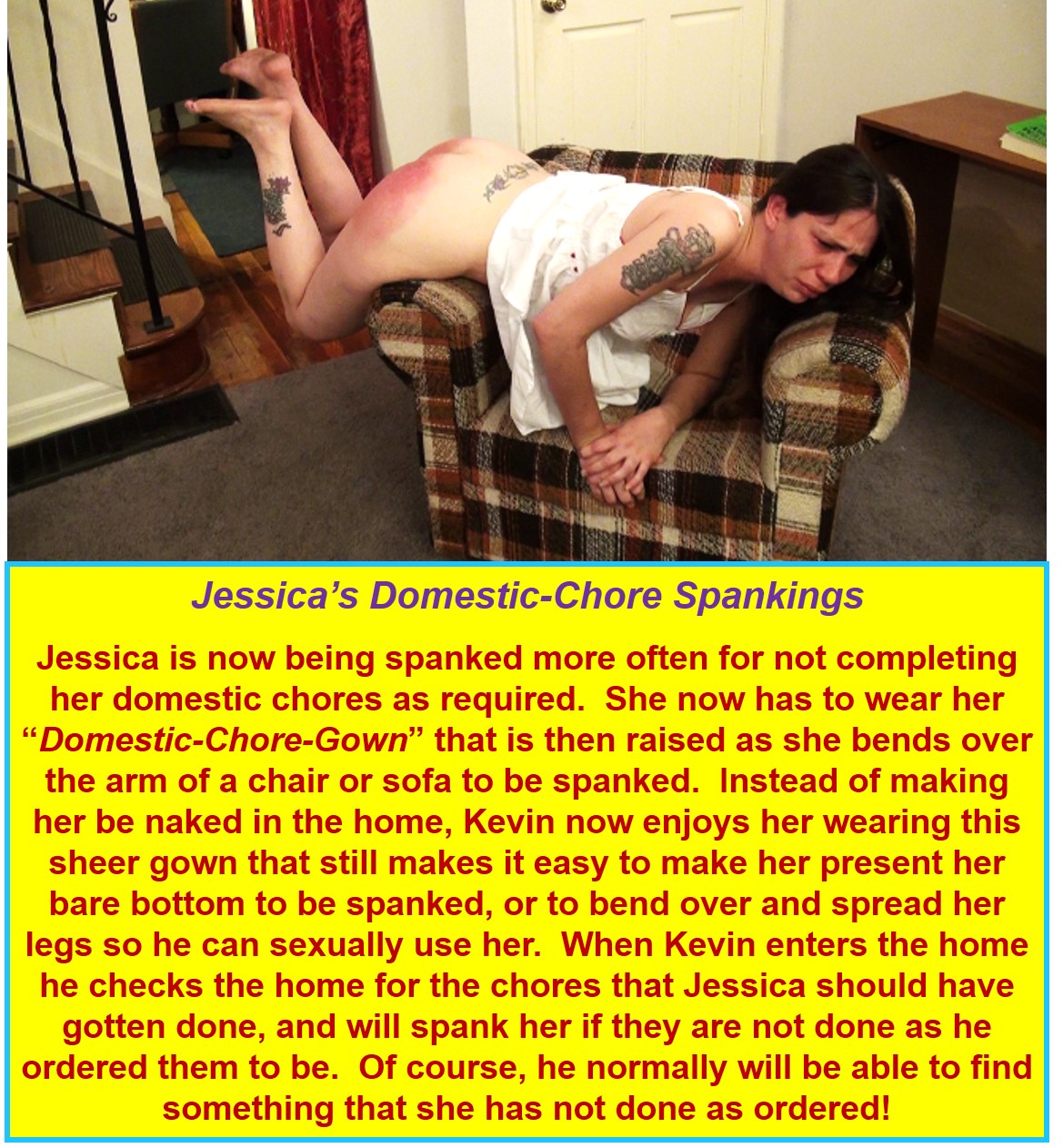 And, Jessica has now been given more domestic chores to complete and they must be completed in a very precise manner. No more of this: "Well, they are done, but could have been better." If they are not done exactly as ordered, Jessica goes over the arm of a chair or sofa for a hard whipping with her strap or Kevin's belt for at least 10 minutes. Previously, although Jessica was supposed to get at least 10-minute spankings, frequently they were only 1 or 2 minutes or so. But, no longer. If Jessica has to get spanked, she will be spanked for at least 10 minutes, no exception. Kevin is now much more strict with Jessica. If she has to sweep the floor, when she gets done, the floor had better be very clean. If there is still lint or dirt that has not been swept up, Jessica will be spanked. When she is told to take a bath and report to be inspected after her bath, she had better be clean and shaved. She is given a "cotton-ball inspection" after her bath.  [For her cotton-ball inspection, Jessica has to stand naked in front of Kevin with her hands on her head as he rubs the cotton-ball over her skin, especially in her groin area.  If it "snags" on any hair stubble, Jessica will have to be spanked.  Of course, she normally "has" to be spanked.]  In fact, she is inspected much more often, just whenever Kevin wants to inspect her. At any time in the home, she can be stopped and told to strip naked for an inspection, and she has to obey. Of course, after her inspection, she will be spanked.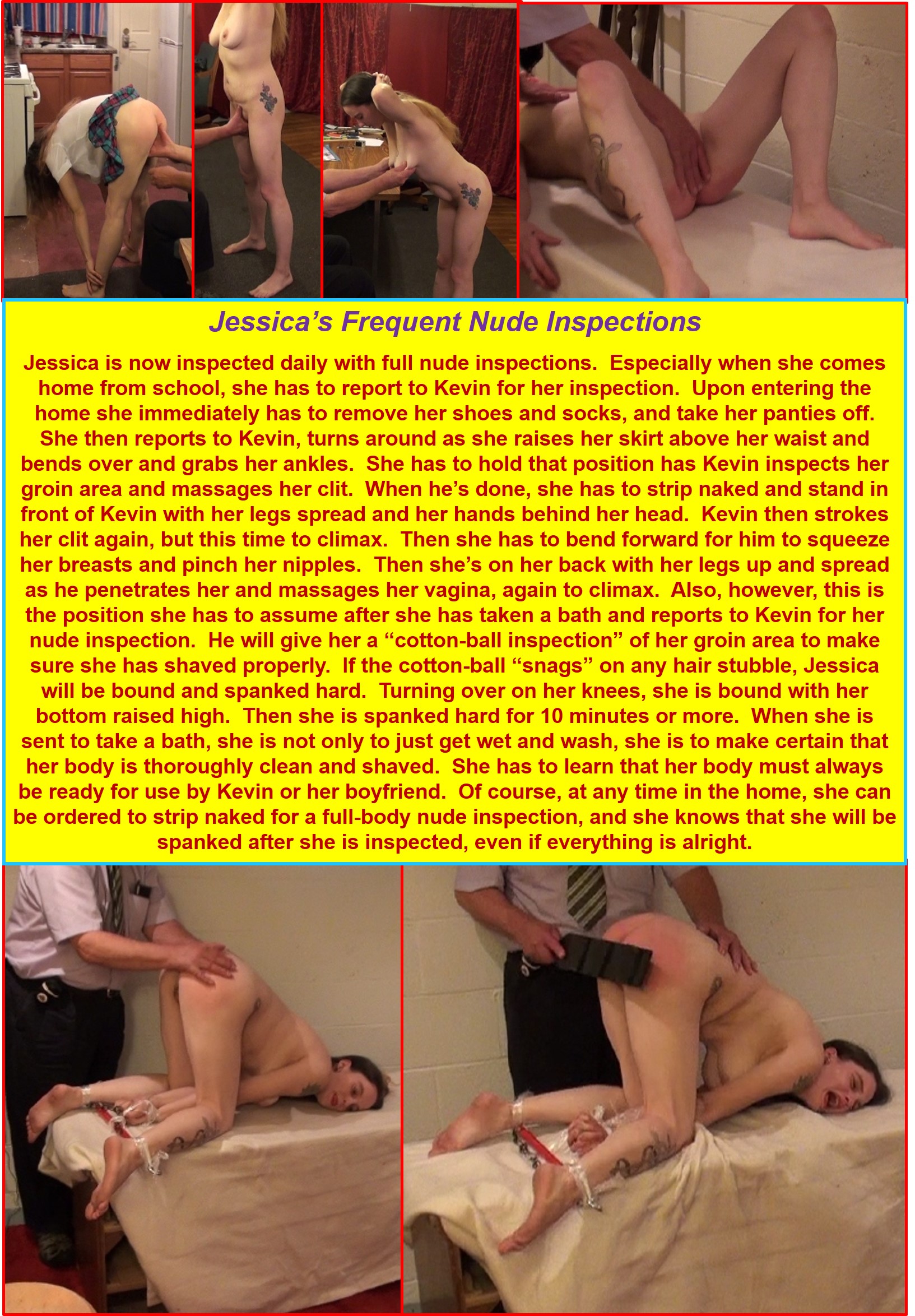 As a result of both Tonya and Jessica being spanked more often and longer, there is frequently a crying girl in the home. Each evening, Jessica will be heard crying followed by Tonya crying as Jessica goes to study, only to be heard crying again later!
Although Jessica says she is being spanked more and controlled more now, she says that she does need the spankings and control and is doing much better because of the control and spankings. She says that she is much more hyper-obedient, the way a girl should be, especially to her boyfriend.  She says that she feels much better when she can satisfy her boyfriend the way he wants, and feels he should be spanking her harder when she disobeys him or does not please him.   She says that she is becoming a more submissive girl, the way a girl should be to please her man and have a much better home life.
.
To see more of Amber, Alex, Heather, Clarissa, and Kyndall getting spanked, please click the banner below to go to Spanked-at-Home!

.
 Another report will be coming soon about a 34-year-old girl who is still being punished with spankings by her boyfriend who is 6 years older than she is.  While we do not include reports where spankings by boyfriends are administered as part of sex, we do include reports where the girl is living with  her boyfriend (or girlfriend) and is being routinely punished with spankings by boyfriends, since these are still "spanked-at-home" for discipline and punishment.  Hopefully, I can get it up later this week.  We'll see!