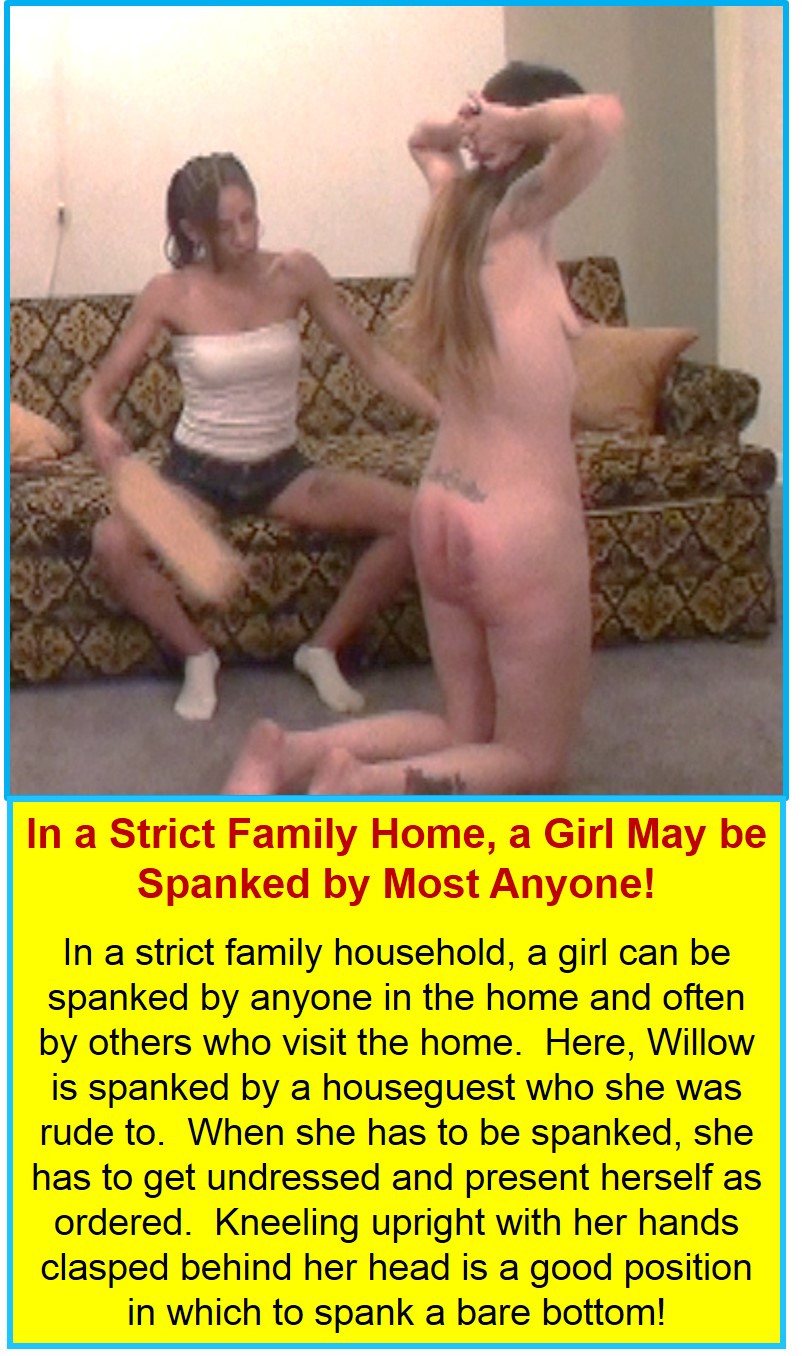 .
For the best in the spanking of Girls-Spanked-Bottoms, please go to Spanked Coeds by clicking on the bar below:

I previously published posts on another blog site during 2009 to 2011.  I published 33 posts in that blog.  You can see those posts at:

NOTICE:  Due to the amount of spam being received, no comments will be accepted.


.
The following report was submitted as part of my Spanking Survey Questionnaire. However, it is so detailed and instructive, that I am going to present it in this Blog with my own observations and other reports from girls in similar situations. Since this girl is forced to wear an Auburn hat or jersey at times, I will simply refer to her as "Auburn". 
Auburn states: 
My dad & I had to move in with my new stepmom's whole family for financial reasons and part of the deal was that anyone in my new 'family' had the right to punish me however they wanted and for whatever reason while I lived in their house! I thought those punishments were bad and unusual until I read some of the other accounts on this site and others. But there's one part of my situation that I haven't heard anyone else mention and I wonder how common it is.
Her "situation" will be presented in detail in this post. However, I will also report on another girl who is similarly very strictly spanked and punished in a manner similar to Auburn's, but still somewhat different. However, being spanked by several different people within and without the home is not that uncommon and is fairly common in strict communities. That said, the use of a "jury" is very uncommon! So, thanks for your report about your spankings and punishments, Auburn, as this will possibly open up some "creative" avenues for others in giving effective punishments to girls. Although, as we will see, this "jury-option" may not be the best. 
Auburn states: 
I'm a 23-year-old girl, and I am still being spanked. I do get punished frequently and am punished in a variety of ways. In addition to being spanked, I am also grounded, given corner-time naked, have privileges taken away and am lectured among other punishments. In addition, I am punished as follows:
I am made to bend over or kneel and present myself so a butt plug can be inserted into me.

Although this is uncommon, I had another girl, who I will call "Willow", report the same. A butt plug may be inserted after her Preemptive Spanking that she receives before going out, so that, in addition to a sore, warm bottom, she is continually reminded by the butt plug to behave herself in public or at a party she may be going to. In addition, she was made to sit on a "protrusion stool" after her Academic Spankings as she was sent to study to punish her for getting poor grades. A "protrusion stool" is essentially a stool with a dildo secured in the center of the stool. The protrusion normally goes into the vagina, but can be a butt plug, in which case it will be inserted into the anus when she sits down. 
I have very strict rules about what I can wear and I am spanked if I do not obey.

Again, in a strict family household, dress rules are common and may include the girl being given a dress inspection before she goes out. If there is a problem, she will be spanked. As noted later, Auburn has the same problem with dressing properly. 
I am made to remain naked for long periods of time. I am made to run naked for bike rides across the street to our neighbors.
Willow frequently had to be naked in the home and complete her domestic chores nude. And, as with Auburn, Willow's chores were checked, and if there was a problem, she would be spanked. As she was naked, it was easy to make her bend over a sofa arm, for example, so a belt could be used on her. Apparently Auburn was made to present herself naked outdoors, which Willow never did. However, I have known of 2 other girls who were naked outside, and the one enjoyed it as she was an exhibitionist.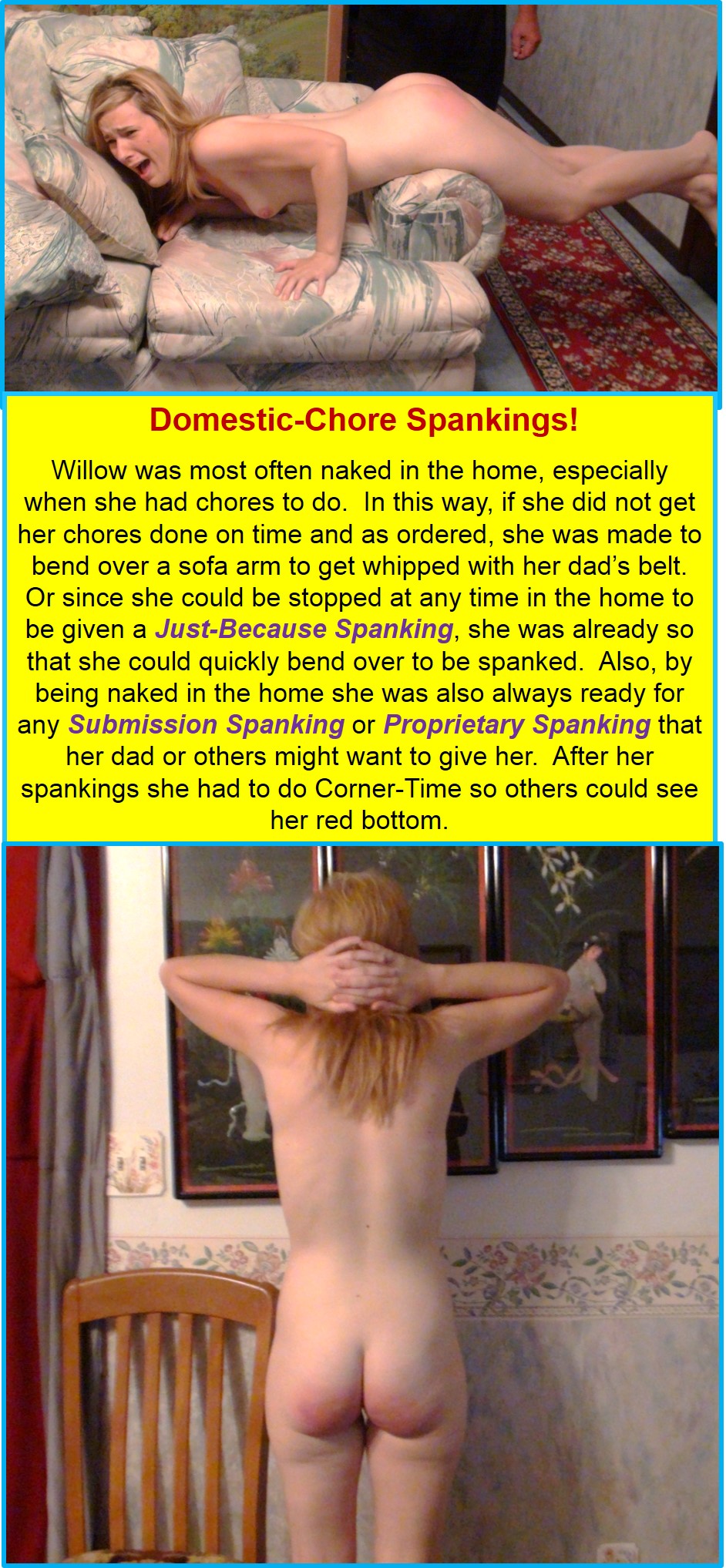 I am forced to ask for spankings and enemas.
Willow had to report to her dad every evening and tell him if she needed to be spanked for misbehaving during the day. If she did not report a misbehavior and he found out about it later, she would be spanked and punished much harder. Enemas were also given for disobedience. Being forced to ask for spankings is an excellent method for training a submissive girl. Auburn appears to not really be submissive, and she needs to be spanked a lot and made to submit more so that she properly learns. 
I am given essays to write, extra chores, vaginal inspections, forced masturbations, pussy brushings, loss of privacy, early bedtimes, wedgies, nipple pinching, and forced to work in the basement woodshop to make paddles.
Willow had much the same except she would just go and buy paddles and straps to use on her. Auburn having to make her own paddles would actually be more effective. I like that! The "pussy brushings" I believe are what Willow received as shown in the photo. These brushes are used to roughly "clean" her clit.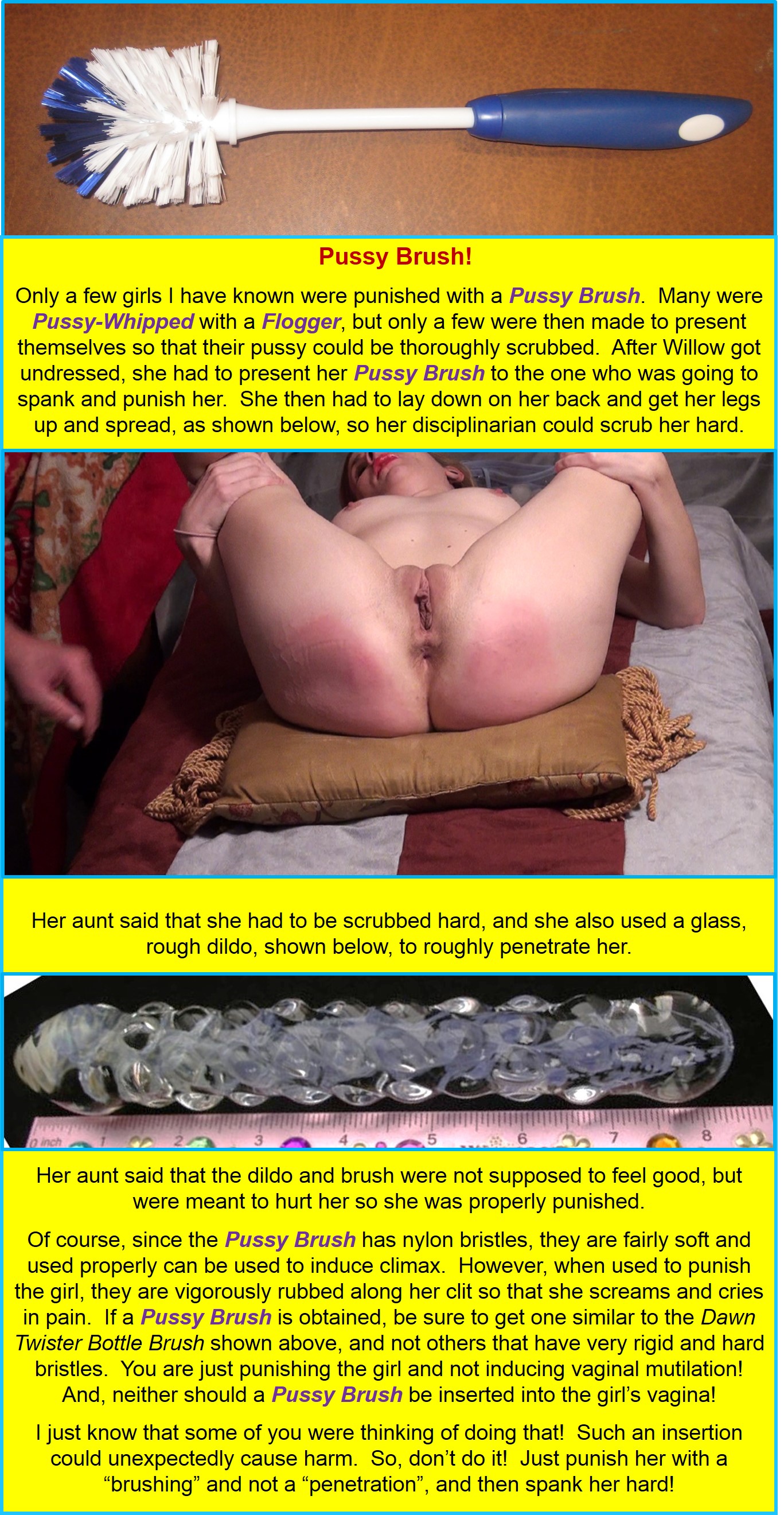 But also Willow would receive pussy-whippings with a flogger, riding crop or thin strap. Groin area and vaginal inspections were frequent. And she had to always be shaved smooth. If she wasn't, she would be spanked hard. A speculum would be used to spread her labia lips to see inside her, especially after a date and there had better not be "anything in there" that did not belong there. Also, such inspections were used for the sole purpose of assuring her submissive obedience. Submission and obedience were critical for Willow, as they are for Auburn. If she did not report for evaluation and punishment in a submissive manner with a proper submissive attitude, she would be made to bend over for a hard whipping with her strap. 
Forced masturbation to climax was another punishment she had to do, and was for the main purpose of, again, assuring her submissive obedience. Of course, her disciplinarian probably also simply enjoyed watching her masturbate and climax.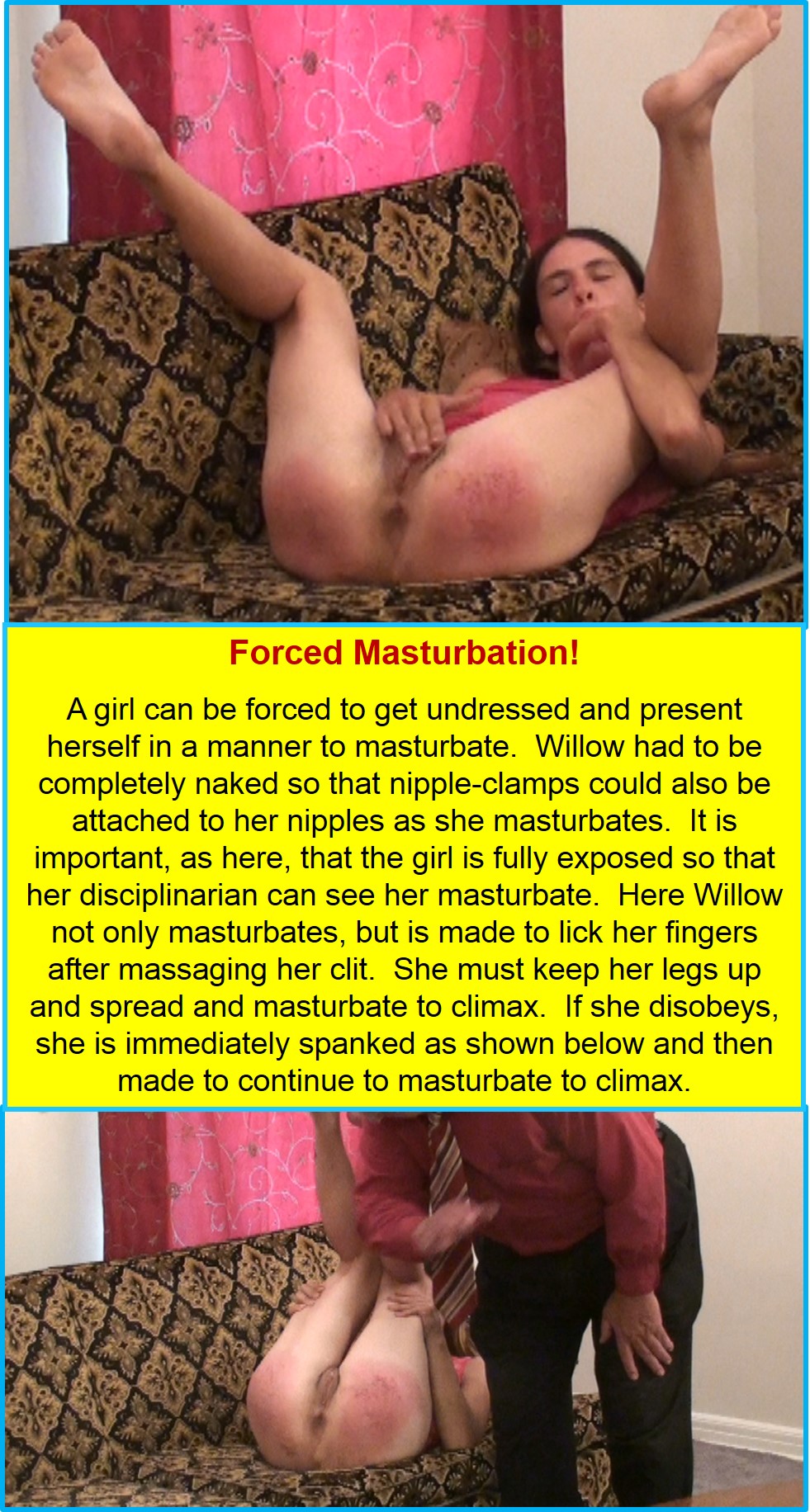 "Loss of privacy" for Willow was normally a routine part of her home life. She was most often naked and she could not be in a room with the door closed, even the bathroom. If she had to use the toilet, she had to do so with the door open and her dad or others could watch her use the toilet. If her dad did, then after she was through, she most often would have to bend over, reach back and spread her cheeks as she spread her legs for a hygiene inspection. Most often these inspections were followed by him using his belt on her, if nothing else than just for a

Maintenance Spanking

.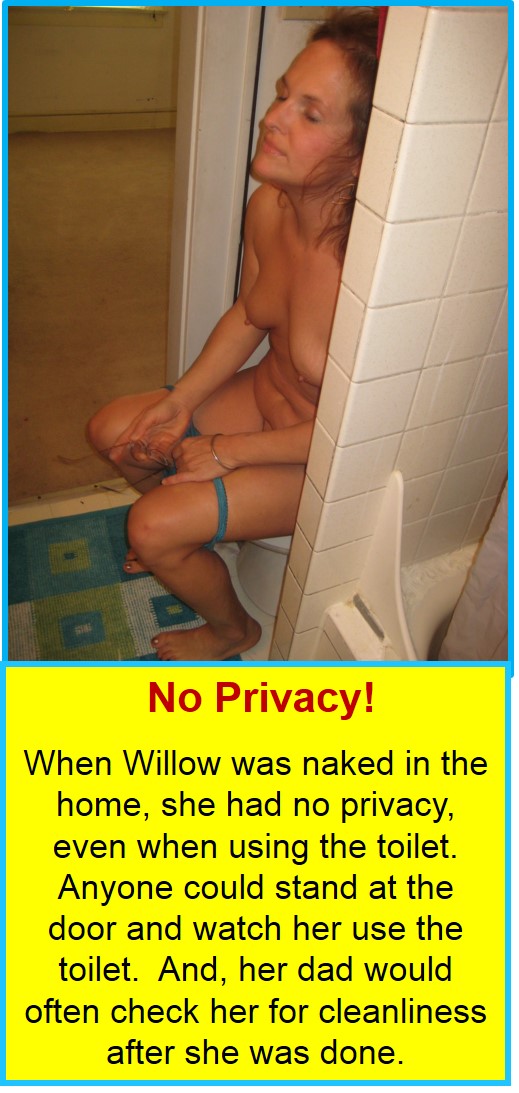 Early bedtimes were fairly routine, with Before Bedtime Spankings administered if she had to be sent to bed early. "Wedgies" were not given. Squeezing her breasts and pinching her nipples or using nipple clamps were routine.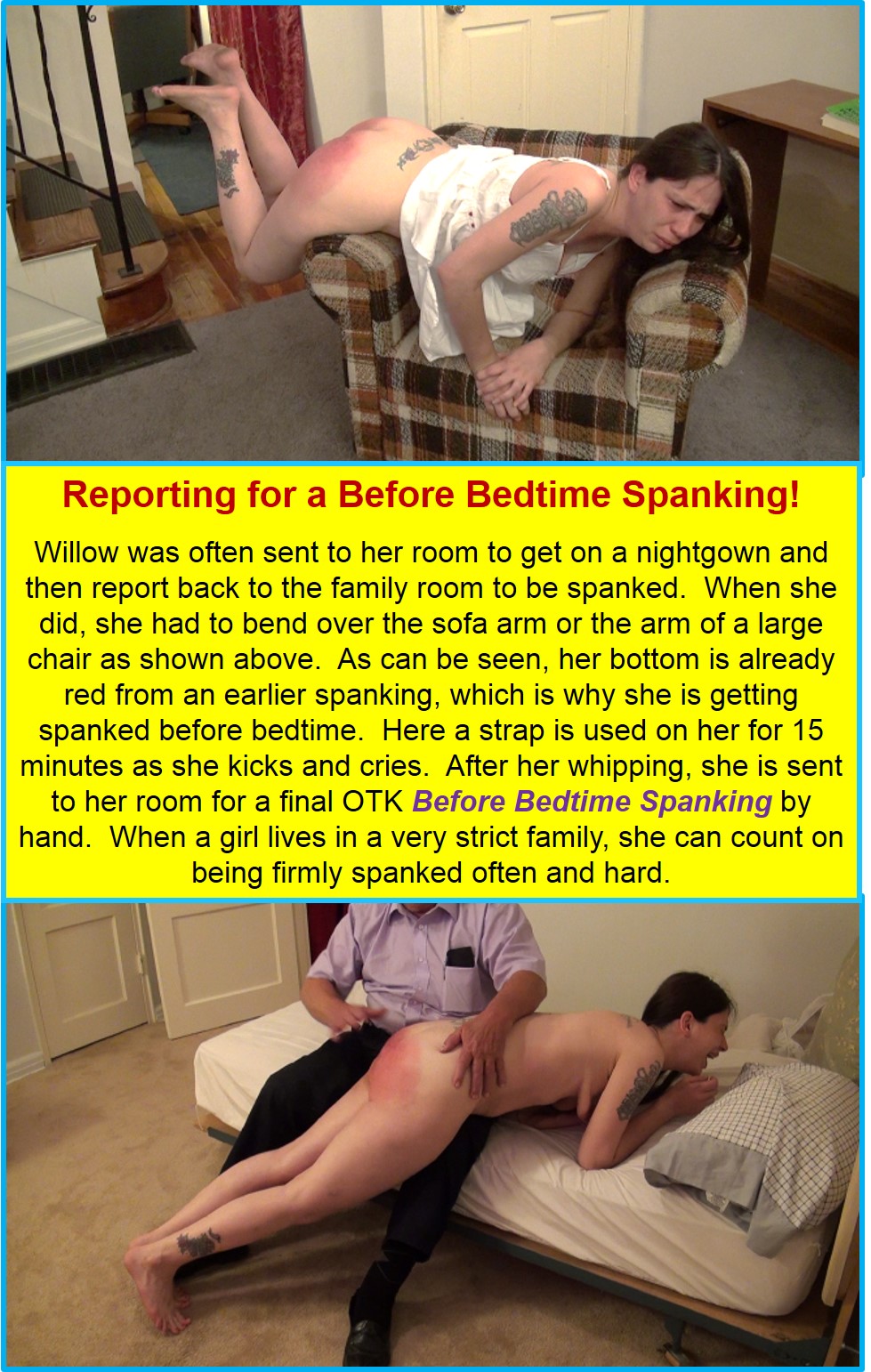 I have to give family presentations on why my behavior was wrong.
Willow also had to give reports to her family and others who spanked her. As with Auburn, Willow was spanked by many different people. And Willow would have to go to each when she had to be spanked, hand them an implement to use on her and bend over for them to spank her. 
At times I am not allowed to talk.
This is a basic rule in most strict families. That is when you are told to shut your mouth, you had better obey! However, it seems as though Auburn's punishment on this is more strict than Willow's in that it appears to be for a prolonged period of time, rather than just an immediate order. 
I am forced to wear Auburn (Alabama) hat or jersey (seriously!!!!!).
Now that is just really cruel!!!
After listing the above punishments, Auburn continues with her story: 
I am spanked a lot with being spanked 3 to 5 days a week, and spanked 5 to 10 times a week or more.
(Auburn says she is spanked 3 or 4 times a week, but upon reading her entire report, I believe at times she is spanked 5 days a week. If she reads this, she may clarify.) 
When I have a day when I'm going to be spanked, I'll be spanked 2 or 3 times that day!
I am spanked a lot since there are several people who spank me: of course my mom, but then also my uncle, aunt, grandfather, grandmother, male family friend, male teacher, and anyone else who may be present can spank me. I take violin, and my violin teacher spanks me. But, if he spanks me I am not spanked again at home.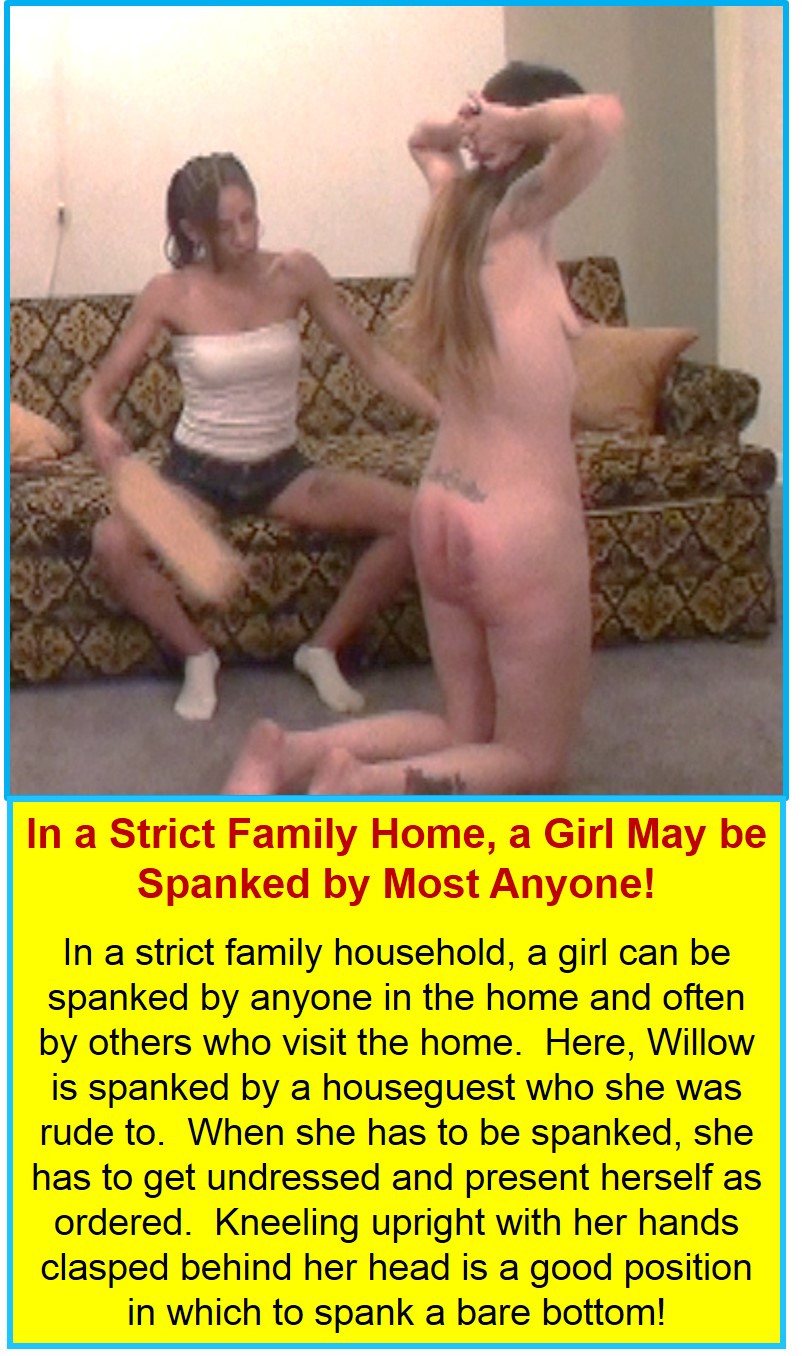 Willow was spanked by her step-dad, her pastor, her boss at work, her neighbor, her male cousin, and anyone else her step-dad told her she had to obey. At times she was given a "babysitter" who was expected to spank her at least twice during the evening, and to monitor her chores that she had to complete. When she had to have a babysitter, she had to be naked and have spanking implements laid out ready to use on her. Also, the babysitter was expected to give her a pussy-whipping and anus-spanking, in addition to the two OTK spankings that were expected. In addition, the babysitter (normally a man who was at least 10 years older than Willow) could order Willow to masturbate or present herself for dildo or vibrator use to climax. Babysitting was for punishment and Willow could be punished in any manner the babysitter wanted to punish her. 
And, I am spanked pretty much in front of anyone present, but, in particular, my dad, mom, uncle, aunt, grandfather, grandmother, male cousin, female cousin, male neighbor, female neighbor, boyfriend, male family friend, female family friend, houseguests, male pastor, and just anyone present.
This is quite common in strict family households, especially being spanked in front of anyone present. Willow's dad told her that if she did not misbehave in front of company, they would not have to see her get spanked. But when she did misbehave in front of them, then not only would they see her get spanked, but they could also spank her and were expected to spank her. 
When I am spanked, I have to be naked from the waist down, or only wearing my panties and bra, or only my bra, or, most often I have to be naked. Sometimes the spanker is the one who takes my clothes off, but also I might be ordered to take them off.
Willow always had to take her own clothes off, if she was wearing any. However, sometimes when she came home late from shopping, for example, she had to immediately get her panties off, her skirt up and bend over her dad's knee for a spanking. Of course, her shoes and socks came off as soon as she entered. Normally after these spankings she had to get up and strip naked and then go sit on a punishment protrusion stool for 30 minutes. Willow was practically always naked when she was spanked. 
Most often, I resist when I have to be spanked, and will then be spanked longer or have other punishments added on, although sometimes I do cooperate when I know that I do need to be spanked.
Willow had learned to be submissive when she had to be spanked. In particular, when she visited her girlfriend and the dad had to spank both of them, she had better be very submissive. If she wasn't, and the dad had a problem spanking her, when she got home she would be in for a very severe whipping.   With her girlfriend's dad, they had a punishment room where the girls were sent to be punished. But before they were sent, they had to stand in front of the dad and take their clothes off. Then the girlfriend would run and get the bathbrush and return and hand it to her dad. Then she had to turn around as her dad spanked her hard with 25 strokes to each cheek and then sent her running and crying to the punishment room. Then Willow had to turn around and get her bare bottom spanked hard with 25 strokes to each cheek and then was sent running and crying to the punishment room. Then for the next 1 to 2 hours the girls were spanked, pussy-whipped, anus-spanked, had their breasts whipped with a flogger, their nipples pinched and nipple-clamps attached with weights, punishment dildos used on them, the

Pussy Brush

used to brush their clit, anal dildos inserted in them, butt plugs inserted, and so on, but especially they were whipped and spanked repeatedly. These punishment sessions were for the purpose of wearing the girls out from activity and crying and to assure their absolute submissive obedience.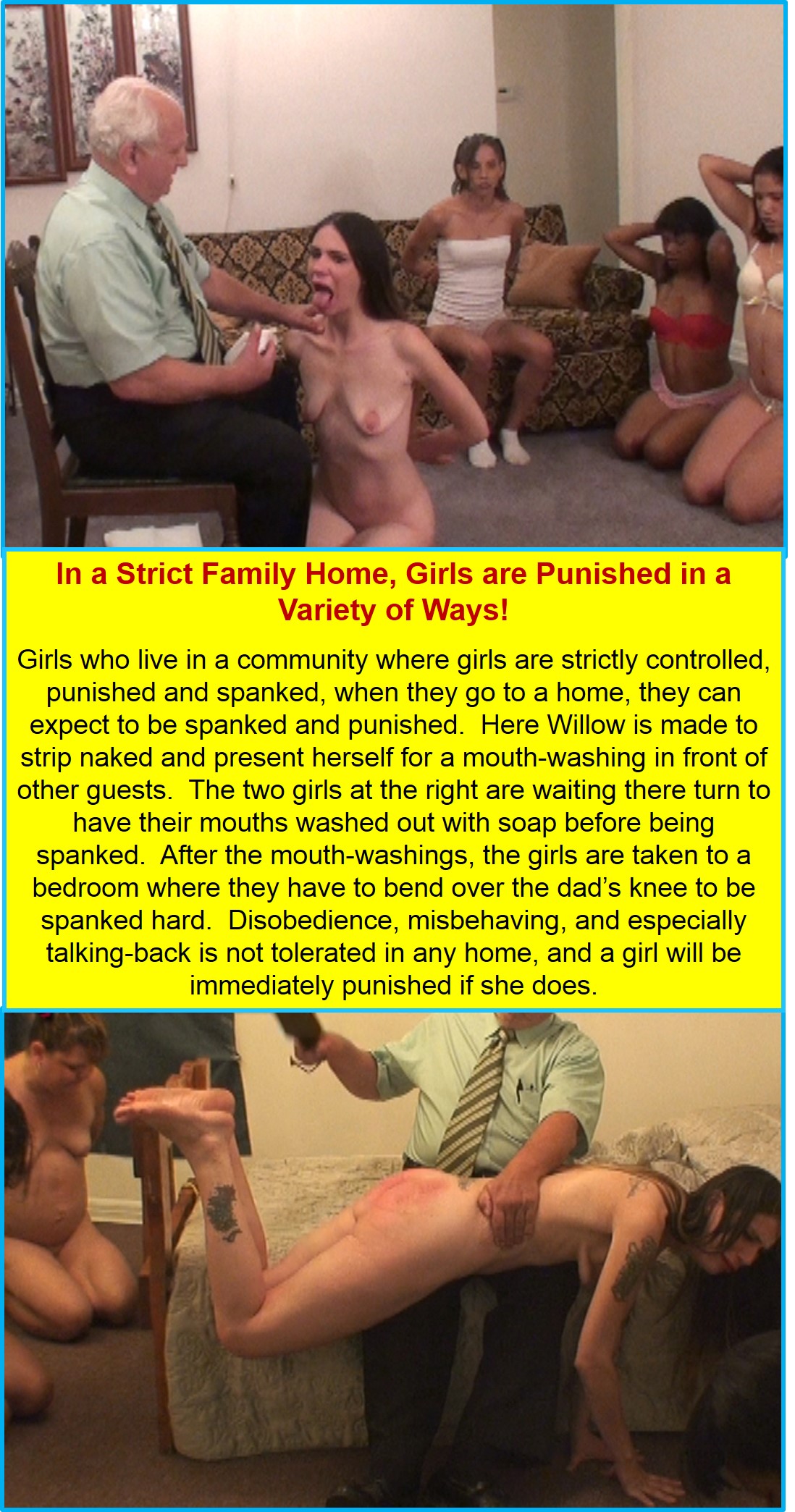 I am spanked in a variety of positions, but most often OTK, although also I have been spanked in the "wheelbarrow" position and once doing a handstand against the wall.
Willow never did any handstands, but was placed in a variety of positions for her spankings. The wheelbarrow position was used not only for bottom spankings, but also for anus-spankings, as well as inserting an anal-dildo. 
I am spanked by hand, with a paddle, strap, belt, hairbrush, wood spoon, wood spatula, Ping-Pong paddle, riding crop, ruler, carpet beater, and yardstick. And, I am spanked for as long as the disciplinarian wants to spank me. I have been spanked with more than 500 strokes!
Willow was spanked with all of those that Auburn has used on her, except for the carpet beater. But, she was also spanked with a Jokari paddle and cane. I am pleased that Auburn is spanked for as long as her disciplinarian wants to spank her. That is how a spanking should be given. A "Sustained and Prolonged Spanking" is a proper spanking. I administer 100 slaps/minute with a hand spanking, and I administer 5- to 10-minute spankings or longer, so a spanking of 500 to 1000 slaps is quite common. If a paddle or strap are used, then a 5-minute spanking might result in 200 to 300 strokes, and a 10-minute spanking in 400 to 500 strokes. Of course with Willow being spanked for 15 to 20 minutes, she was always administered over 500 strokes of an implement.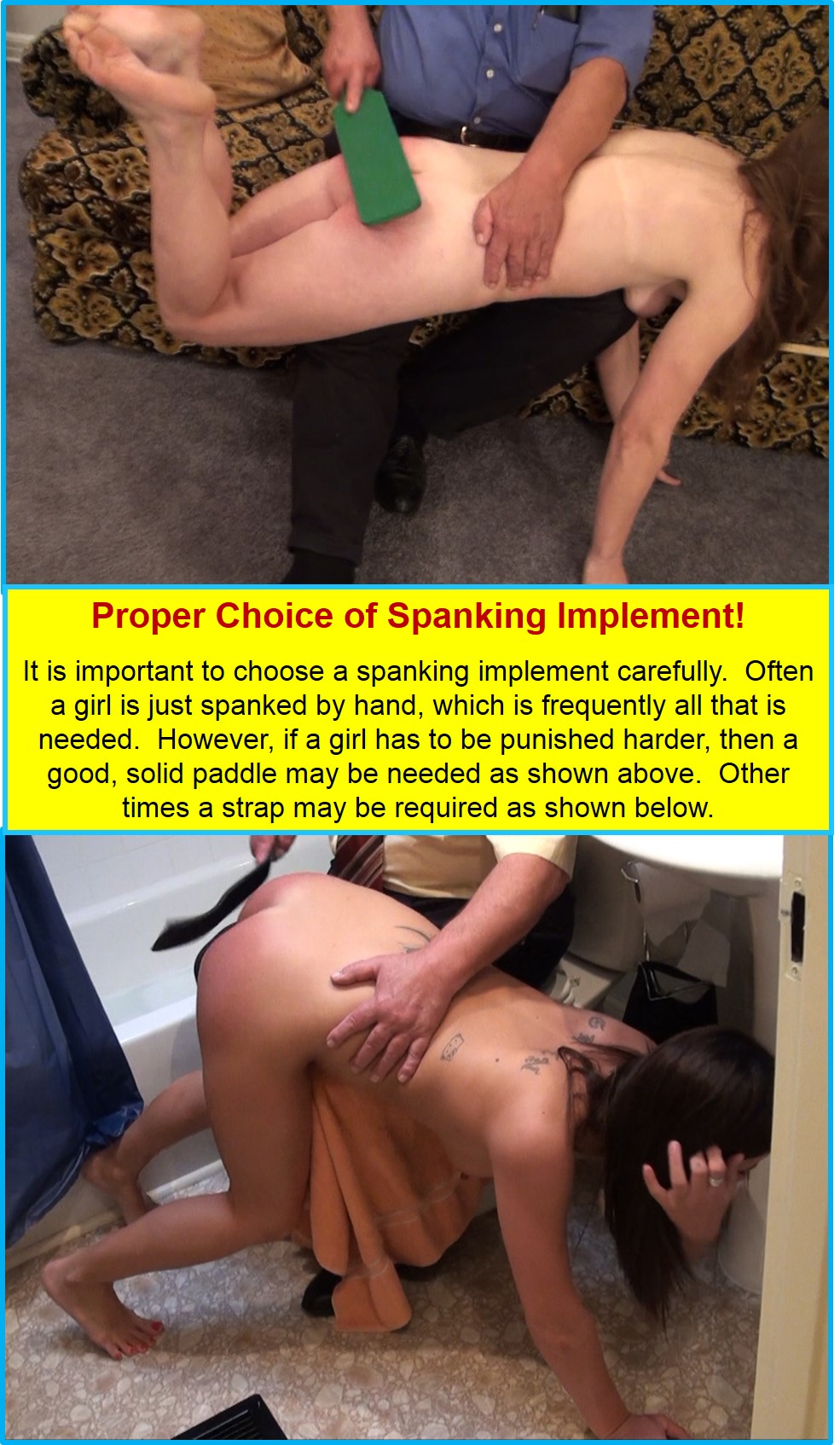 I am spanked for talking-back, swearing, getting in trouble at work, failing to do my chores well enough, not doing what I am told to do, coming in past curfew, skipping work, smoking, leaving a mess, being late, failure to pay attention in church, not memorizing bible verses, poor clothing choices, and not eating enough. And, I am given maintenance and preemptive spankings. My step-grandfather gives me what would be called submission or proprietary punishment.

Of course, these are quite common misbehaviors for which most girls are spanked. Willow, being in school, was spanked for poor grades; i.e., any grade below an "A" (and an "A-" is below an "A"!). Willow got spanked a lot for "poor" grades. Also, Willow had to report to her pastor 2 Saturday's each month to be lectured and spanked. As she entered his office, she had to get undressed, hand the pastor her strap and bend over a table. She was lectured for 15 minutes or so and then whipped for 15.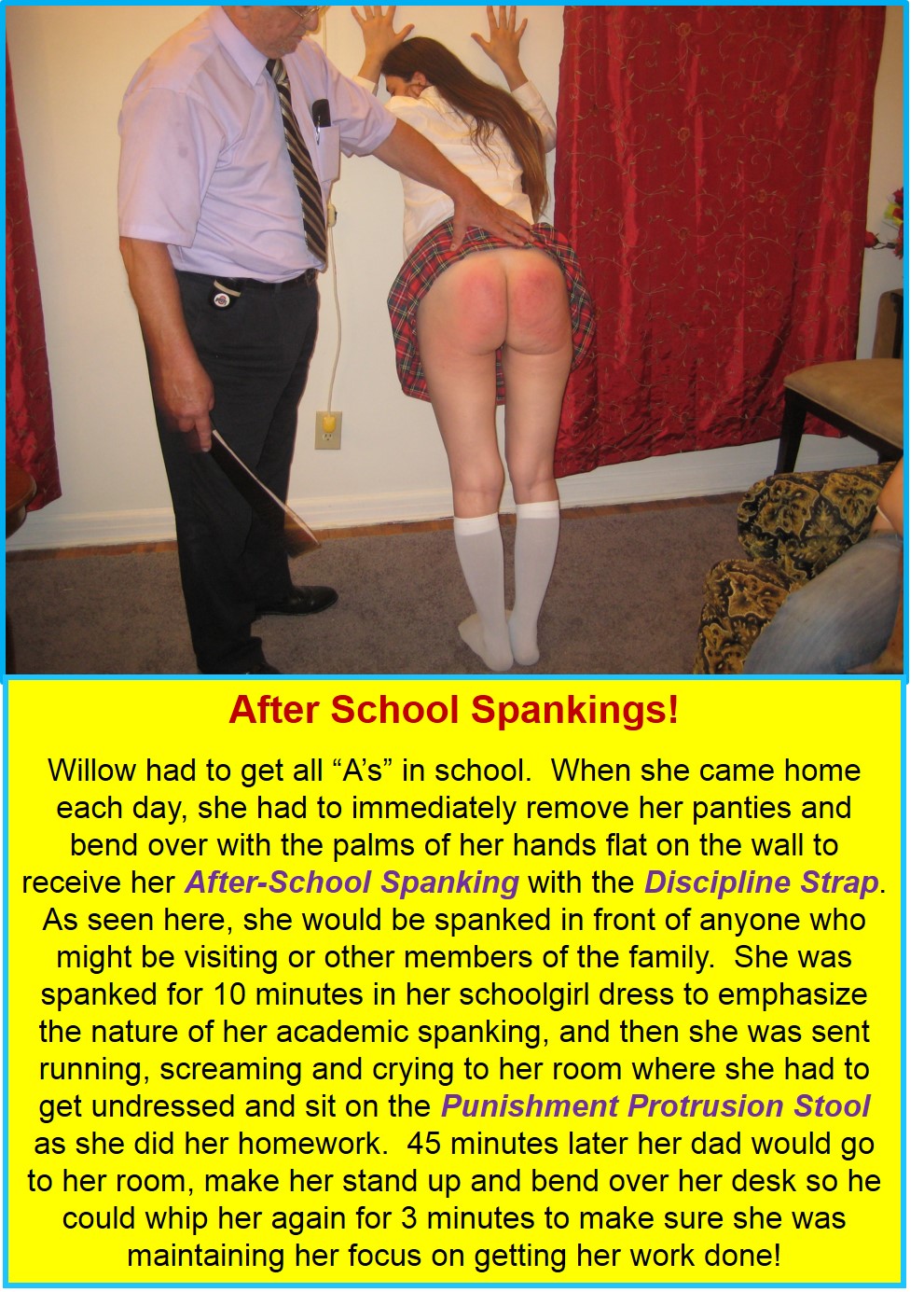 If I misbehave away from home, I'll get spanked when I get home.
If Willow misbehaves away from home, she will most often be spanked right then, and then spanked again when she gets home. This is especially so if they are visiting friends. She will simply be stripped naked right in front of the friends and made to bend over for her spanking. 
Auburn related the following story, and she appreciates your interest in what happens to her. 
My dad & I had to move in with my new stepmom's whole family for financial reasons and part of the deal was that anyone in my new 'family' had the right to punish me however they wanted and for whatever reason while I lived in their house!
I thought those punishments were bad and unusual until I read some of the other accounts on this site and others.
(I am certainly pleased that my Blog has helped!)
But there's one part of my situation that I haven't heard anyone else mention and I wonder how common it is.
(As seen above, although it is uncommon, it is not unknown. There are certain communities in which the strict and severe type of punishment told by Auburn is fairly common—such communities as strict religious communities, Serbian communities, Amish communities, and numerous communities in countries overseas.)
My dad was worried that I'd get punished for unjustified reasons and so he convinced stepmom to institute an appeals process. (This is the first report I have received of such a process.)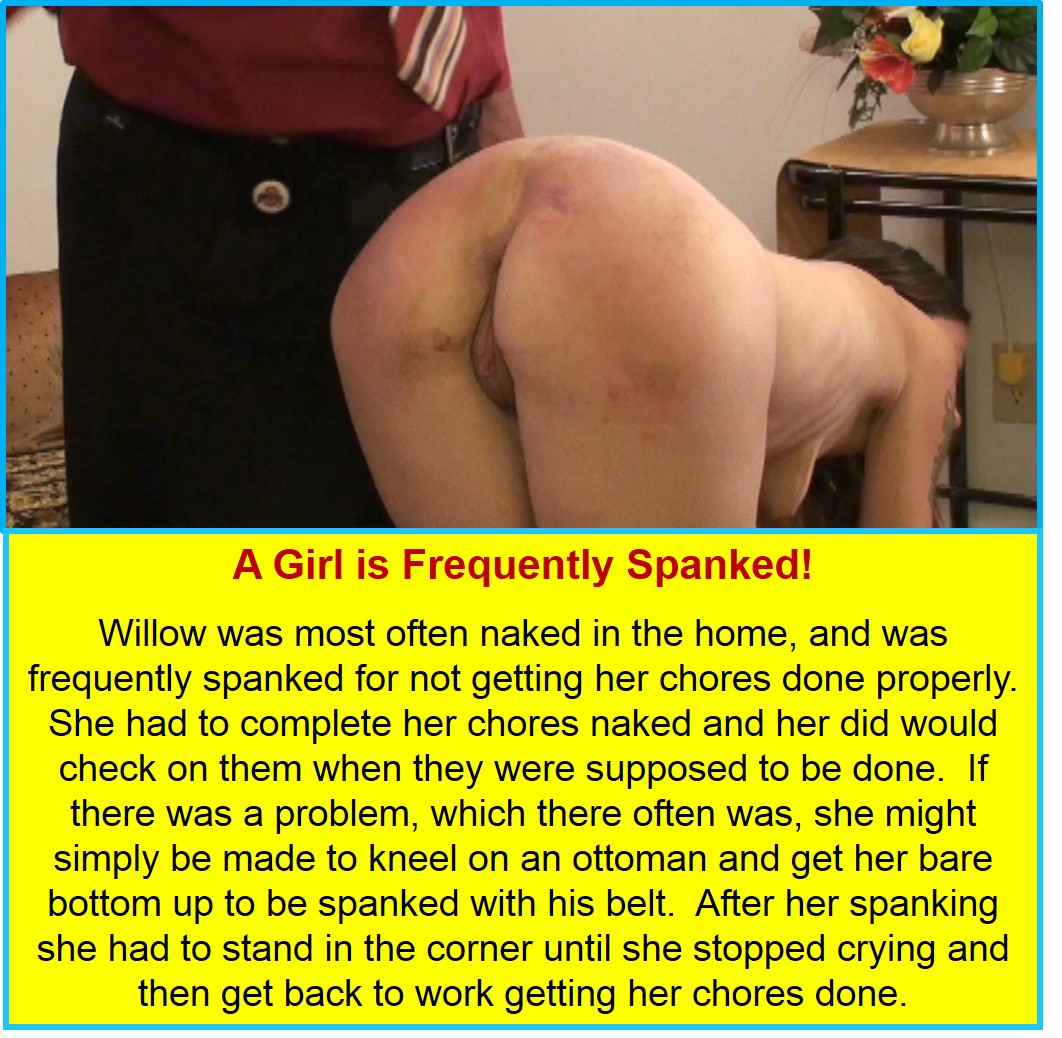 I still have to submit to whatever punishment is decided but then I can choose to appeal it by writing down exactly how I was punished and then posting it on the fridge and asking for an appeal.
(The first problem I see here is that the punishment is already given before the appeal! This is the reverse of what would be known as an "appeal process". And, as seen below, it really does not work all that well. So, after Auburn is spanked and otherwise punished, she then "appeals" her punishment. And who does the "appeal" go to? Read on!)
The problem is that the appeals process is shit! (OK, now Auburn has it right! But, I guess I should spank her for saying "shit"!  )
Whoever punished me can choose any three adults they want to serve on a jury like neighbors, family friends, my pastor, other family members, even my ex-boyfriend have all been on juries and they aren't all exactly impartial!
(Actually the choice should be made by Auburn so that she is "judged" by her "peers"! Oh well, the object of this process, as seen below, is actually to provide additional "opportunities" to spank Auburn!)
At the start of the appeal I have to strip completely naked and ask each member of the jury to spank me and then ask each one to inspect me!!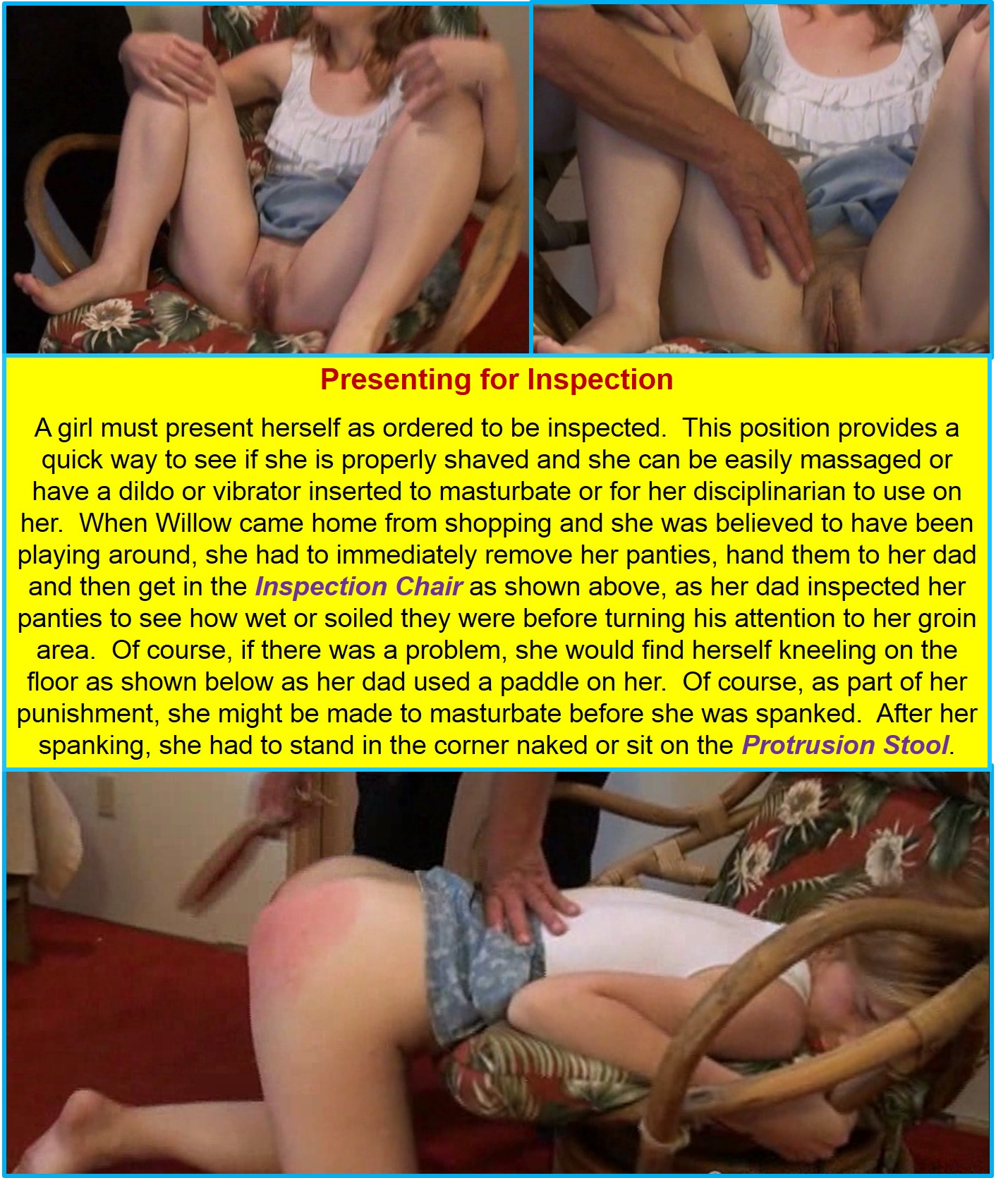 (This actually is very close to what Willow has to do. Spankings and full-body inspections are very closely associated so that the girl learns that she is to be submissive and obedient to anyone who controls her. There may be 4 or 5 people in the "circle of disciplinarians" at any one time, and Willow has to go to each one and submit to whatever punishment they want to give her, but she must also ask for pussy-whippings, breast whippings, vaginal dildo insertions, anus-spankings, and so on. She has to go to their home or office, strip naked when she enters, hand them any implements she brought with her, and then bend over to be spanked or otherwise punished. This process is not so much for punishment, but to assure the girl's abject obedience to being submissive.)
Then, I have to read the account of my punishment and if the punisher can remember anything deemed important that I left out I get paddled for my error.
(

This actually is a very important part of a girl's training

; i.e., she must learn to "pay-attention-to-detail" so that she can be more properly subservient in doing her domestic chores and providing required sexual services. If Willow does not provide accurate reports, as with Auburn, she will be taken OTK and spanked.)
Then whoever punished me is allowed to talk about why their punishment was justified and during that time they are allowed to 'recreate' all or part of that punishment to show the jury what happened! (A lot of what goes on here is to discourage Auburn from complaining. That is, take your punishment, shut up, and move on, young lady! With Willow it is handled very simply, anyone can give her a

Just-Because Spanking

at any time. If they say it is for cause, but Willow thinks it is not justified, as with Auburn, she still has to be spanked and cannot complain, since if there was no reason to be spanked, then it is automatically a

Just-Because Spanking

. If Auburn thought of it in this way, it would save her a lot of spankings!)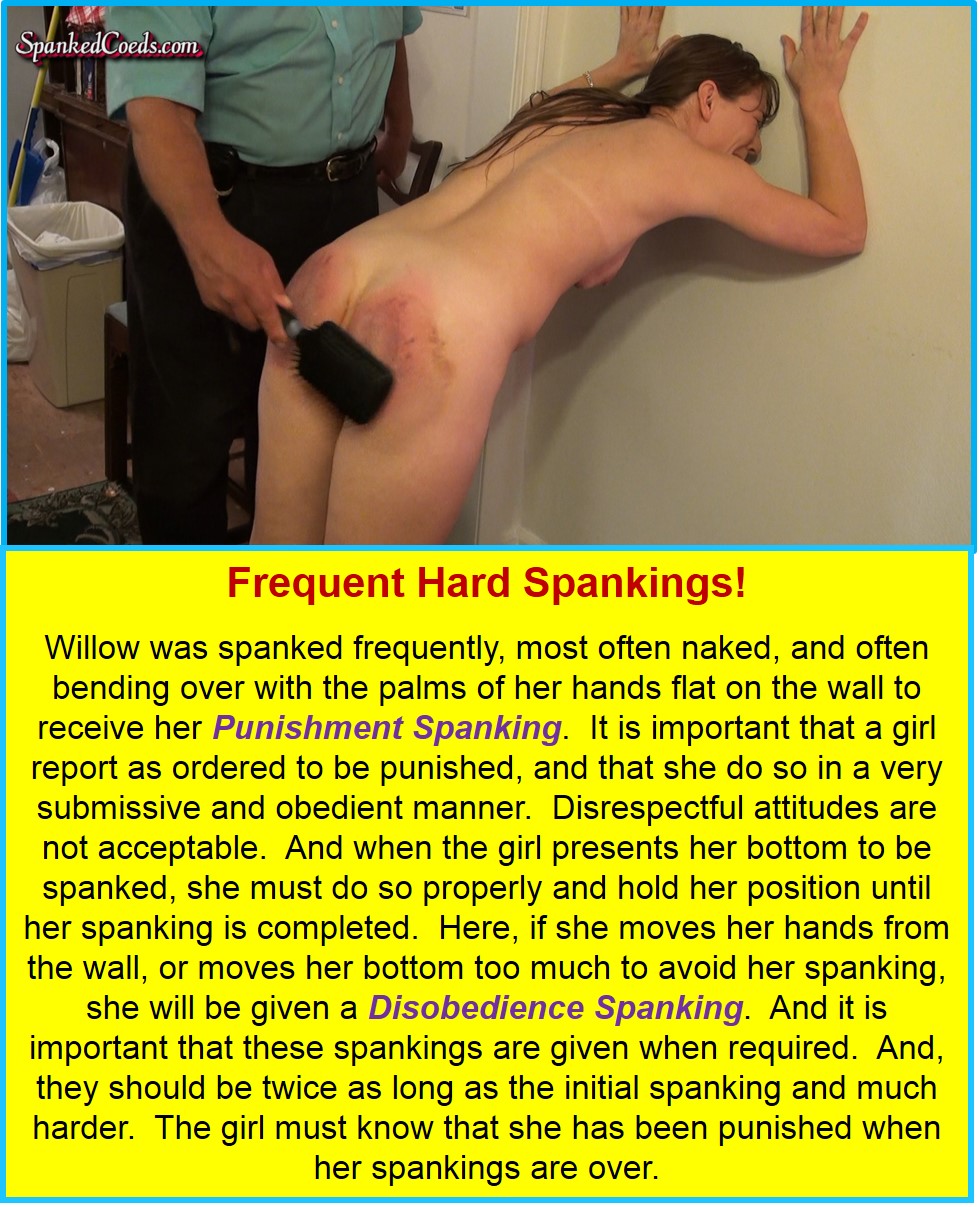 Then it is my turn to present my case but I'm only allowed to while wearing really tight nipple clips 'to ensure I am efficient and don't waste people's time'!!

(Again, this is a fairly common tactic to make sure that a girl brings up a problem only when there actually is a legitimate problem, and she is not just complaining. Whether the girl is made to wear nipple-clamps or sit on a punishment (protrusion) chair while she is lectured or doing her homework or making a statement, the punishment conditions make it so she will be brief and only state what is necessary. If, when Willow finishes making her statement and she has not said anything important, she will be punished hard. Again, to make her think really hard before saying anything. A submissive and obedient girl is to be seen and enjoyed, and is not to be interrupting her disciplinarians with her banter.)
Then the jury can ask questions. When they are done I have to stand in the corner while they deliberate.

(Corner-time helps to establish the proper place of a submissive-obedient girl. Especially if she has a red and bruised or blistered bottom, she must stand in the corner with her hands clasped behind her head so that she is fully exposed to those in the room. Also, in this position, she can be spanked some more if it is believed necessary. I will often spank a girl again when she is in Corner-Time if she has regained too much control from her crying and I want her to cry longer. If her crying subsides, I will spank her again until she has cried the desired length of time.)
This process just sucks!! (I would spank Auburn for her poor attitude! [That's a joke, Auburn! Although true!  ])
Just to get a 'verdict' from the jury is 100% humiliating and painful!!
(Of course, that is the point of this punishment procedure.)
If the jury agrees my punishment was unjustified they can order the punisher to make whatever amends they want. The first time I went through the appeal I actually won and as compensation my grandfather lost the right to punish me for two days and I got out of all chores for three days and my step-grandfather had to get me a $250 amazon gift card. (Well, that is great! But, as seen below, the "success" did not last long. Actually, Auburn should have remembered why her step-grandfather spanks her: "My step-grandfather gives me what would be called submission or proprietary punishment." Of course her spankings are not "justified" … they are not supposed to be … they are simply to establish her "submission" and to let her know that her disciplinarian "owns" her!
Actually, if I were on the "jury", I would have pointed that out and told Auburn that her complaint was
totally fallacious and she was to bend over the table and wait as I administered 1000 strokes of a Discipline Strap! OK, Auburn, I guess you won't want me on any of your "juries"!  

)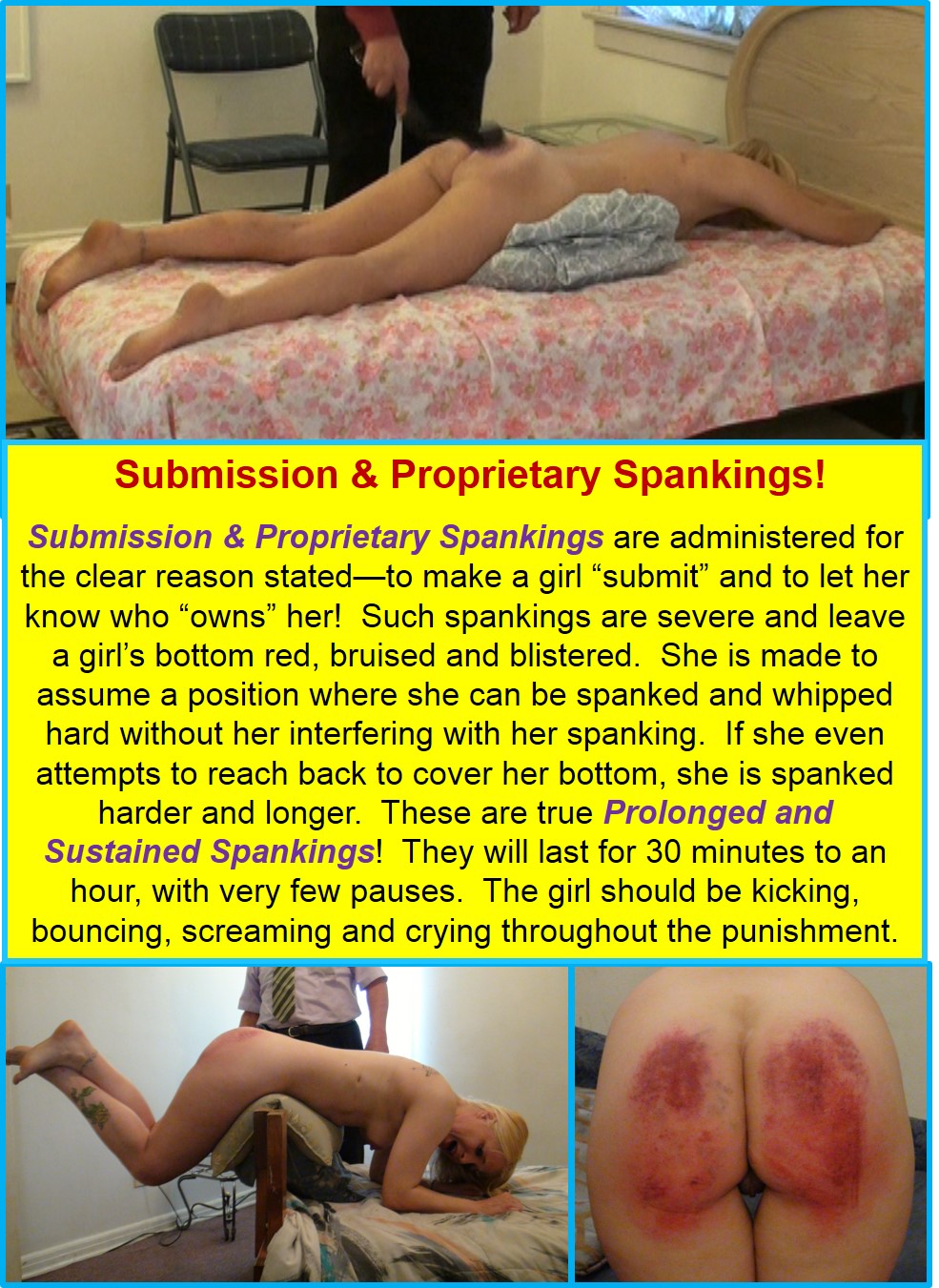 But every time I've appealed since I've lost.
(Auburn, you are supposed to "lose", so that there will be an "opportunity" to spank you!)
When that happens then for the next three nights I have to go to each member of the jury and ask them to punish me in the way I objected to, plus they can add other punishments. (This is very similar to the punishments Willow would receive. You are not alone, Auburn!)
Then the following Saturday I have to spend an entire day naked with the person who punished me. (Again, this is fairly common in a strict domestic-discipline family. In many such families, the girl has to report for Domestic-Service every Saturday anyway. She reports at 8:00, strips naked and is taken OTK for her

Obedience Spanking

. Then she is assigned numerous chores to complete and the time that they have to be completed. As she goes about getting her chores done, the disciplinarian checks them at the time they should be finished. If they are not done or are not done properly, she is taken OTK and spanked hard with a paddle or strap. Also, every couple of hours or so, she is made to report to an Inspection Room where she will be given a full-body inspection to include the use of dildos and vibrators, as well as be given a pussy-whipping and anus-spanking as she has to wear nipple-clamps. The Pussy Brush, Butt Plug and other such devices may also be used on her, and she may be given an Enema.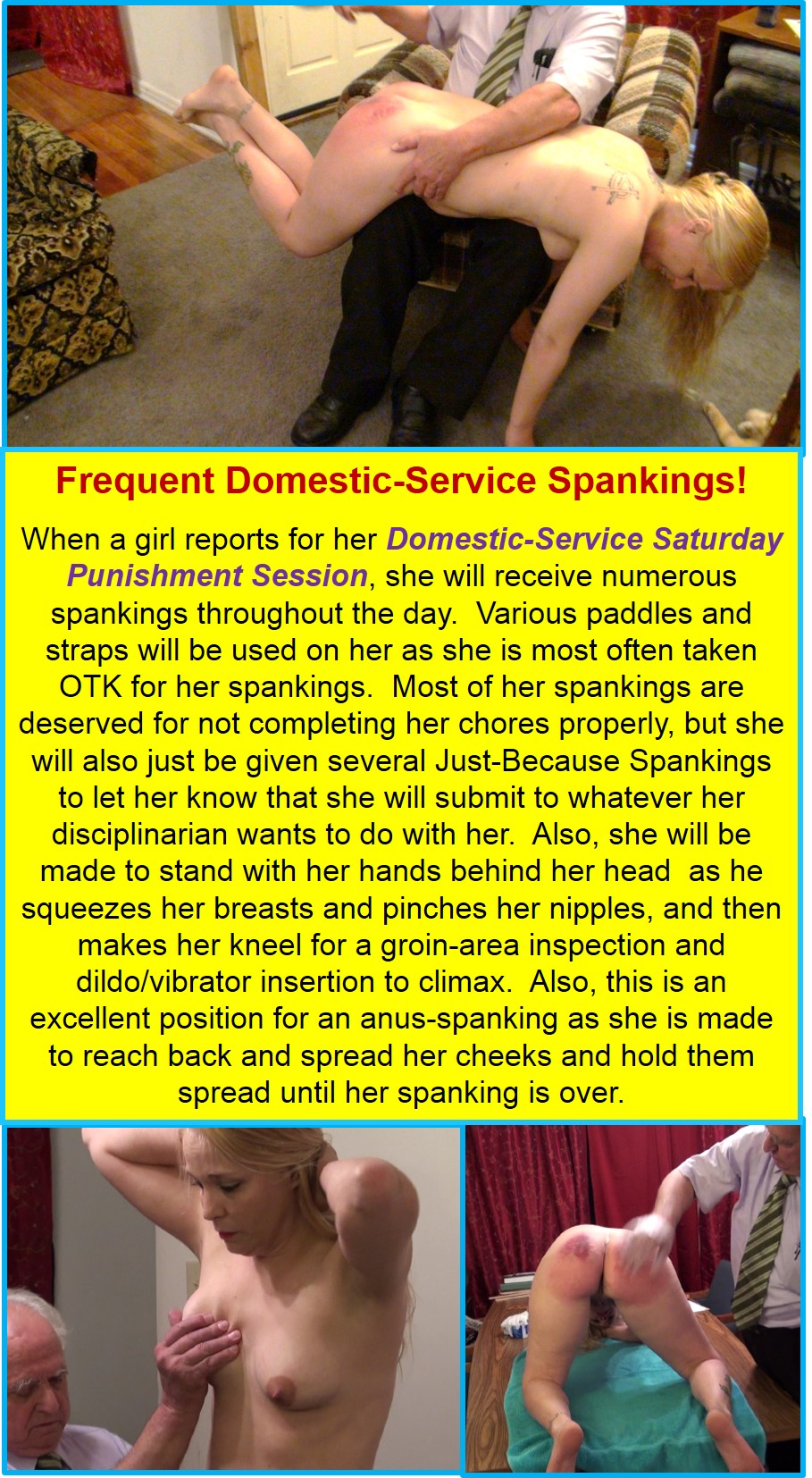 Also, during the day she will be ordered to masturbate to climax or get on her back with her legs up and spread so a vibrator may be used on her to climax. With Willow, about 3:00 in the afternoon, she will have to stand to have her bottom spanked hard with the bathbrush and be sent running screaming and crying to her punishment room for 30 minutes of spankings. All-in-all, it is a very active and punishing day for the girl who ends up being very hyper-obedient for the next 10 days or so, until she has to report for another Saturday day of punishment. Sometimes these sessions are only administered once a month. It just depends on the needs of the girl—has she learned to be properly submissive and obedient or not?
In the case of Auburn, it looks as though she could use a weekly session for a month or so until she learns to actually be totally submissive and obedient! )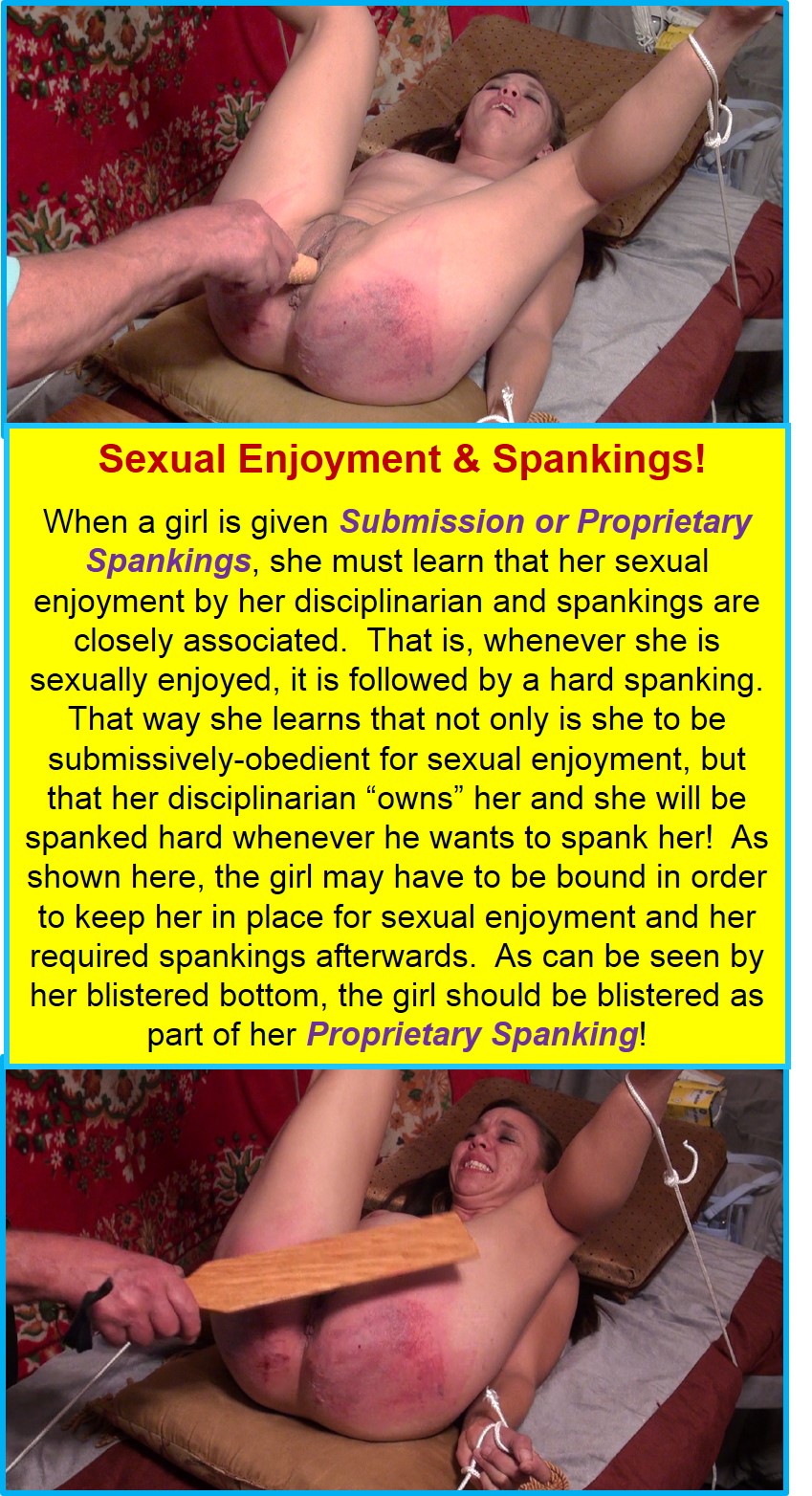 That day starts and ends with the punishment I originally objected to and it includes maintenance spankings and doing chores, sometimes with a butt plug in or something like that. Dad never spanks me but he says that making the appeals process difficult keeps me from using it except when it is absolutely necessary. But I think it might be making my punishments worse, because they know that if they make the punishment extra hard or add an enema or something that I won't risk having to go through it potentially another six times: once at the trial plus three times with each jury member plus twice on my compensation day.
(I believe that you are correct, Auburn, and you might want your dad to stop such sessions.)
I'm saving up enough money to get a place of my own.
(Auburn, I've had some girls say that and do that only to return a few months later and ask to be controlled and spanked again. The problem is that you may not like the controls, but they may actually be helping you. Maybe you will do well on your own, but from what you have said, it seems as though you know that you need the control and spankings. Let me know what you think.)
In every other way my stepmom and her family treat me great and they live in a gorgeous mansion with a big ass TV and I get to use their car … but I hate the punishments they give even when they are deserved.
(Auburn, you are not supposed to like the spankings and punishments since then they would not be "punishments"! But, do you really want to give up on all of the nice things you have and how well they actually treat you? Apparently they do love you and care for you!)
While I'm still living there I don't know if I should dare to appeal any more punishments since I've lost the last 6.
(Check my above remarks, Auburn, and just take your spankings!)
Step-grandad says that I've got to learn to be obedient and submissive and that I lost my boyfriend, who he really liked, because I wasn't submissive enough, and my job which he arranged for me, because I wasn't obedient enough.
(You must learn to be submissively-obedient, Auburn.)
(HOWEVER, an aside: Remember, Auburn, that your grandad is not the one dating your boyfriend!   Maybe you lost your boyfriend because you two were just not compatible. If you were not submissive enough to your boyfriend, then maybe you just did not like him that much, or maybe he should have spanked you harder! It is apparent that you are resistant and not really submissive. You may need a boyfriend who can control you better and will not hesitate to give you the hard spankings you need to keep you in line and be obedient. I would say that he was just not right for you. Also, you may need a boyfriend who is at least 10 years older than you are so that he will not hesitate to spank you hard. Boys about your age are often afraid that they might "hurt" you and will stop spanking you if you begin to cry. They are not right for you. When you begin to cry, that is when you need to be spanked harder to make sure that you cry enough! Anyway, it is none of your grandad's business who you date. He is not the one who has to put up with the boyfriend! If he liked him so much, HE should date him!    I know that you will find someone who is right for you, and will find someone who knows how to control you properly and make you the submissive little girl you should be. If not, he is not right for you!)
If I give up on appeals altogether then maybe he'll be proud and take that as a sign that I'm accepting my punishments more and go a bit easier on me.
(Why not just let him be proud of you because you take your spankings without complaint? Forget about whether or not he'll be easier on you! That is not important and may be counterproductive! Take the spankings you are given and learn to be submissive and obedient! Your disciplinarians do need to be "hard" on you, since otherwise you will not learn!)
But I also want to keep some appeals process open because at least then I have a formal way to object to how I'm being treated. (No, Auburn. Just remember that if you do not think you deserved a spanking, then it must have been a "Just-Because Spanking", which, as a submissively-obedient girl, you are to take anyway!)

Just thinking out loud I guess. Thanks for reading my story!!!!!
(And what a lovely story it has been, Auburn. Thanks for sharing!)
Now, check out some hard spankings given to girls living in a strict home.  Click the title frame below: