.
For the best in the spanking of Girls-Spanked-Bottoms, please go to Spanked Coeds by clicking on the bar below:

I previously published posts on another blog site during 2009 to 2011.  I published 33 posts in that blog.  You can see those posts at:

NOTICE:  Due to the amount of spam being received, no comments will be accepted.
Recently, many viewers have found my exceptional videos on Spanking Library.  For immediate download, go to Spanking Library to find some of my excellent spanking videos.

.
Punishment paddles are generally heavier than discipline paddles, or may have holes in them. While the paddle can be used with the same intensity as the lighter paddles, the fact that it is heavier will result in a much harder spanking. Therefore, one should be more careful when using a punishment paddle.   Further, just because a girl needs to be punished does not mean that you have to wind up with the paddle as though you are using a baseball bat.   Such an application of a paddle can result in injury since you may miss the "target". Further, there is no need, since the paddle itself will inflict the greater pain just because it is heavier or has holes in it. 
Our first paddle, shown below, is a wood punishment paddle; 24½" long, 6½" handle, 3" wide, and ⅝" thick. 

This paddle is heavy and made of hard wood. It definitely leaves an impression and, as noted, is used for punishment. However, one should be very careful when using this paddle, as it can be used abusively. It should only be used with great care and consideration for the girl being spanked—some girls can take very hard spankings, and others cannot. Of course, you should know the girl you are spanking and what it takes to either discipline or punish her. 
Before I start controlling a girl for domestic purposes; e.g., a schoolgirl who needs my corrective attention for her to do well in school, or a single mom who needs to be corrected to make her take better care of her home and family, I start with an "orientation" where I will take her over my knee and spank her for 5 minutes with increasing intensity to see just what it takes to make her cry. This is her Spanking-Evaluation. These evaluations are important so that you know just what it will take to punish a girl properly.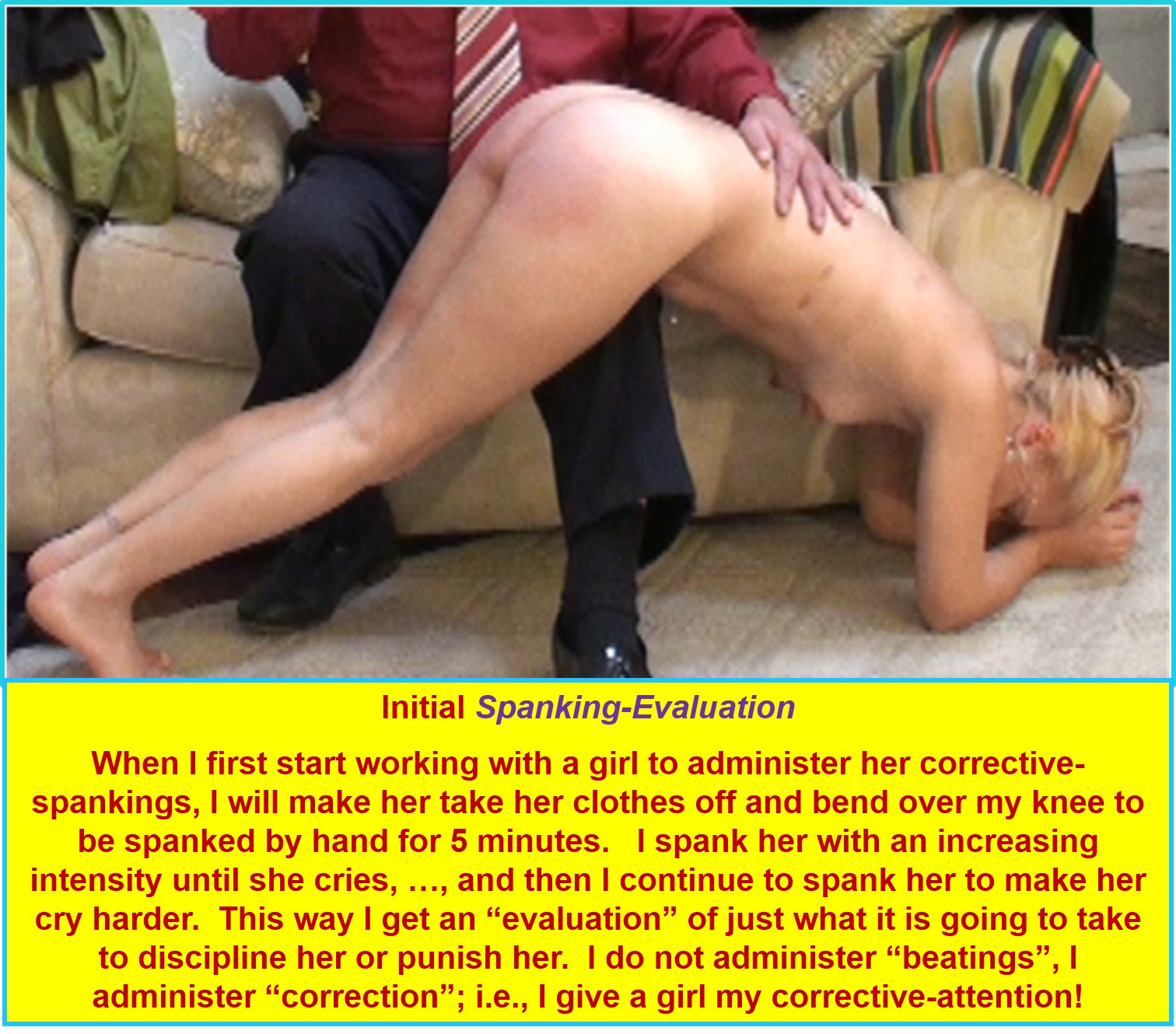 Shown below is another excellent paddle for punishment—a blue-holed fiberglass paddle; 17½" long, 7" handle, and 3½" wide head. 

This paddle is a variation on the implements used at home in that it has been constructed specifically to be used for spanking. It will not break, as some wood paddles do, and can be used to punish a girl hard. The holes may leave small blisters or welts on the girl's bottom as a reminder that she had better be obedient. 
The use of this excellent implement can be seen in the following movie of Zara getting spanked.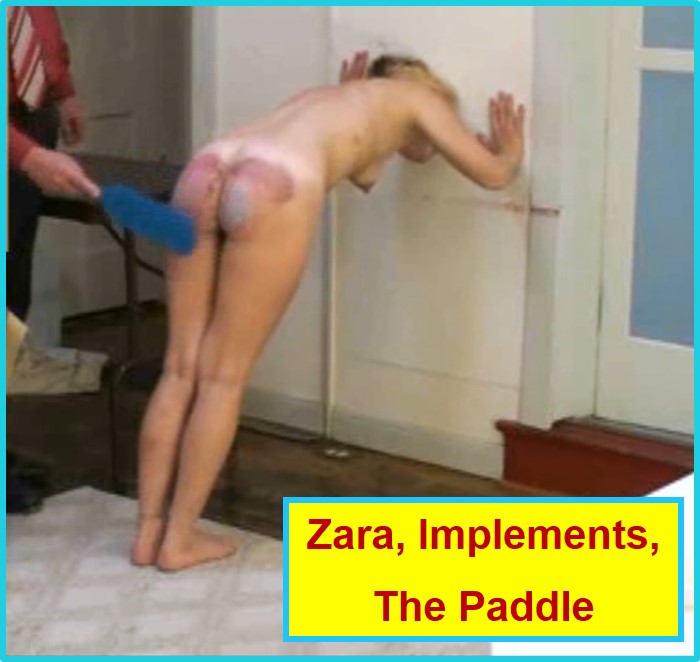 As can be seen, one does not have to hit the girl too hard to be effective. Just a continuing, methodical spanking does the job. Also, notice that her bottom does in fact get "blistered". 
As seen below, a Ping-Pong paddle can be quite effective in administering punishment to a girl.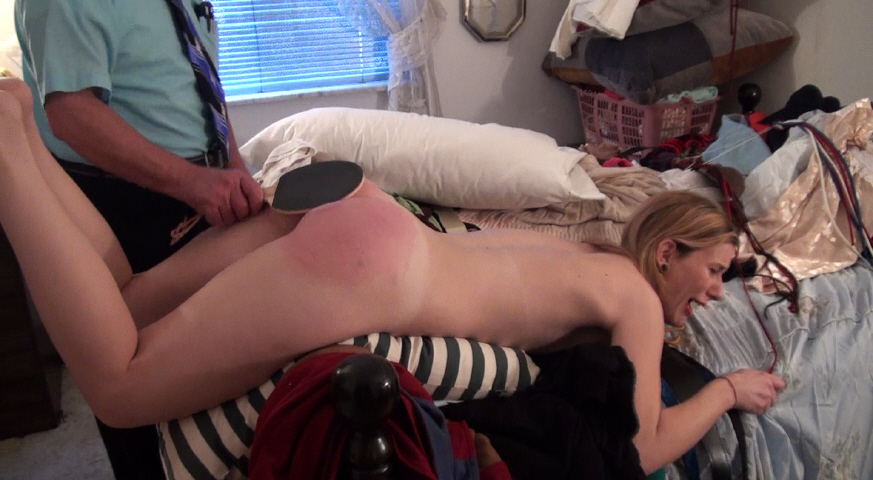 Shown below is a professional Ping-Pong punishment paddle; 10" long, 4" handle, and 6"-wide head. 
This is a paddle that can be found in many homes, although a non-professional paddle is the one normally found. You should really get a "professional" paddle since it will be much more effective. There are a variety of Ping-Pong paddles. Most of the home variety are light and are not very effective for spanking a girl. The one seen here is a professional paddle and results in a much better spanking. It is sturdier, heavier and much more effective.   See the movie below for a Ping-Pong Paddle spanking.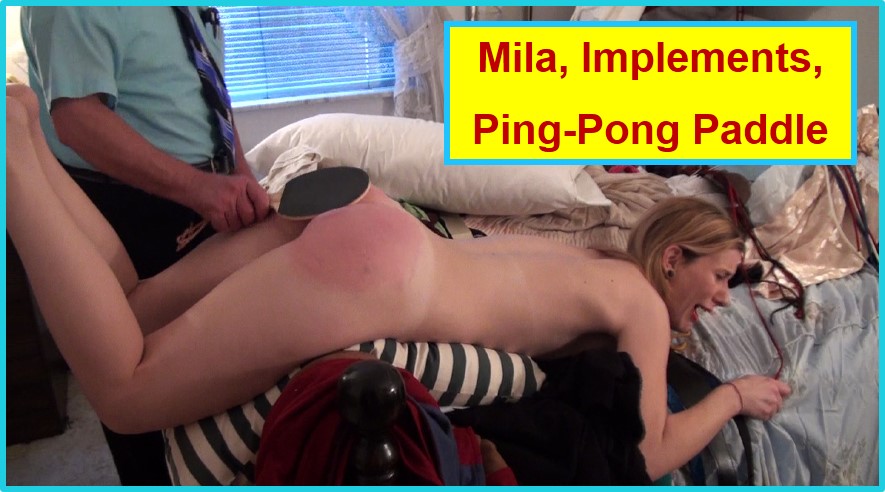 The Jokari punishment paddle is an exceptional paddle for punishment, especially when spanking each cheek separately. This paddle is 15" long, 7" handle, and 5½"-wide head.  

The Jokari paddle is a very effective implement for administering a very hard spanking, but is not commonly found in the home. However, if a girl needs to be frequently punished, it is worth the time and money to get one of these paddles which can be found at most sporting goods stores. 
The Jokari paddle can be used for both discipline-spankings and punishment-spankings but if used for discipline—be careful, since even light hits can really hurt! The paddle is hard and results in hard spankings regardless of how hard you hit the girl … other than just giving her some light taps, in which case it is not an effective spanking and you should use something else. Great control is required when using this paddle. It is recommended to be used only for punishment as seen in the movie below of Daija being spanked.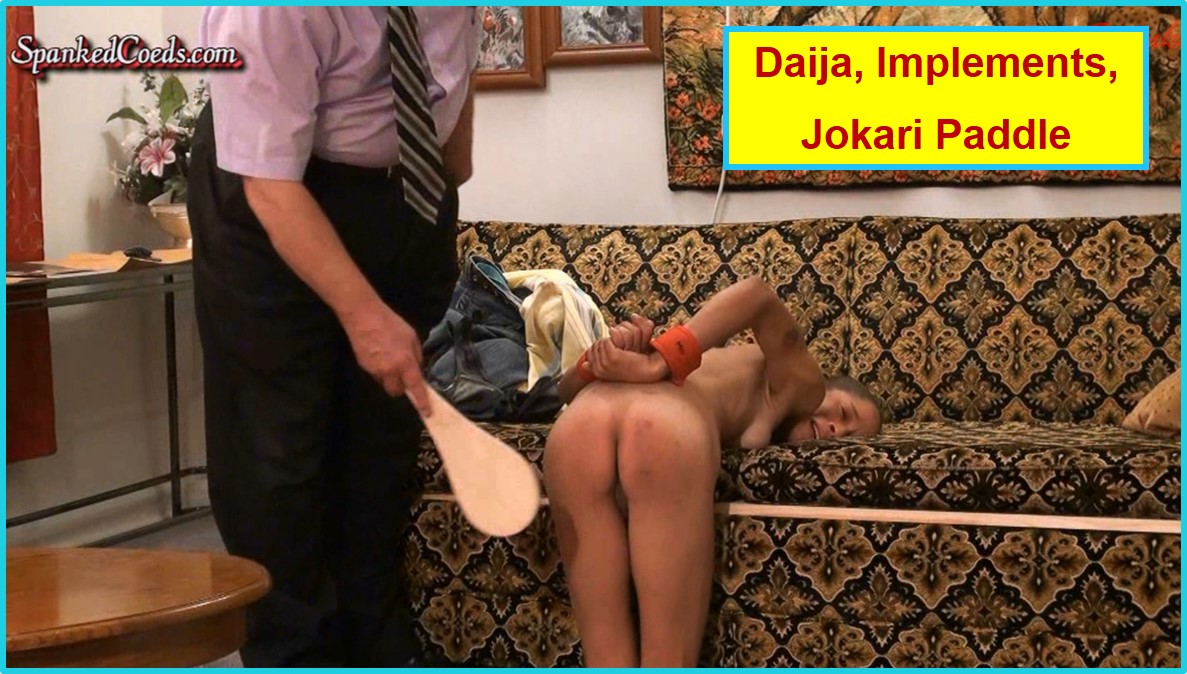 As can be seen here, the Jokari paddle is very effective, and a girl may have to be bound in position to keep her bottom in place to be spanked. See the video below for a Jokari-paddle spanking. 
.