See the next 2 posts for the initial report and update! 
For the best in the spanking of Girls-Spanked-Bottoms, please go to Spanked Coeds by clicking on the bar below:

I previously published posts on another blog site during 2009 to 2011.  I published 33 posts in that blog.  You can see those posts at:

NOTICE:  Due to the amount of spam being received, no comments will be accepted.


.
I have just received another update concerning the beating received by Monica. 
Monica looks "horrible"!   2 black eyes, bruises on both breasts, lots of bruises on her arms and legs!  Fortunately, no broken bones! 
Without blaming the victim, a girl must learn who to trust.  If my girl comes home with 2 black eyes and has been beaten up, I will spank and whip her hard! 
A girl must learn to be very careful, and the best way to make sure she is, is to whip her bare bottom hard under controlled conditions until she learns to never go alone with someone until she knows for certain that he will treat her properly. 
With Monica, she was beat only with fists, and is fortunate that she is not disfigured.  Monica says that she told her date that she was a transgender.  However, that, clearly, was not enough. 
Strange as it is to say, it may be that he did not really "appreciate" just what that meant until they started to do more than just talk!  Or, more likely, he went with her planning to brutalize her!  That is why a girl should most often never go with a boy alone until she gets to know him better. 
Click on the following Title Frame to see what happens to my girl Lexy when she has failed to take proper precautions and comes home with 2 black eyes!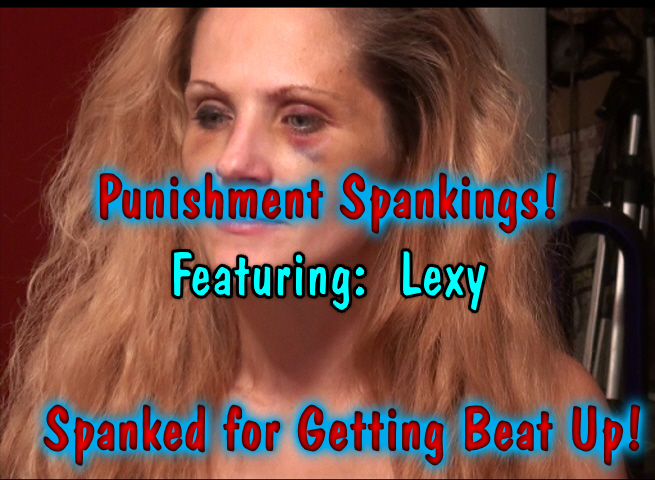 Monica has seen these posts and greatly appreciates them.  She hopes that they will help others to be more careful. 
I know that Lexy will begin to think more about who she dates, and, if she doesn't, she'll be stripped naked again and whipped harder.