For the best in the spanking of Girls-Spanked-Bottoms, please go to Spanked Coeds by clicking on the bar below:

I previously published posts on another blog site during 2009 to 2011.  I published 33 posts in that blog.  You can see those posts at:

NOTICE:  Due to the amount of spam being received, no comments will be accepted.


.
Although there appears to be a per-capita greater number of Serbian girls being spanked-at-home, there is also a history of German girls being severely spanked. Some of it goes back to the 19th and up to the mid-20th Century and before. But even more recently, although the spanking of girls has declined and is definitely not as severe as previously administered, German girls are still being spanked, and spanked much more severely than in the U.S. Although, again, Serbian girls also seem to be spanked just as severely and more frequently. 
Elma came to the U.S. for a year of college and asked me to supervise, control and severely spank her so that she would do well in school and because she was accustomed to such spankings and knew that she would not do as well as she should if she was not controlled and spanked severely. She stayed in my Guest Bedroom where I could keep track of her more easily. We had an initial meeting in which the rules of the home were laid out and I gave her an initial spanking to let her know what to expect. 
Her letter to me is shown below and the photo-stories present some of the history of spanking German girls as well as what I did with Elma. 

Dear Headmaster Ken
This is Elma.  I am writing to thank you for all of the spankings you gave me when I attended Ohio State.  I can't tell you how much it helped me make it through school and improve my domestic obedience when I was there and, more important, when I got back to Germany and dad picked up with my spankings as he has always done.  The severe spankings you gave me made it so that dad's spankings were not the shock they would have been if you had not really spanked me severely.  If you remember, I was 20 when you spanked me and I am now 24 and dad still spanks me almost daily.  You told me to write and tell you about the spanking of girls in Germany, and I am just now getting around to it!  I guess I should return to you so you can spank and punish me hard for not responding earlier!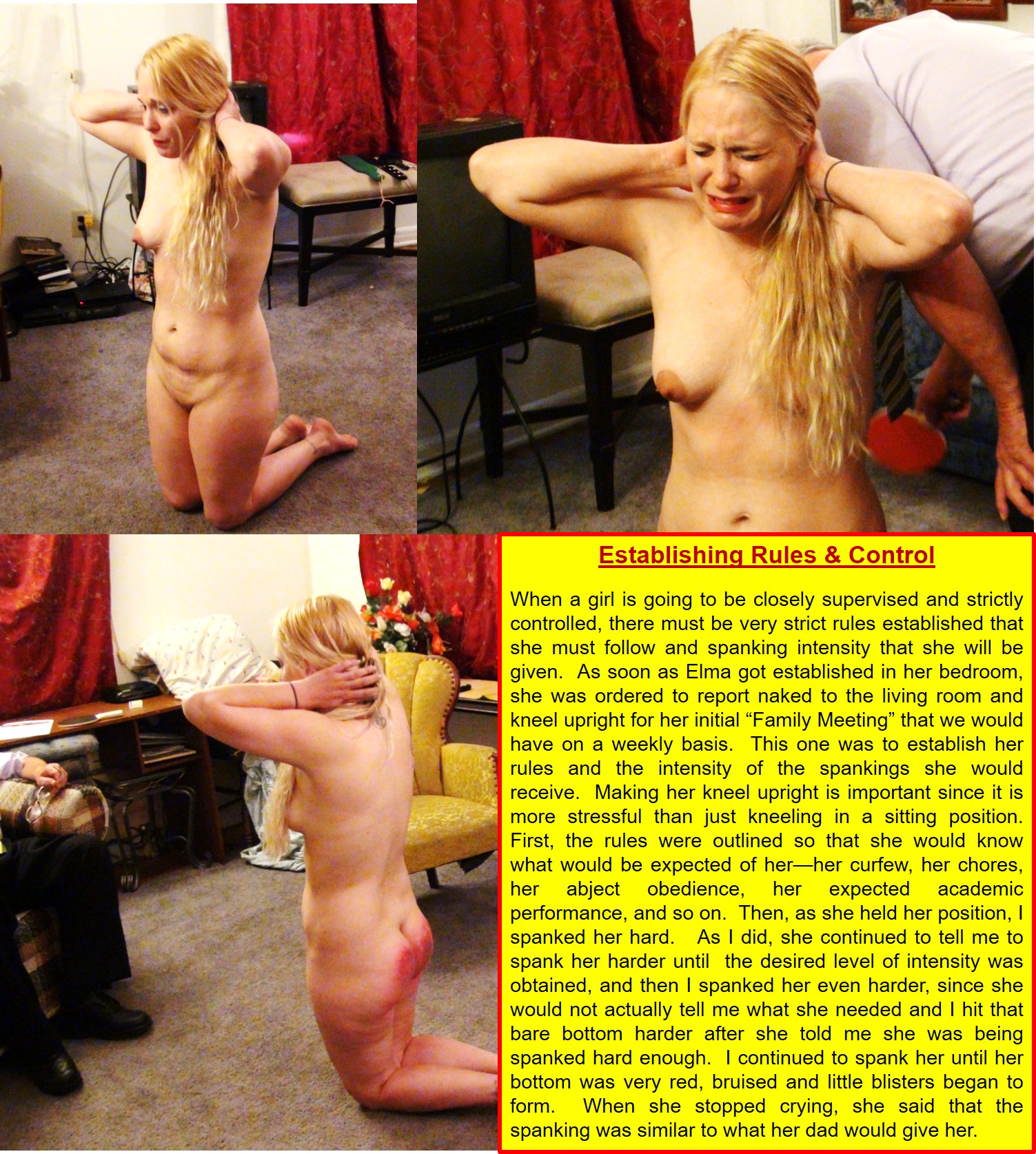 The day after I got home, dad asked if I had been spanked while in the U.S. and I told him I had, that I had asked you to make sure I did well in school. He was pleased with that. I showed him the grades I had gotten, all A-grades except for 2 B's. He ordered me to get undressed and bring him my strap that was still hanging on the wall beside my bed. I begged him not to spank me, but then he said I would have to get spanked very severely for resisting. With that, I immediately got undressed and ran to get my strap. I handed him my strap and then had to bend over the back of my Punishment Chair. He proceeded to whip me severely as I pranced and cried but did not dare resist or move my bottom or get up in any way. He spent 10 minutes whipping me and then left me there to cry for about 20 minutes and then came back and whipped me again! Then he ordered me to stand in the corner for an hour, after which he was going to severely whip me for resisting my spankings. Right then I knew I was back home and that I would be getting the spankings that had always helped me be my best. An hour later and I was in my room laying face-down on my bed as dad used my cane on me for 20 minutes. I haven't resisted a spanking since then!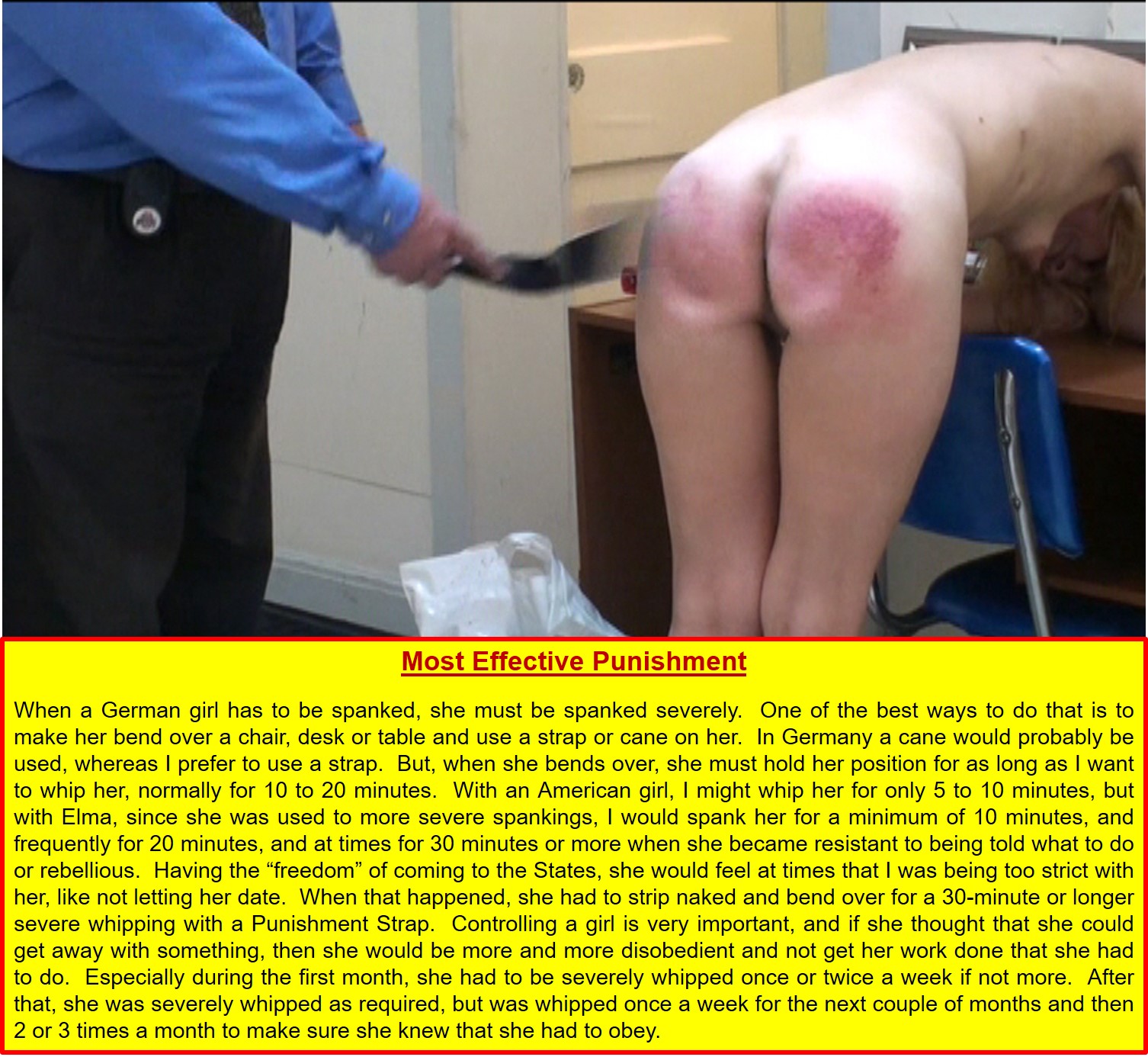 The reason I came to you to mentor me and spank me when I was in school was because that is the one thing that would help me do my best in school. Dad would never put up with any poor grades, not even a B-grade as I found out when I got home, not getting my work done on time, playing around instead of studying, not getting my chores done, talking-back, misbehaving in any way, and especially being disobedient. By you controlling me and supervising me closely, and severely whipping and spanking my bare bottom, you helped me do well in school. If I did not have your supervision and control, I would have felt that I was now "free" from the strict control of my dad and I would start to play around and after a year I would not have accomplished what I should have. And then I don't know how hard dad would have spanked me when I got home!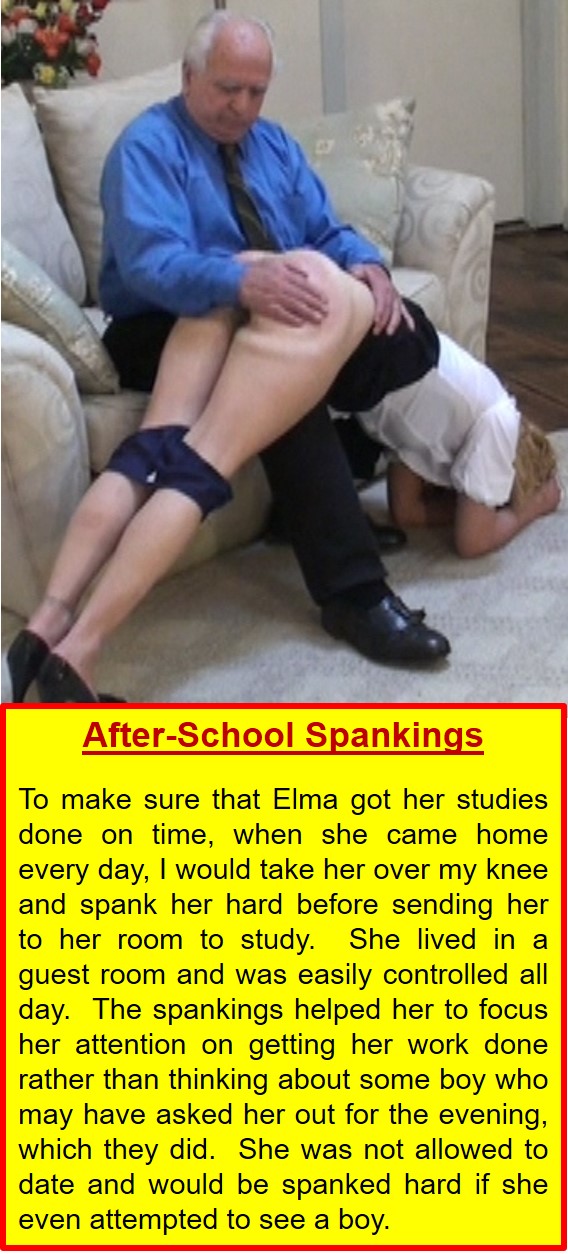 I believe that German girls have always been spanked much more severely than girls in the U.S., and they were spanked very hard regardless of age. As long as they were home with their family they were spanked. Not so many girls are spanked now, but still a lot of us are. I am getting spanked almost every day for something. Most of my spankings now are in the evening after dinner. That is when dad takes me to the family room and orders me to get undressed and kneel in front of him to discuss my day. Of course there is always something for which I will need to be spanked. Then I am over his knee or bending over in some manner so he can spank me. Previously he used to mainly use the cane on me, but now he is often just using his hand or a paddle. But, the strap is also used a lot. When I come home from a date, I can count on both the strap and cane being used on me.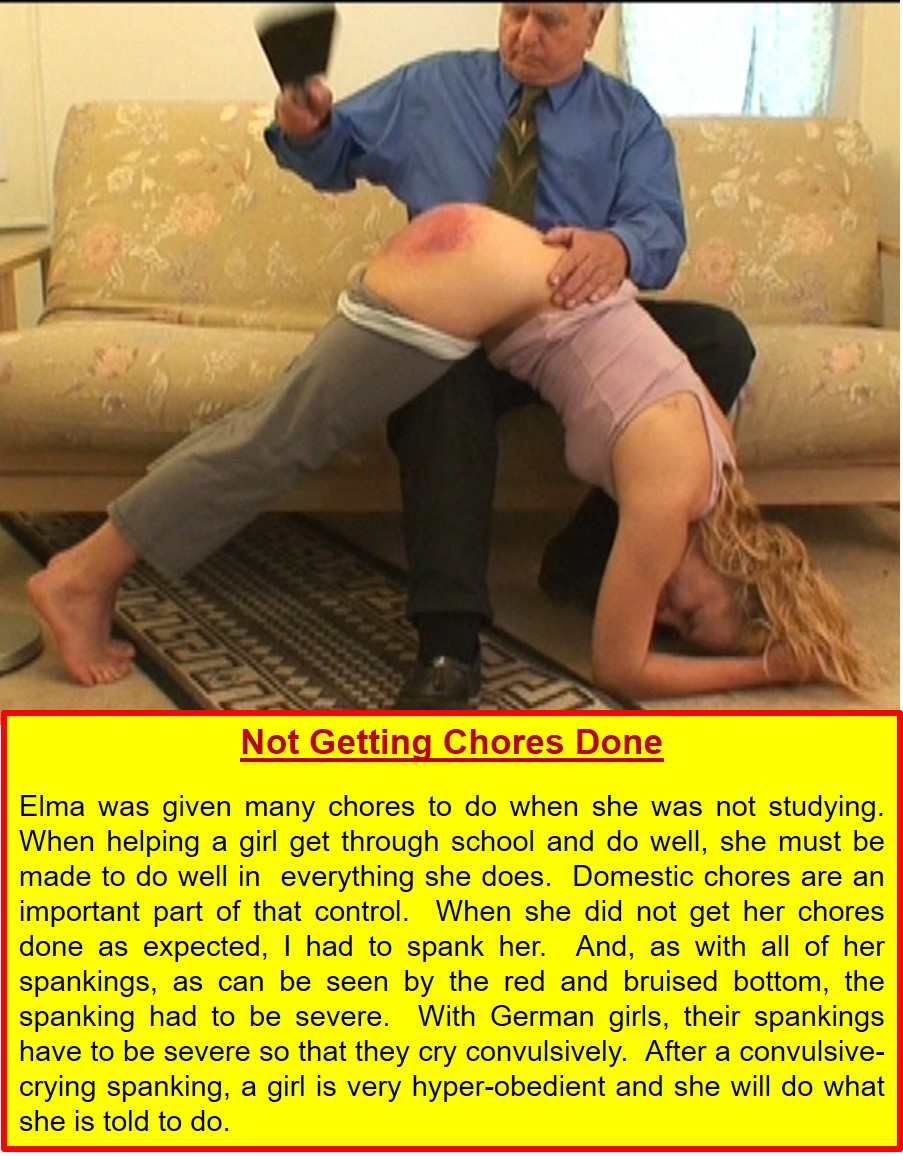 And my boyfriend also spanks me a lot.  He says that I have to learn to obey him and he will spank me hard if I don't.  I guess he and dad had a talk and dad told him that he should spank me hard.  Well, I actually do like it.  I like a man who takes control of me and makes me do what he wants to do with me and to obey him.  You actually helped me to learn that.  I liked the fact that you would not let me get away with things and I had to obey you and you kept control of me.  You supervised me more than dad can and were very strict with me.  I did not think that you would be so strict with me domestically, but I sure had that wrong!  You made sure that I got my chores done, did not go out too much and spanked me every time I got home.  That actually helped me more than you may know.  And making me strip naked for my spankings also helped me a lot.  A girl should feel very vulnerable when she has to be spanked and being stripped naked makes a girl very vulnerable.  Also it helps her to obey, knowing that her bare bottom is ready to be spanked hard.  I really appreciate all of the time and effort you took in supervising me and spanking me.
As for German girls, yes we are spanked a lot, and have traditionally been severely punished when we disobeyed or misbehaved.  And it did not make any difference who was present.  If we had to be spanked, we got stripped naked and made to bend over to be spanked in front of anyone present.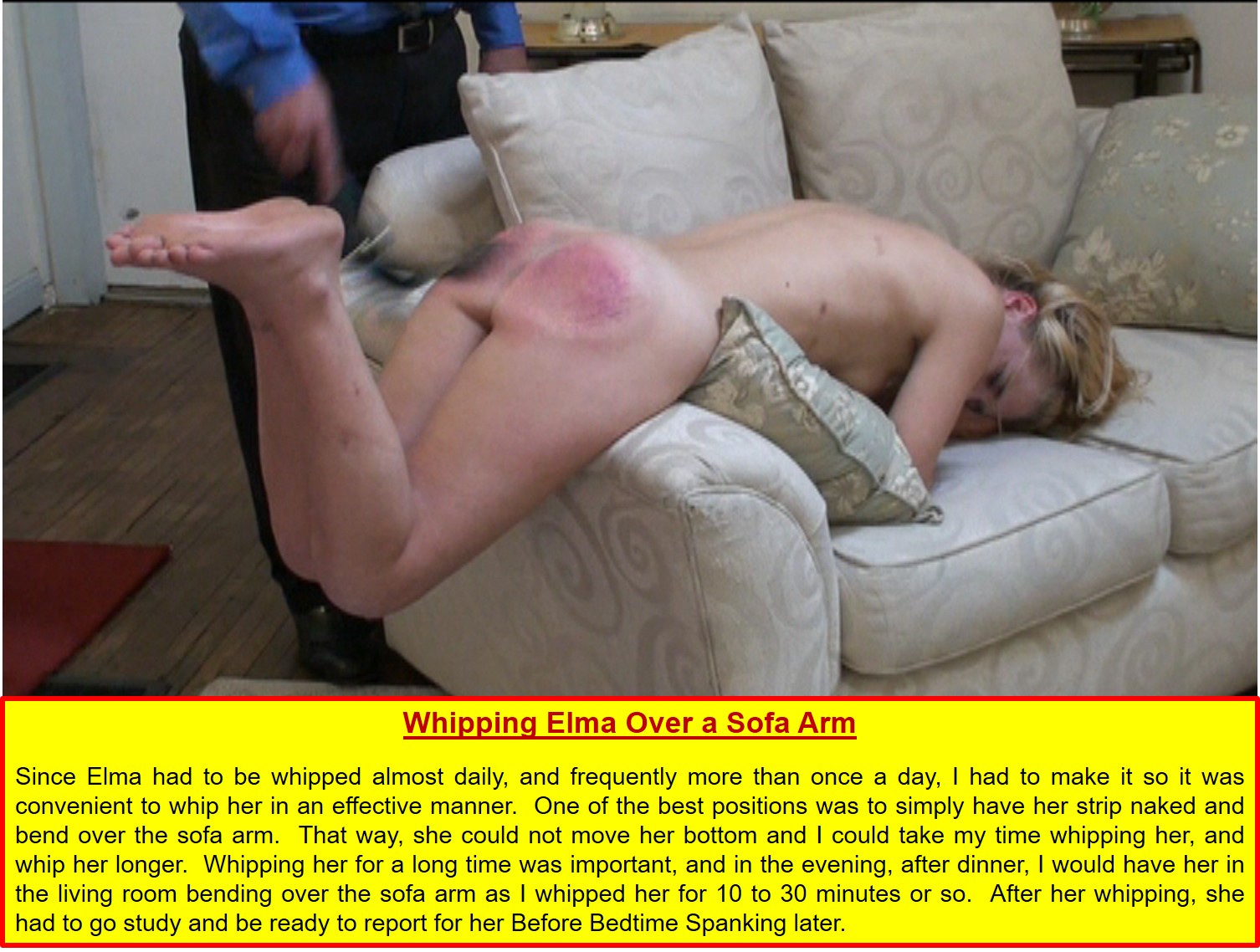 Some of the more severe spankings I got was in my bedroom.  If I am sent to my bedroom to be spanked, I know that I will be in there for a long time and most of the time I will be getting severely beaten.  Frequently these spankings are given on the weekends when dad will have more time to attend to my bottom.  My bedroom is what you may refer to as a Punishment Room.  I am sent there to "get ready" for my spanking.  I have to strip naked before I go and then I will be left in my room for 20 to 30 minutes or so before dad comes in to whip me.  This makes me more anxious and my spanking will be more effective.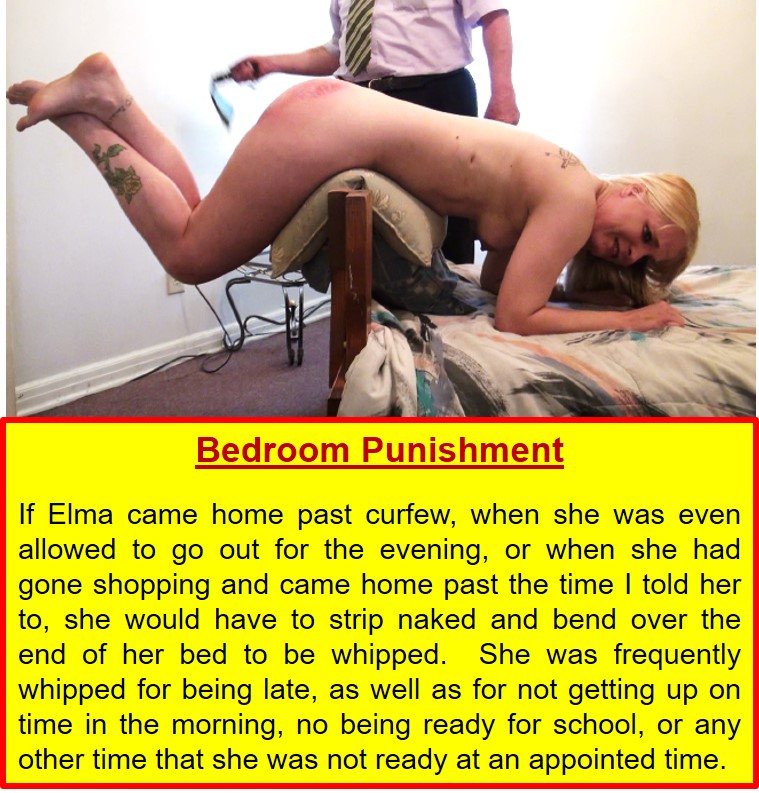 However, since I have returned, dad has started giving me more OTK spankings than he did before, and using his hand rather than a strap or paddle. My boyfriend is doing the same, so I'm not sure if they have coordinated their spankings of me or if he just wants to spank me by hand more often. However, by so doing he is actually spanking me more, but not quite so severe. Especially on the weekends, he will frequently have me over his knee spanking me. He seems to be looking for the slightest excuse to spank me now.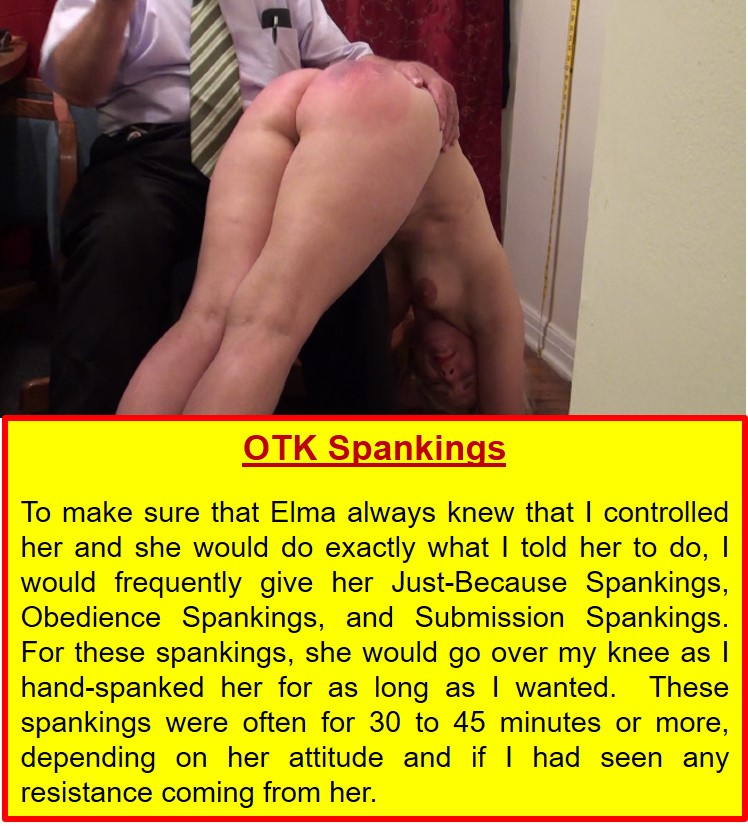 Actually, it reminds me of some of the spankings you gave me which were more like a Just-Because Spanking than anything else. I know that you had to do it to make sure I would obey you and you could keep control of me, but for dad, I think it is just because he wants to spank me.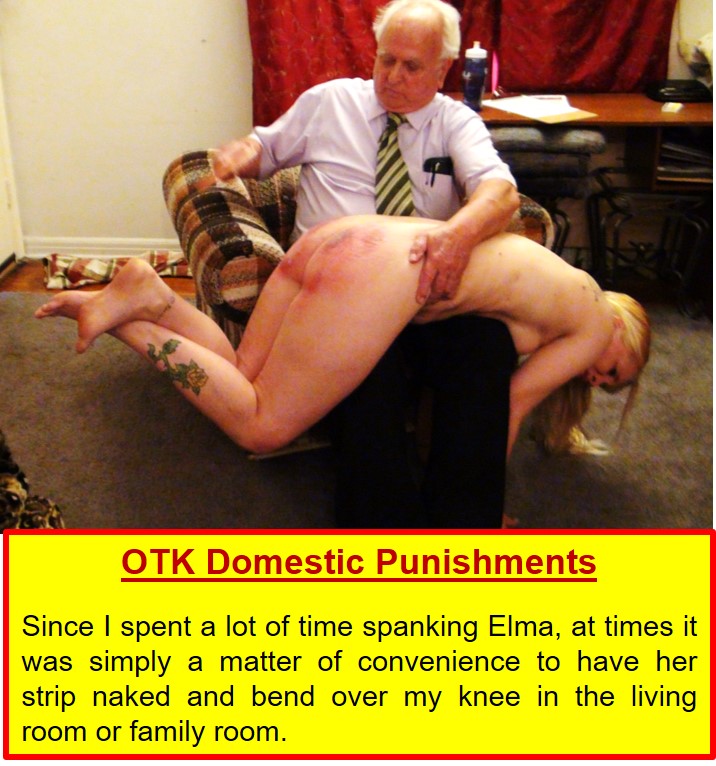 In fact, however, these spankings are reminiscent of traditional families many years ago, and those very strict families even today, in which the dad simply administered a lot of spankings. When he came home from work each day, the children would have to be standing and waiting to serve him. One would go and get his slippers, another one his pipe, one would bring him his beer, and then his newspaper, and then go help with dinner or stand in a corner and wait to be told what to do.   If a girl, or boy, did not serve him properly, she would be immediately stripped naked and taken over his knee and be severely spanked. Then she might be sent to the basement or upstairs to a room to wait for him to come and spend up to an hour thrashing her.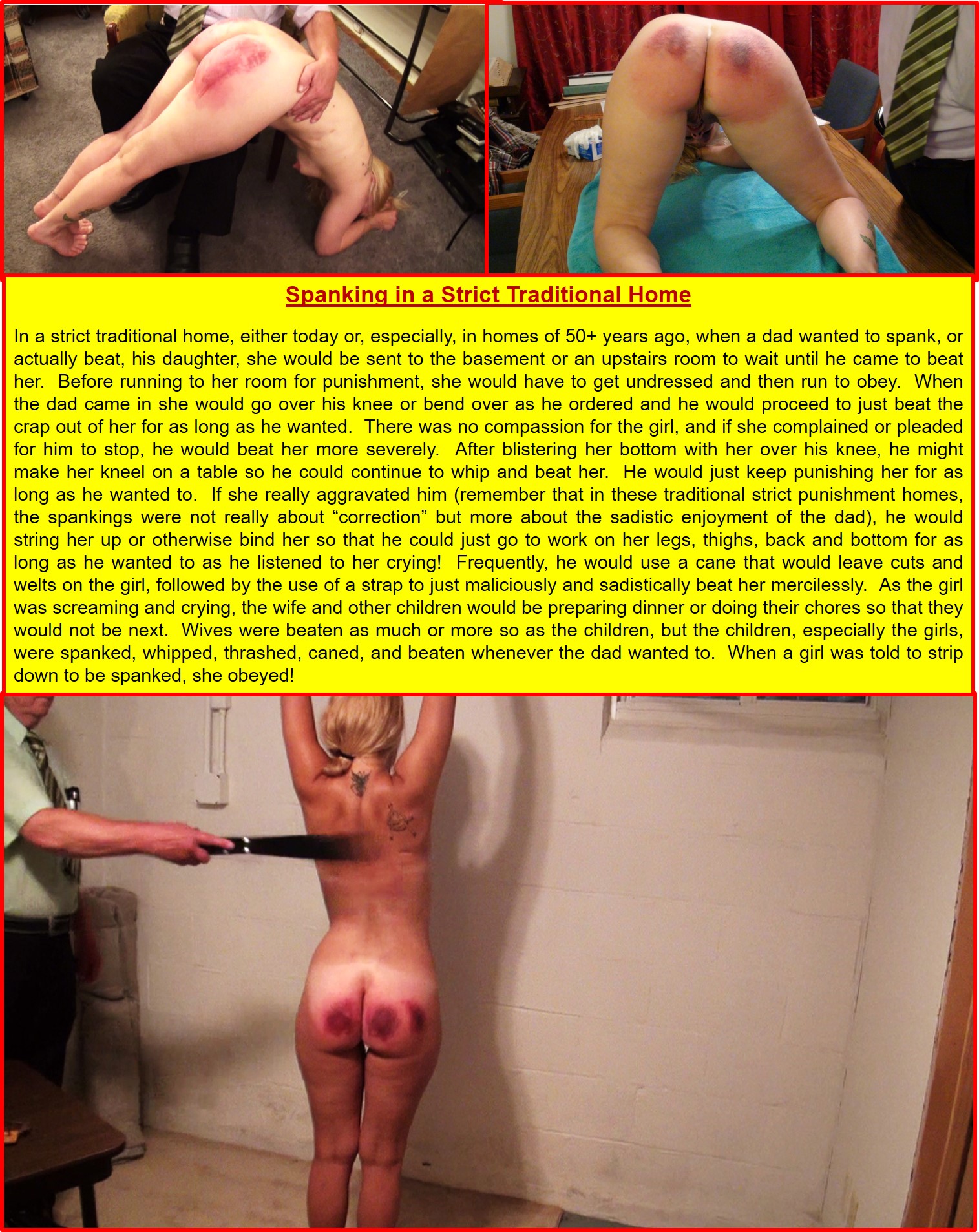 I have not been treated that way, but have known of some girls who were.  Dad is strict and spanks me a lot, but he does not abuse me, although I may think he does at times!
One thing that has not changed are my Before-Bedtime Spankings. If I am spanked before bed, it will be severe. This is a time when dad just goes to work on my bottom and doesn't stop until I am crying convulsively and my bottom is red, bruised, and blistered.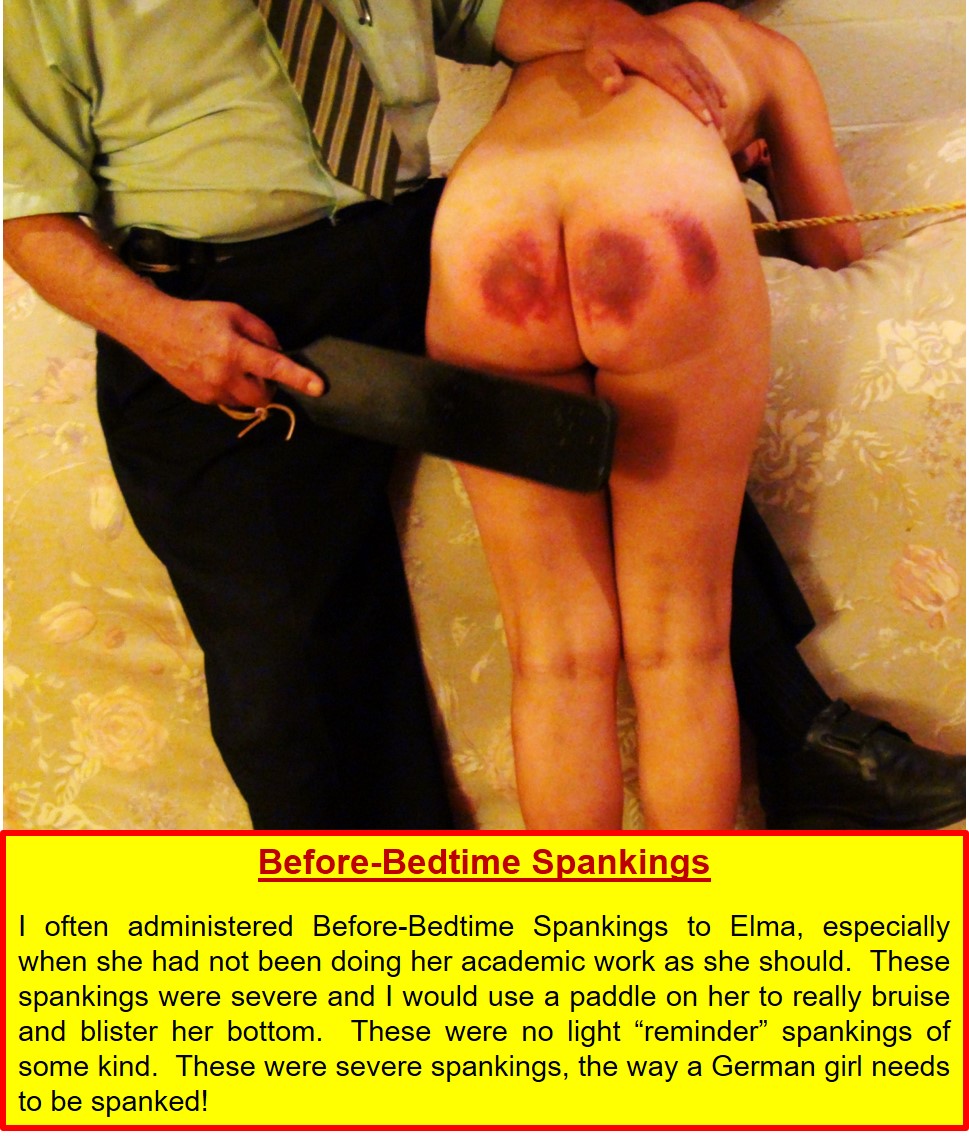 Not sure how many girls are still being spanked as I am here in Germany, but I do know that in previous years, all girls were spanked severely, and some of us still are.