Scottish-Girl has been very informative about what she wants, which provides a lot of context to write about. If you have any questions or comments about what is here presented, please write and tell me at Headmaster@SpankedCoeds.com
This is the 3rd post concerning Scottish-Girl. There will be at least 1 more and probably 2 or 3 more, so keep checking!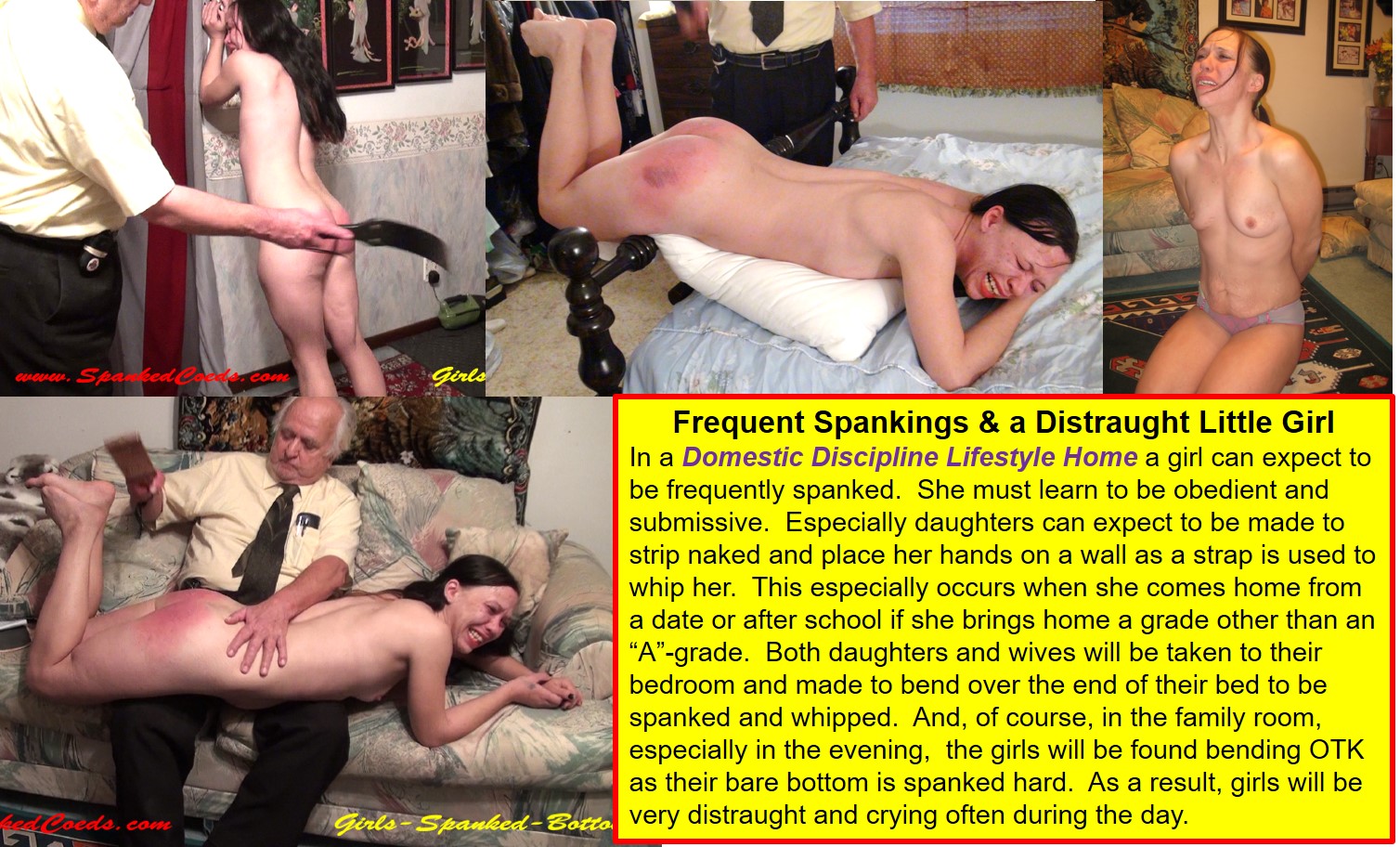 For the best in the spanking of Girls-Spanked-Bottoms, please go to Spanked Coeds by clicking on the bar below:

I previously published posts on another blog site during 2009 to 2011.  I published 33 posts in that blog.  You can see those posts at:

NOTICE:  Due to the amount of spam being received, no comments will be accepted.


.
In a Domestic Discipline Home, girls are frequently given Before-Bedtime Spankings.   Here are 2 girls being given 3 spankings each and told that they will have to report the next morning to be spanked again. In these strict homes, both daughters and wives are most often given daily spankings and especially at bedtime. And, as here, the spankings are hard and the girls will cry! 
In considering a Domestic Discipline Home we will take a look at the spankings these two girls received by clicking on the link below. They depict the control that is required in such homes and the spankings that must be administered. They are each spanked for only a total of 95 seconds, but they are spanked hard, and making them transition actually increases the intensity of their punishment as they are thinking about what is coming next. Also, the rapid and hard final strokes are critical to impressing on the girl that she had better be obedient.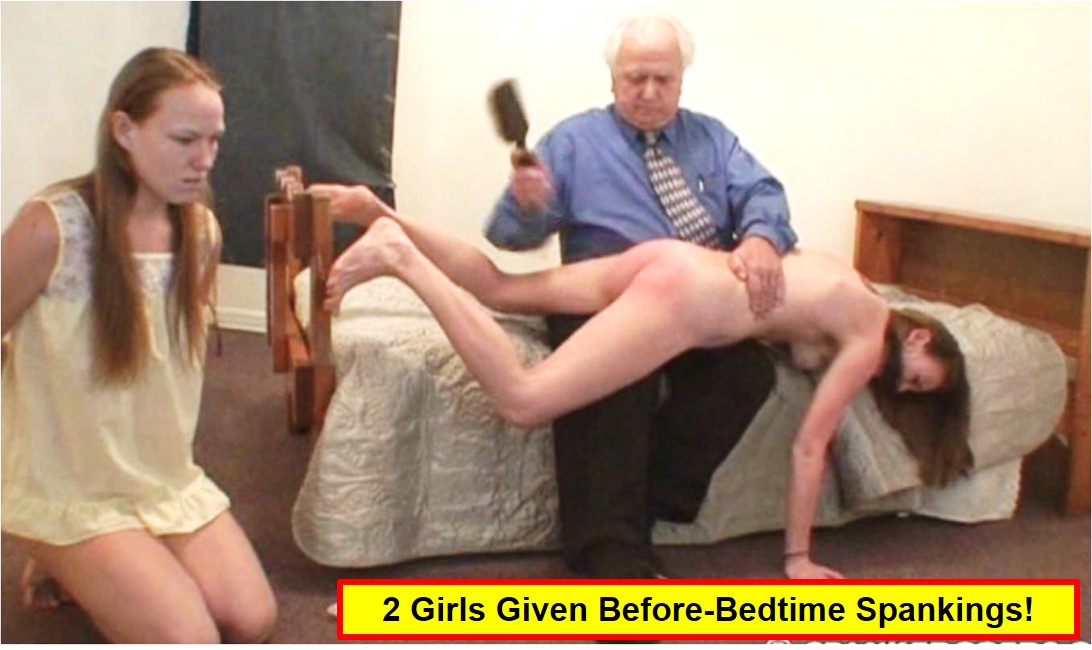 http://spankedcoeds2.com/STEPHANIE_9464_1_1500_StephanieDesireBedtimeSpankings.wmv
For more videos of these girls getting spanked, please go to www.SpankedCoeds.com. 
Now, before proceeding, we will take a more in-depth look at how a Domestic Discipline Home is controlled. 
During the past couple of years or so, I have had several reports from girls who are living in a Domestic Discipline Lifestyle Home.  Three of these reports are of interest in that they are very similar to each other.  And, these are families that have had a successful marriage for many years in which the wife and daughters are frequently spanked and must submit to their husband/father to be controlled and spanked.  Several of the others did not last as long due to the wife or husband not behaving in a manner consistent with a Dominant/Submissive Lifestyle.  In one case, the wife rebelled against the required control, but in the other cases the husband just got tired of having the responsibility of having to control and punish the wife and daughters.  While a Domestic Discipline Lifestyle may seem to be what a husband may want, in fact it requires a lot of time and effort to keep such a relationship positive and under control.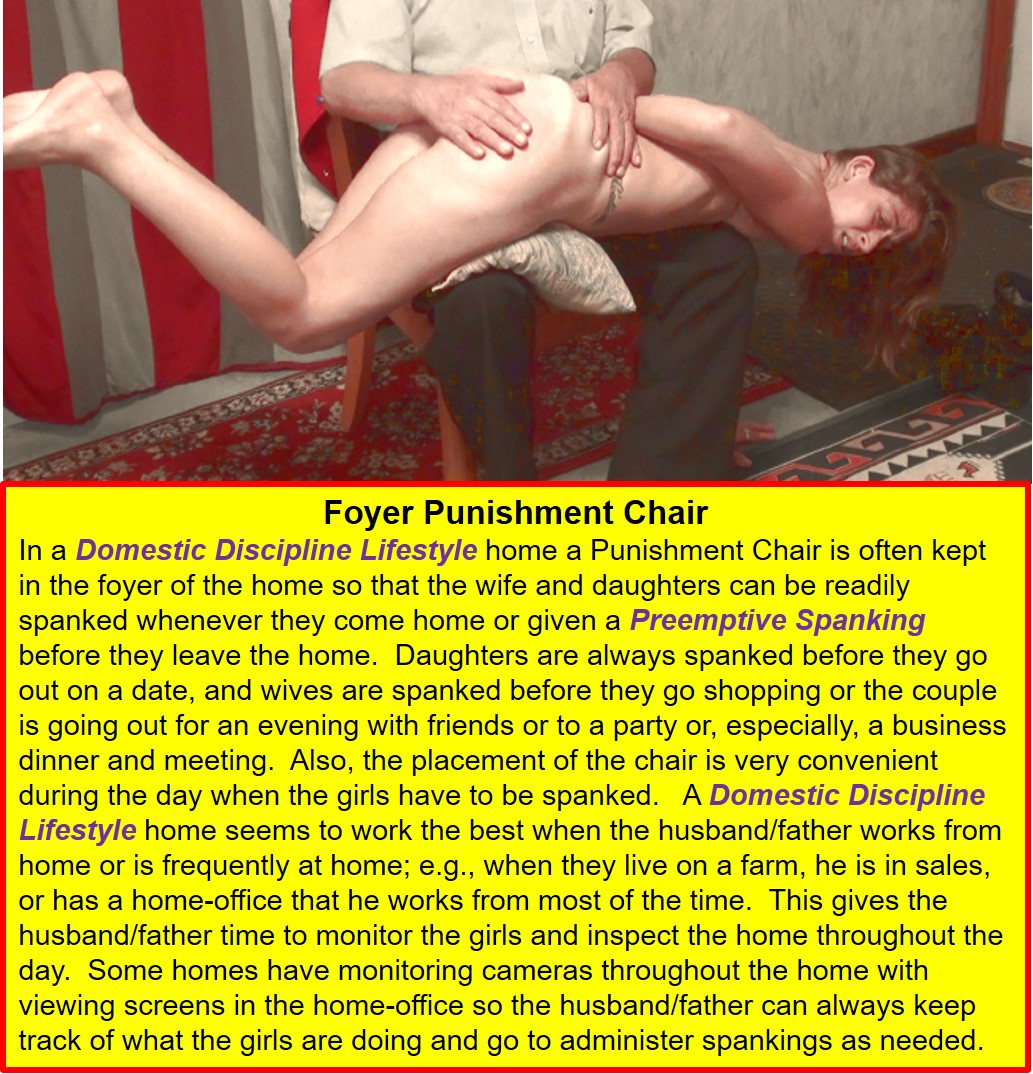 I believe that part of the problem is seen in some websites that discuss "how to establish" a Domestic Discipline Lifestyle.   They say that various "agreements" must be signed so that everyone knows what to do.   Such agreements, however, miss the point of such relationships—the husband/daddy is in charge of the wife and daughters, and they are to do what he tells them to do.  By defining that obedience and when it can occur and how it can occur defeats the very purpose of such a lifestyle.  Girls I have discussed this with have simply said that they want a "man to take charge; i.e., take-her-in-hand (TIH), tell her what to do, and spank her when she disobeys or misbehaves."  If the relationship is so heavily scripted that all interactions are defined, then there is in fact no actual control of the girl, since agreements can be interpreted in many different ways, depending on what one wants at the time. 
To the contrary, when a girl comes to me the process is quite simple:  (1) We communicate for several weeks.  We do not just meet on a chat line and schedule a meeting.  She has seen my website and movies and she knows what to expect.  I have learned whatever I can about her online.  We then meet and have lunch.  We then schedule some more "dates".  Only when we are very comfortable with each other do we proceed.  But then she knows that she is going to be submissively-obedient and that I am going to spank her when she isn't, or when she misbehaves, or just whenever I want to spank her.  Then she shows up for an "audition".  (2) As soon as she enters, I order her to strip naked and kneel in front of me with her arms crossed behind her back—she either obeys or goes home.  When a girl is "auditioning" for such a position as a girl who is to be TIH, she already knows that she is to be obedient and that she will be spanked if she is not.  (3) I then tell her what I expect of her and what will happen to her if she disobeys.  She either agrees or goes home.  This part, however, can be and is a conversation about what is expected of the girl, and her desires as to what she wants and needs are discussed at this time, and the girl will state how she expects to be punished when she disobeys and anything else that she may want or need in such a relationship.  But the discussion is controlled by me and the girl does not speak without permission.  The one thing that might, and probably should be written in an agreement is a Consent Agreement as to what punishments the girl will receive and what unusual handling, if any, she will receive; e.g., will she be given Enemas, will she be strung up in a Punishment Room or barn to be whipped, will she be given pussy-whippings, will she be punished with a rough-sided glass dildo, and so on.  The girl must sign this agreement.  This is the extent of such "agreement", and that is mainly to protect the Husband/Daddy from liability in case the girl wants to claim that something was not agreed to!  The conversation is much like one might have when dating—finding out what each desires to see if they are compatible.  We will meet with each other over a period of time until we are comfortable with each other and wish to proceed.   When we are, then the girl will be ordered to report to me at a specific time and place, and she had better show up early!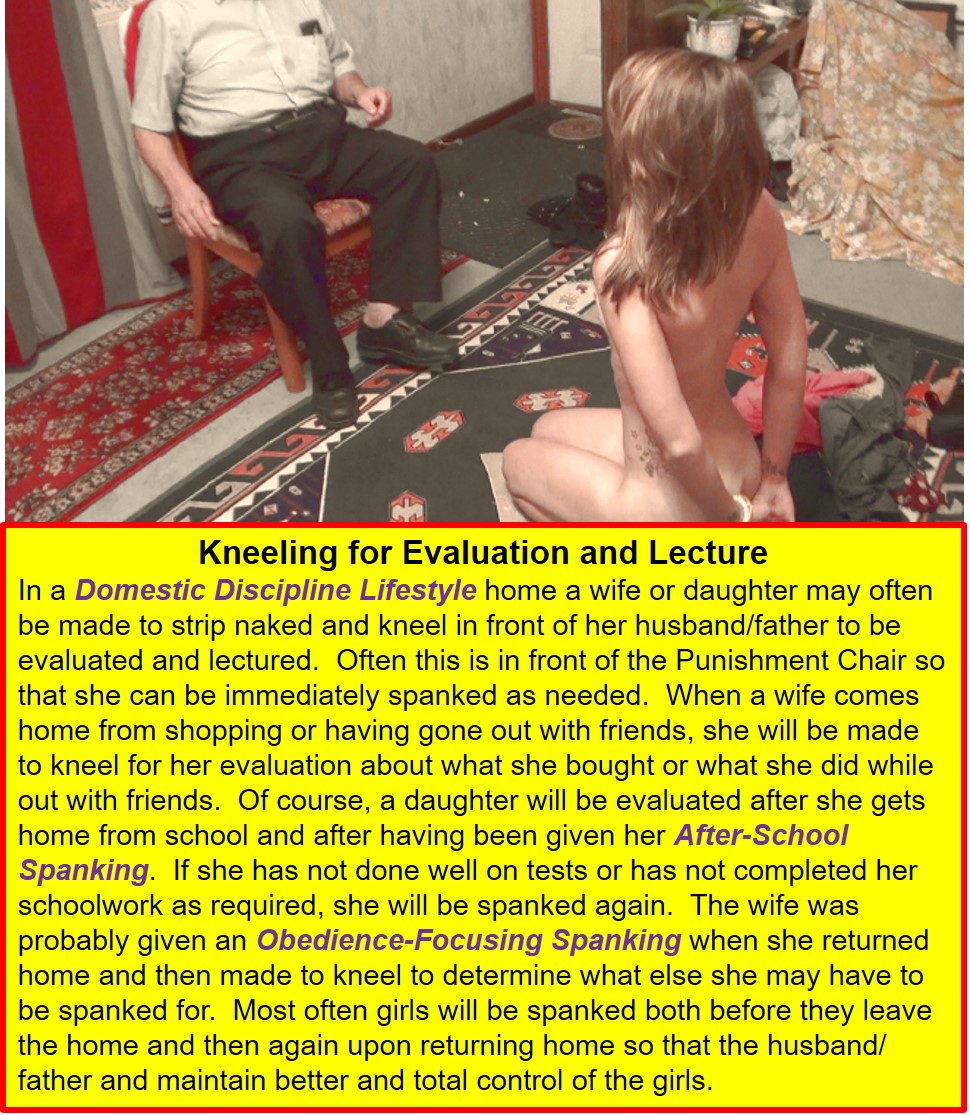 (3) Then the girl is ordered to bend over my knee to be spanked, after handing me a hairbrush that I will be using on her.  I will then spank her by hand for at least 5 minutes, and then use the hairbrush on her for another 5 minutes, and she will cry.  If she does not cry, I will spank her harder.  At any time, if she wants, she can get up and leave.  When I am satisfied with her obedience and crying, I will make her kneel again.  Then for the next 2 or 3 hours, I will order her to do a number of domestic chores, or to study if she is in school, and will spank her hard for any disobedience.  If she does not like it, she can leave.  However, in every case, the girl has asked to be controlled more strictly, spanked harder, made to do things more precisely, and so on.  If she did not want to be taken-in-hand, told what to do, and spanked hard when she disobeyed, she would not have shown up in the first place.  This meeting is also an "audition" for the husband/daddy in that the girl is finding out if she is being controlled and spanked as she desires.  Just as with any dating arrangement, either both are satisfied with the relationship, or they leave.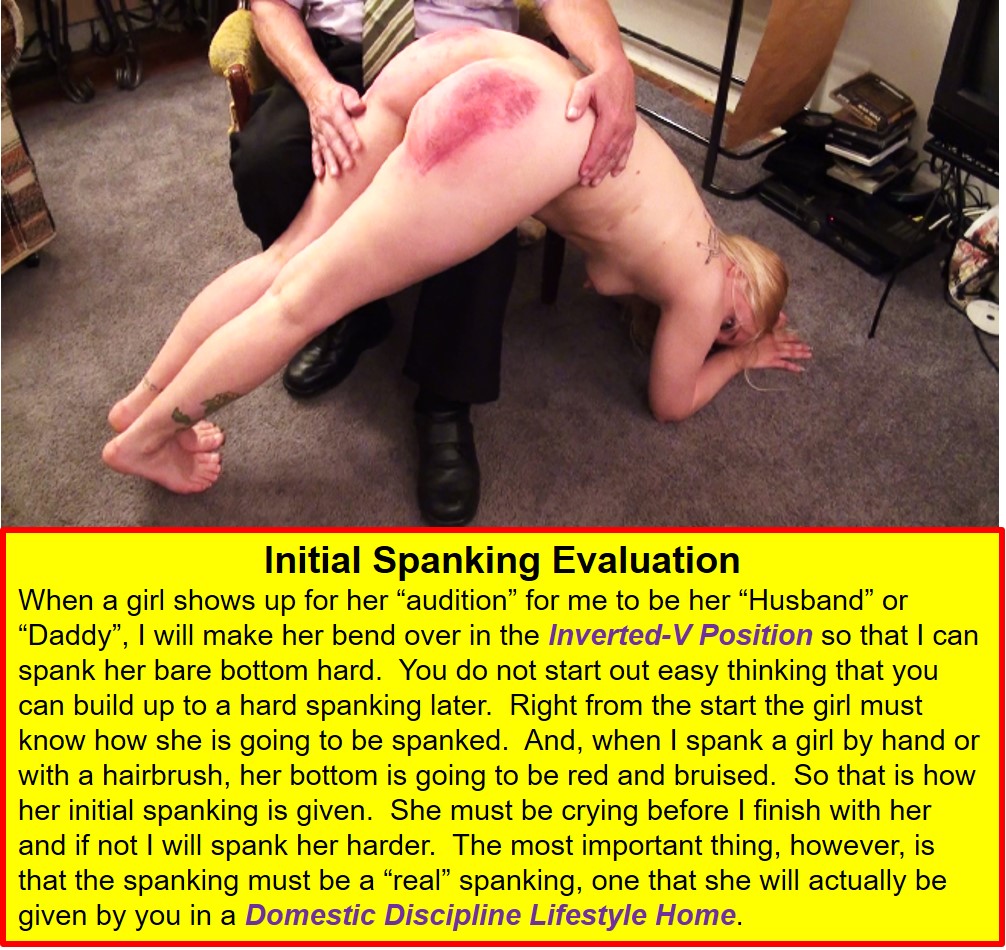 In a Domestic Discipline Lifestyle Home the wife or daughter must ask permission to do whatever she wants to do, but most often she will just have to obey what her husband or daddy tells her to do.  In one home she would go and sit down as she was told what to do.  In the other 2 homes she had to strip naked and kneel in front of her husband or daddy.  If she has to be spanked when she comes home, which she normally does, she will be lectured for 5 to 10 minutes or so and then ordered to bend over her husband's or daddy's knee. 
Also, to maintain control of the girls, they will be ordered to present themselves for nude inspections as they are made to stand to be inspected, and then kneel to present themselves.  These inspections are done almost every time a girl comes home, but a girl can be stopped at any time in the home, made to strip naked and present herself for an inspection.  Daughters, in particular, are frequently stopped during the day to be inspected so that her father can check to see if she has been masturbating or fantasizing too much.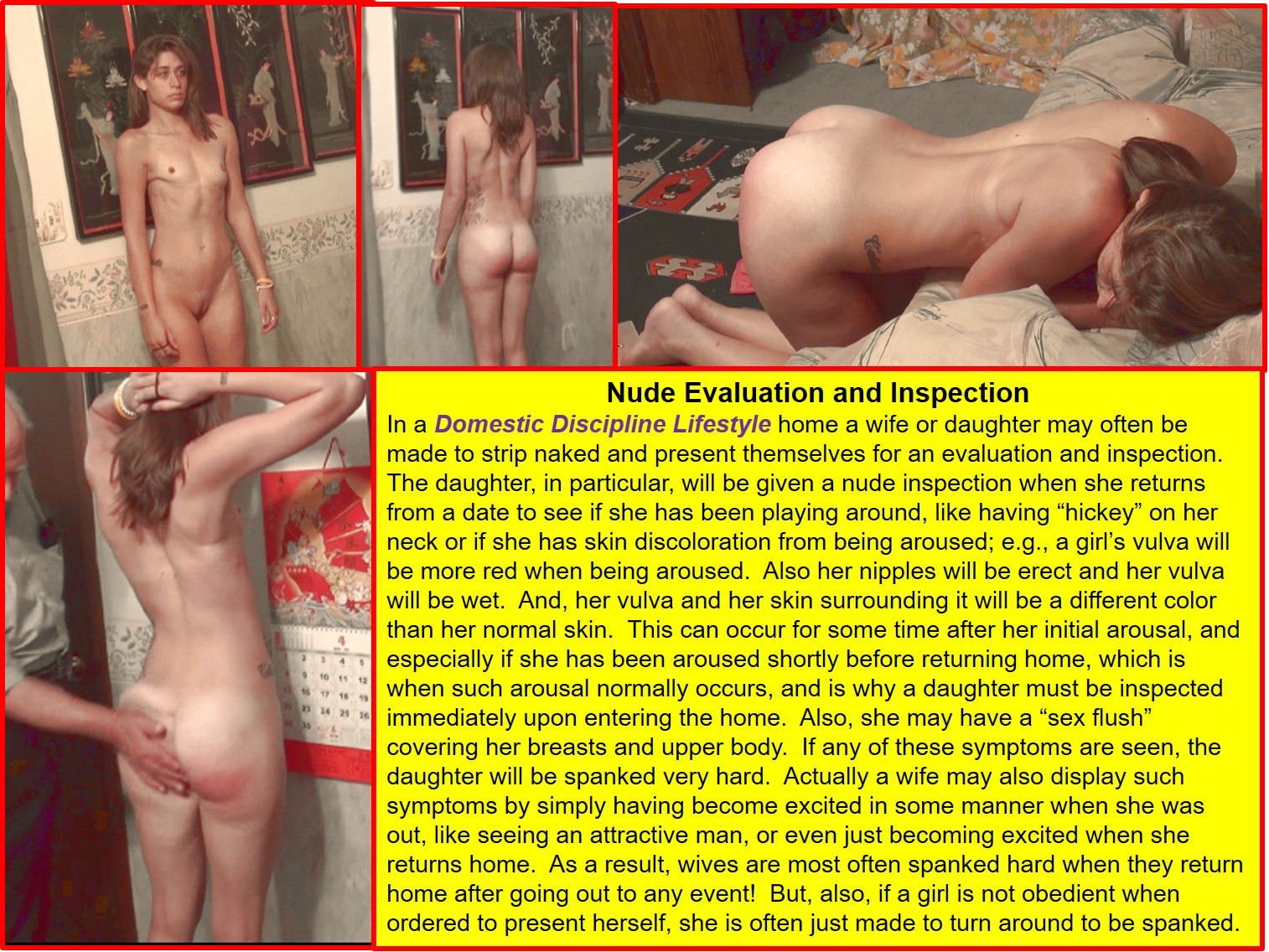 While there, of course, are some differences between the 3 families who reported about their Domestic Discipline Lifestyle in terms of how they are spanked and controlled, there is a lot of similarity in what each family does.  One of the more interesting differences from other Spanking-Discipline Families that I have reports from is that all 3 of these families used Progressive Spanking as a fairly common practice, even though it requires a lot of time and effort to implement.  Progressive Spanking is a spanking session in which the girl must progressively remove her clothes as she is repeatedly spanked.  And it starts when she first enters the home—she must remove her shoes, and most often she must also remove her socks.  She must then report to her husband/daddy to see if she has to be spanked, or he will tell her what she is to do. 
If a girl is given a

Progressive Spanking

, then after spanking her over her clothes, she is ordered to strip from the waist down and bend over for another spanking.  Each spanking is for 5 to 10 minutes.  Then she is ordered to strip naked and bend over again for a 3rd spanking.  Of course each time she bends over and presents her bare bottom, her husband/daddy will spend some time caressing her cheeks and probably stroking her clit as he continues to lecture her about her behavior and what is expected of her.  Then, with her naked he will spank her for 10 to 15 minutes or longer by hand and with a hairbrush, paddle or strap.  She must be crying freely before he finishes with her.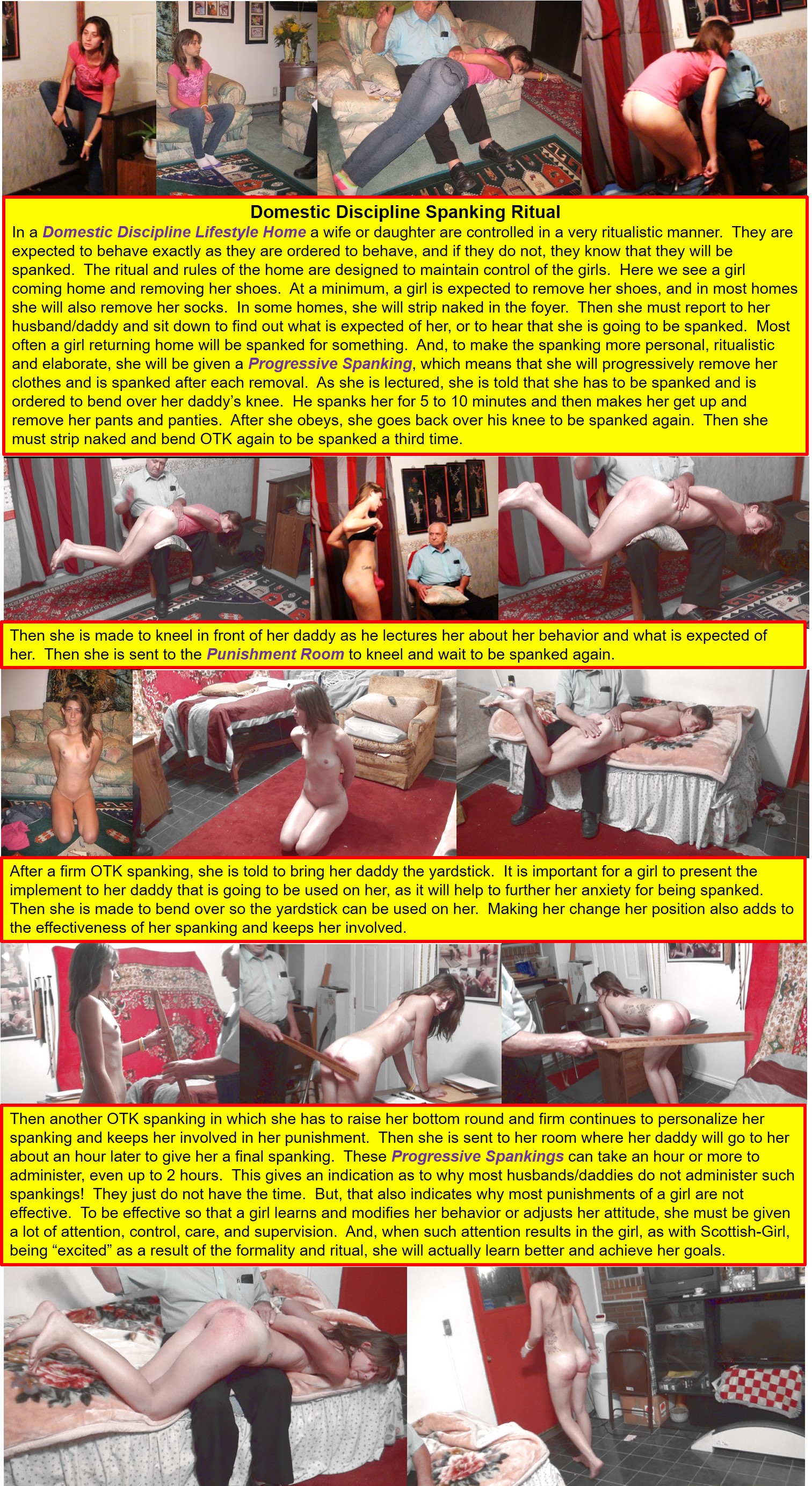 Then she will have to kneel naked on the floor as he tells her what she is to do and when to report to the Punishment Room to be spanked again.  This last spanking is often a

Before-Bedtime Spanking

.  And before this spanking she will have to kneel in the Punishment Room and wait to be lectured and spanked.  This spanking is normally by hand or with a hairbrush for 10 to 20 minutes, although often it will be for 30 to 45 minutes.  One girl reported that her

Before-Bedtime Spankings

were for an hour after which she had to go to bed naked so she would be ready to be spanked again in the morning for 15 minutes with a hairbrush applied very hard to each cheek. 
Now in a Domestic Discipline Lifestyle Home, it is important for the husband/daddy to keep control of the girls, and one effective means of control is to make the girl stand at-attention and keep her mouth shut!  See the photo-story below about how one family was kept under control.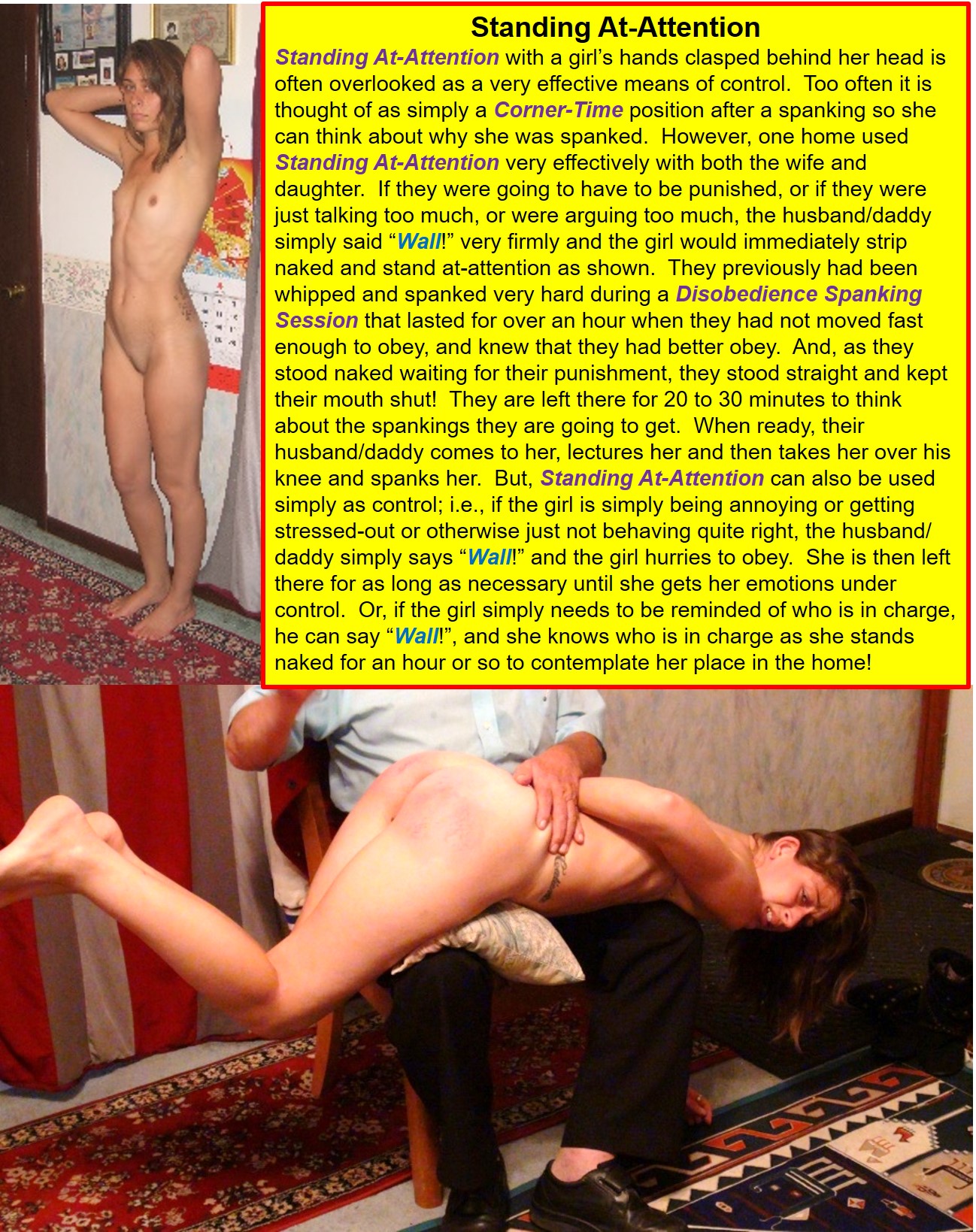 Continuing now, Scottish-Girl wrote: 
My focus is to find someone professionally experienced in this area, not just someone from a personal ad. My first port of call was contacting UK-based spanking websites, to see if they could provide a service (off camera) for me. Unfortunately the answer has generally been that unless I'm willing to have pictures taken, which will be splashed across their websites, then it's a no.
When contacting spanking websites that publish spanking movies, the intent of that website is to produce spanking movies and they have no interest in your personal need and desire to be spanked in order to achieve your own personal goals. And, as with Scottish-Girl, it is important to find someone who knows what they are doing, and not just someone who thinks that spanking a girl means beating the crap out of her! I am one of the few spanking professionals who will actually prepare a program for you that is designed to meet your own personal needs, whether that is to improve your academic performance, your domestic obedience, your career goals, your personal goals, or to punish you for your misbehaviors. Of course, such professional services are provided for a fee depending on what is desired. 
Fees are for the counseling services, program development, and continuing monitoring, control, supervision, and spankings that are required for you to achieve your goals. An initial non-refundable Application Fee of $200.00 is required due to the amount of time and effort that is required to prepare an individualized program, and helps to eliminate the girl who simply wants to chat. Final training and counseling fees are dependent on the program and are in addition to the Application Fee. One such program was developed for a girl who was to be controlled and punished 24/7 for 6 weeks at a fee of $1,500.00/week. Her training program is described as follows: 
Training Objective:  To develop self-control, self-confidence, attention-to-detail (being "focused"), rule-based obedience, self-pride, and domestic submissive-obedience with confidence and pride that will lead to being able to choose an exceptional career and personal life that will be enjoyable, in line with her abilities and desires.
Order Obedience:  The primary expected personal development is with respect to her developing self-control and self-confidence.  She is to be in-control of herself!  When ordered to do something, she is to do it exactly as she is ordered to perform.  She is not to complain about what she is told, but is to be obedient and do exactly what she is told to do.  Order-obedience is a critical factor of her training.  And, she must learn that she is in control of herself when she obeys an order given by someone else.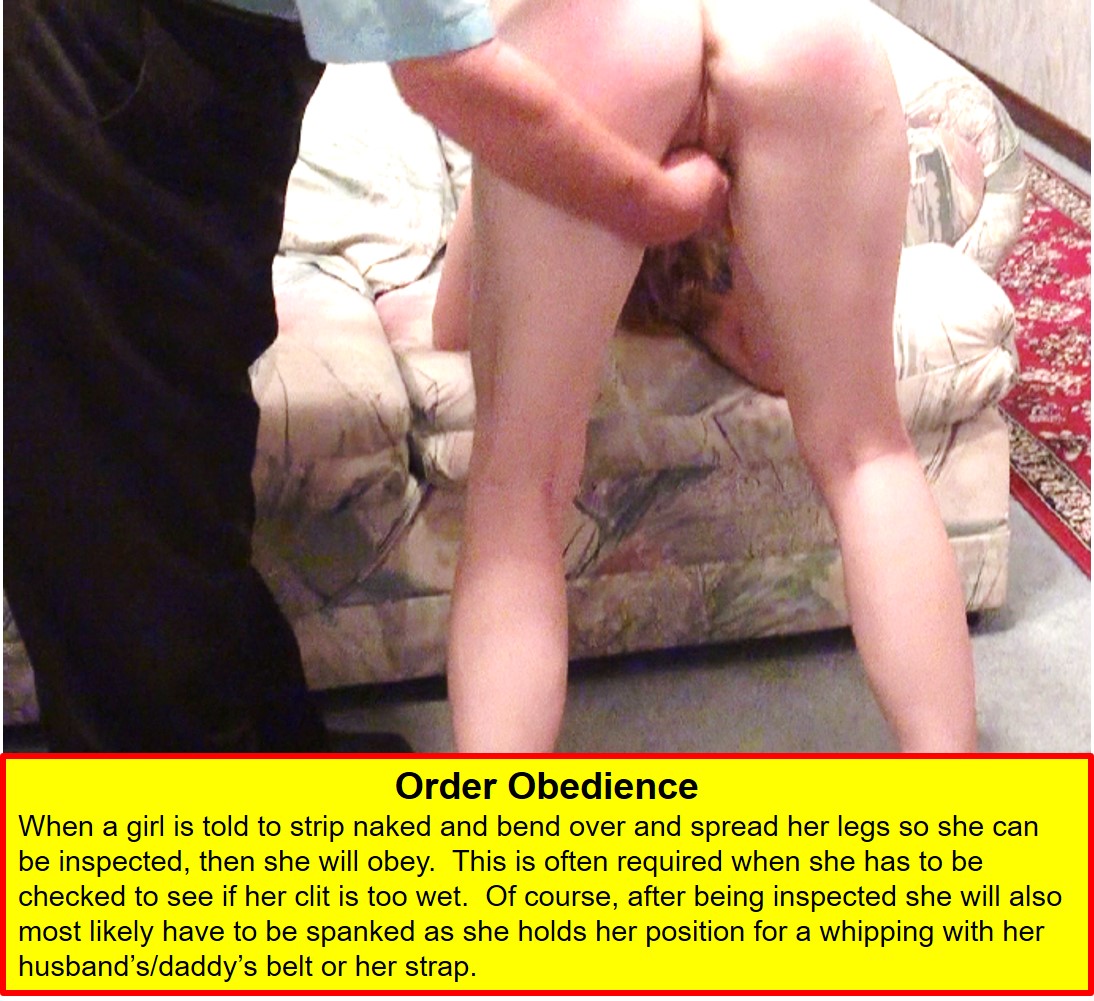 She must also learn to select a career path and develop the work-skills that are applicable to that career-path.  This career-path selection process must be addressed the first week of training. 
She must learn to develop her submissive-obedience in completing domestic chores and personal service so that she is happy with her own life and able to be compatible and productive in a homelife with her family and her future boyfriend and husband.
Frequent daily spankings are critical to her proper development.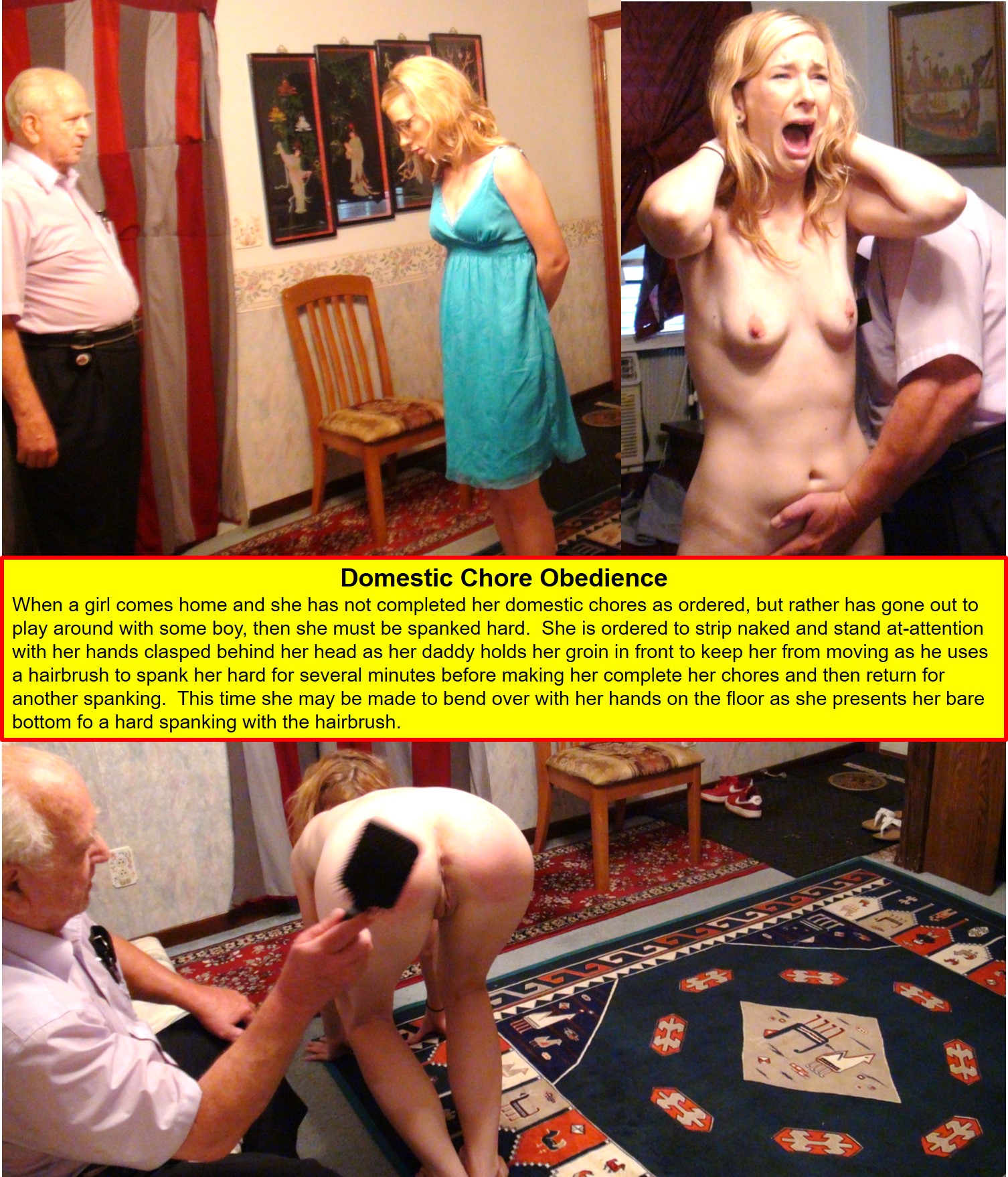 Training Methodology:  The training methodology provides a very strict training environment in which she must exhibit abject obedience 24/7 to the directives and orders of her Headmaster.  As much as possible, she will be continuously monitored, supervised and controlled concerning her behavior and attitude.  Cameras will be placed throughout the home so that her activities can be continuously monitored from her Headmaster's office.  If he sees that she is misbehaving or not completing her chores, he can immediately go to her and spank her.  She will be disciplined and punished for disobedience and misbehavior, as well as given preemptive and maintenance spankings and examinations, as well as no-notice spankings and examinations.  It is expected that she will initially resist stripping naked and get ready to be spanked when ordered, and she will move her bottom too much when being spanked or attempt to cover her bottom with her hands, and that she will hate her Headmaster for being so strict with her and spanking her and punishing her so severely, and that she will not always be obedient … but that is what severe bare-bottom spankings and other severe punishments are for—to make sure that she "modifies" her behavior and "adjusts" her attitude.  If she already did not resist stripping naked and presenting herself for her spankings, did not move too much when being spanked or attempt to cover her bottom, did not hate her Headmaster for being strict and severe with her, and was always obedient, then she would not need her Headmaster's caring, consistent, firm, strict and severe control and training.
Training Activities:  She must submit to the following activities, which will be implemented as determined by her Headmaster, as well as other activities persented throughout this Development Program.
She will be spanked by hand, paddle, strap and other implements determined by her Headmaster.
She will receive Pussy-Whippings with a Flogger; and she will receive Anus-Spankings with a Tiger Cane. [NOTE:       These punishments are determined according to the individual needs of the girl. Not all girls are administered such punishments, but will be if required and agreed to. Only those punishments are administered that are agreed to by the girl!]
She will cry when she is spanked or whipped, or she will be spanked and whipped harder until she does.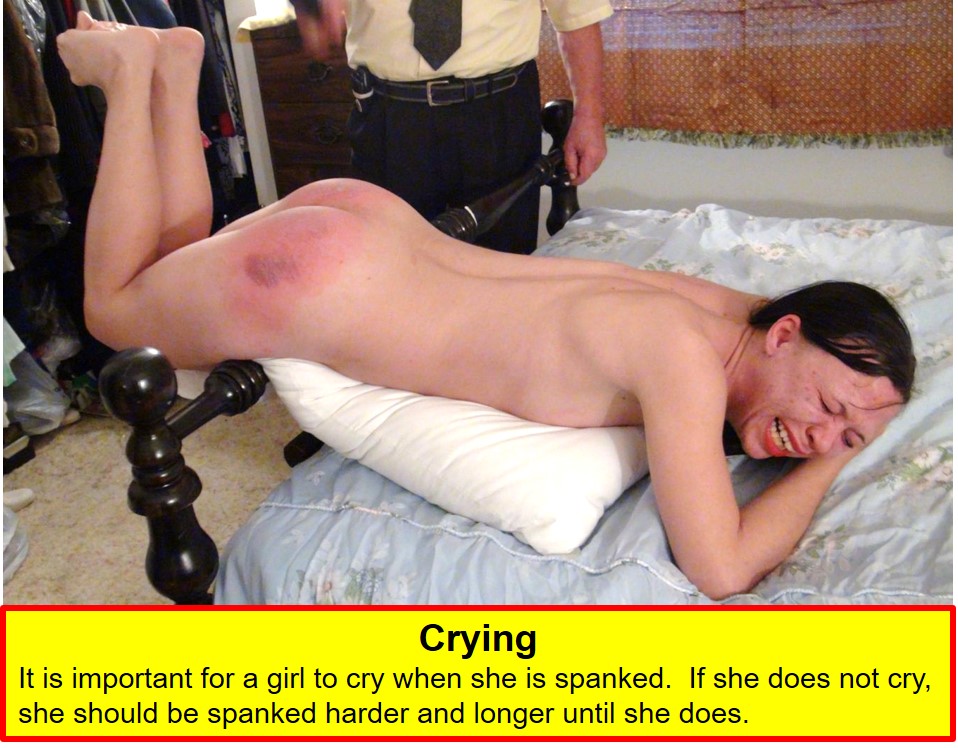 4.  She will be administered the following types of spankings as determined by her Headmaster:  Punishment Spankings (administered as required), Discipline Spankings (administered as required), Maintenance Spankings (2 to 3 per day for the first 2 weeks of training, and then as determined necessary thereafter), Preemptive Spankings (administered several times per day as required), Disobedience Spankings (administered as required), Morning Obedience Spankings (administered every morning, except Saturday), Immediate Incentive Spankings (administered as required), Before-Bedtime Spankings (administered every night before bedtime, except Saturday), Bedtime Spankings (administered as required), Submission Spankings (administered daily for the first week, and then 3 or 4 times per week, as required), Obedience Spankings (administered as required, but also administered during Obedience Training Sessions each day for the first week and then as required thereafter), Academic-Time Incentive Spankings (administered as required every 45 minutes during study time), After-School Spankings or After-Work Spankings (administered as required), and other spankings determined to be of value for her training.  [NOTE: The spankings that a girl receives will depend on her personal program.] 
5.  She will keep her groin-area shaved smooth and will submit to a Cotton-Ball Inspection to determine if she is shaved smooth as required.  If she is not shaved smooth, she will be spanked hard.  [NOTE: This inspection is required of all girls who are in an extended training program to assure their abject obedience and to assure that they will obtain their goals. These inspections help a girl to focus on herself and what she needs to do to succeed, and to pay-attention-to-detail, which is required for all goal-attainments.]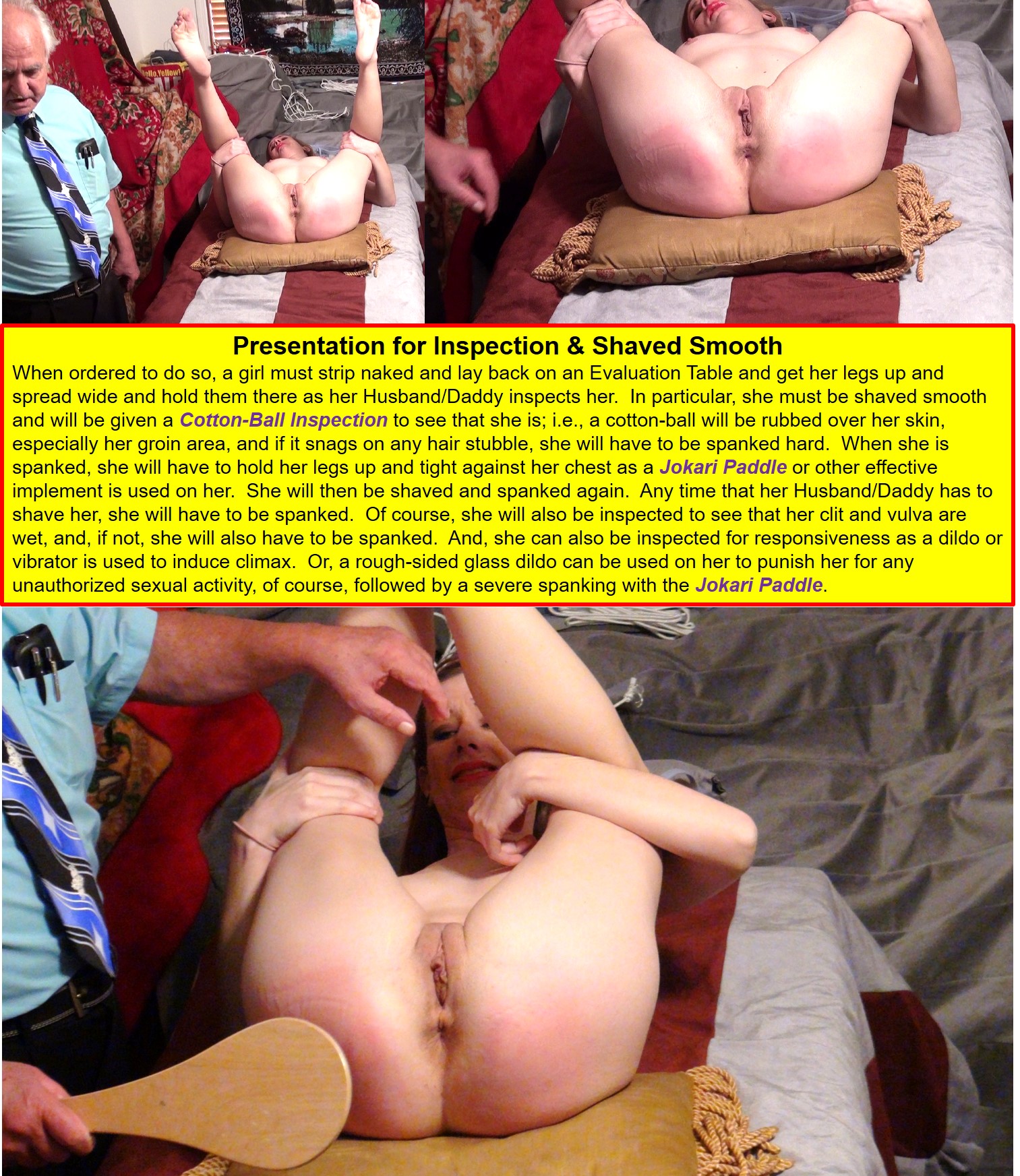 6.  She will present herself as ordered by her Headmaster for full-body nude examinations.  Such examinations will include her entire body, especially her groin area and vagina, but also her hands and feet, especially her nails, her neck, ears, and hair, her mouth and tongue, her breasts and nipples, which must be erect when she reports for her inspections and spankings, her vulva, which must be wet when she reports for her spankings or inspections, and she will be spanked hard if her nipples are not erect or her clit is not wet.  If her nipples are not erect, they will be pinched hard to make them erect and will be pinched hard until she cries.
7.  She will be made to submissively model by assuming various positions as ordered by her Headmaster to train her properly in assuming various spanking and examination positions, as well as  learning to be abjectly- and submissively-obedient to orders and learn to be a proper domestic-submissive.  In order to be trained properly, girls must be submissively-obedient and must learn to present their naked body as ordered.
She will be naked at all times in the home unless ordered to dress.

She will always wear a skirt and blouse when leaving the home, or as appropriate in cold weather, and must always report to the home wearing a skirt and blouse, or as appropriate in cold weather.  She is never to wear shorts, slacks or other such clothing unless authorized.  She will be spanked hard if she is not properly dressed.

She will sit on a Vaginal-Protrusion Punishment Stool unless given authorization to sit elsewhere.  When she does, she will sit upright to perform whatever task is assigned, or she will sit upright with her hands clasped behind her head and her legs spread wide.  She must sit straight and not slouch.  If she slouches or does not sit properly, she will get up off the chair and bend over and grasp her ankles so that she can be whipped hard, and will then sit down properly and maintain her proper position.
She will present herself for vaginal dildo-punishment as ordered by her Headmaster, and will have her pussy scrubbed with a Pussy-Brush to make her wet and for punishment, especially prior to a Pussy-Whipping.  She must be wet before being pussy-whipped, and if she is not, she will be given a pussy-brushing and have her clit stroked until she is properly wet.  Then she will bend over and grasp her ankles to receive a hard strapping before proceeding with her dildo punishment.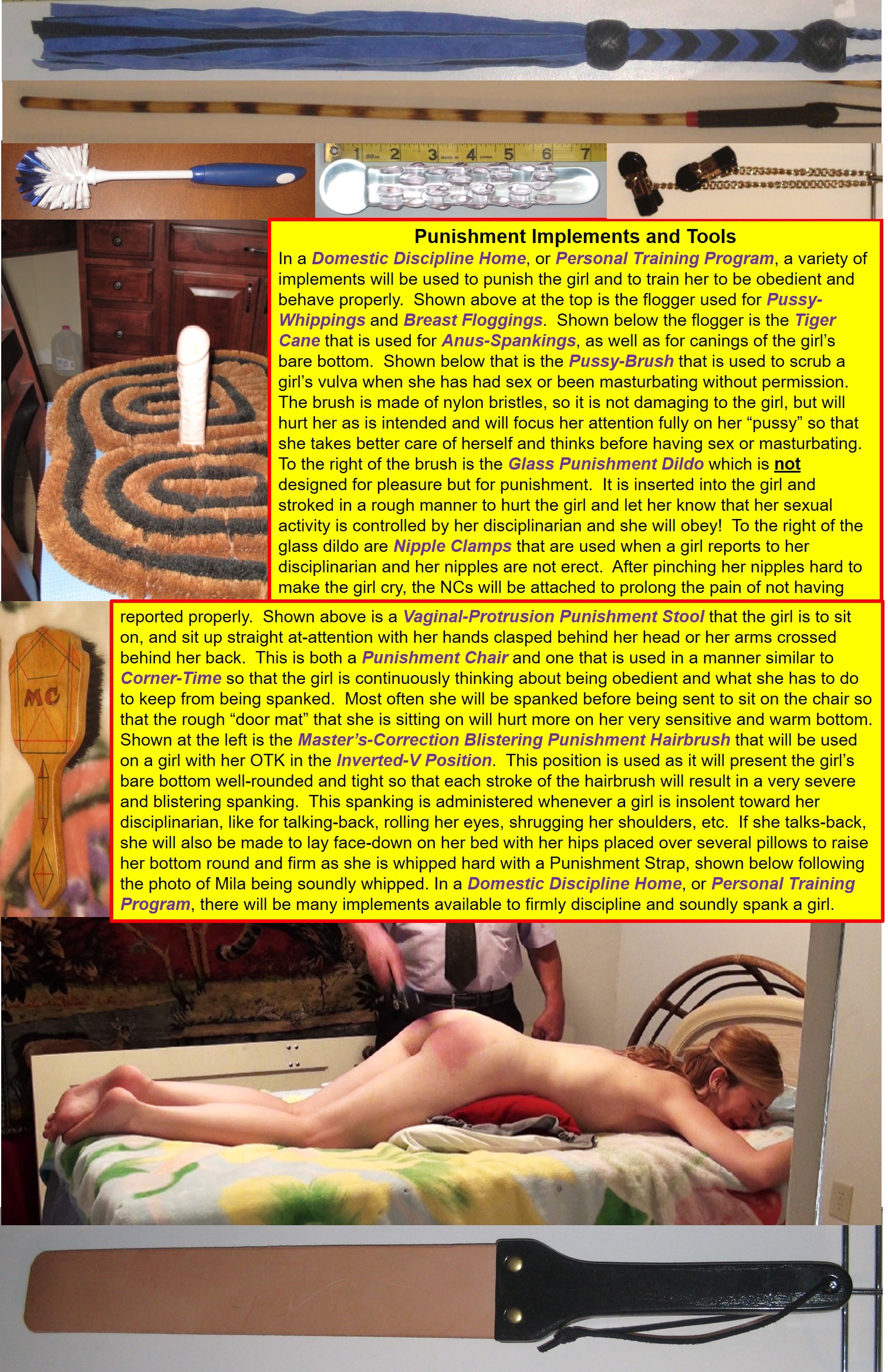 11.  She will submit to being given an Enema as ordered by her Headmaster.  [NOTE: Enemas are dependent on the training program.]
She will present herself as ordered at any time to be spanked and inspected.
She will perform Forced Masturbation, or submit to dildo and vibrator use as ordered but will climax only with the permission of her Headmaster.  She must never climax without permission, and will be severely spanked if she does. 

[NOTE:   This punishment totally depends on the selected personal-development program.]

Upon entering the home, she will immediately remove her shoes and socks and then move to the family room where she will immediately strip naked without being told to do so, and stand in front of her Headmaster at-attention with her hands clasped behind her head and her feet spread more than shoulder-width apart and wait for her orders.  Whenever she presents herself to her Headmaster, her nipples must be erect and her clit must be moist.  Her Headmaster will check both whenever she presents herself to him and she will be spanked if they are not as required, and Nipple-Clamps will be attached if her nipples are not erect, and she will be given a Pussy-Scrubbing with the Pussy-Brush if her clit is not properly wet.
She will be given Preemptive Spankings before she leaves the home for any reason (including when she is sent to a barn for punishment, if any), and may be given Preemptive Spankings for other activities even within the home; e.g., when she is sent to take a bath, prepare a meal, or any other activity.
She will be severely punished if she ever talks-back or is otherwise insolent (like rolling her eyes, shrugging her shoulders, or other signs of disrespect, as determined at the sole discretion of her Headmaster) to her Headmaster to include having her mouth washed out with soap and then whipped hard as she lays face-down on her bed, followed by a blistering spanking  OTK with the Master's-Correction Blistering Punishment Hairbrush.  She acknowledges, consents to and agrees to such punishment, recognizing that she will be screaming and crying, even crying convulsively, throughout the punishment and her bottom will be red, bruised and blistered after her spanking is completed.
She will not swear, drink alcohol, or smoke, and will not lie, cheat or steal.
She will obey all orders given to her by her Headmaster.
This training program is what is required for any girl who truly wants to live in a Domestic Discipline Lifestyle Home. Forget the "agreements" of the other websites—either you want to be submissive and obedient, and to be given hard spankings, and you want to be controlled throughout your day, or you don't. If you don't, leave. If you do, then no agreement is necessary since you actually showing up is the agreement. 
A discussion of a Domestic Discipline Lifestyle Home will be discussed in the next post as described by punishments actually received by Scottish-Girl.