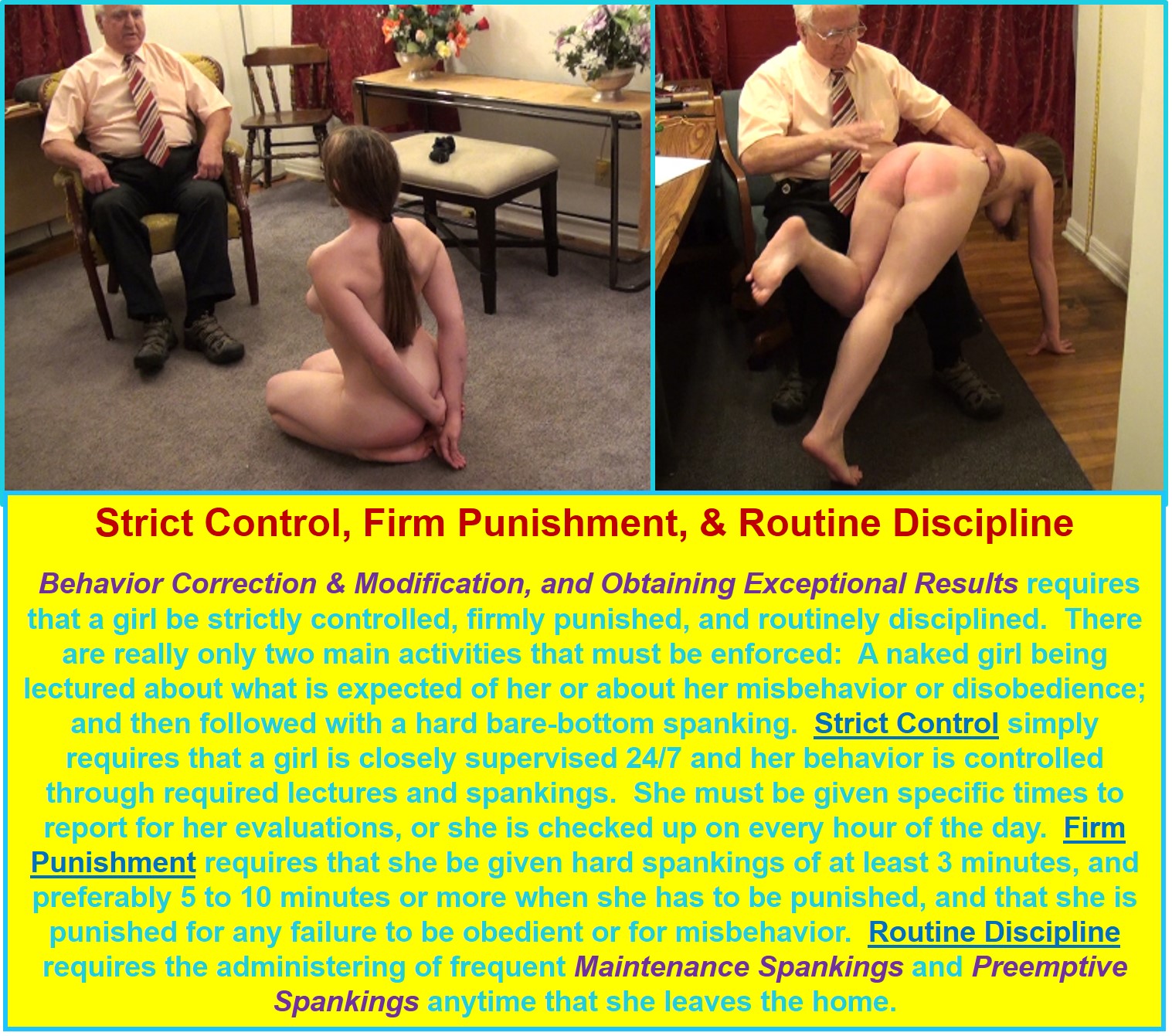 .
For the best in the spanking of Girls-Spanked-Bottoms, please go to Spanked Coeds by clicking on the bar below:

I previously published posts on another blog site during 2009 to 2011.  I published 33 posts in that blog.  You can see those posts at:

NOTICE:  Due to the amount of spam being received, no comments will be accepted.
Recently, many viewers have found my exceptional videos on Spanking Library.  For immediate download, go to Spanking Library to find some of my excellent spanking videos.

.
I have received several requests from girls for me to supervise them, control them, and spank them when they misbehave or disobey me. The sentiment of these girls is conveyed by the following message: 
I do so much better when I am strictly controlled, firmly punished and routinely disciplined.

I want to be spanked hard when I disobey you, disobey your home rules, or misbehave; and I want to be routinely spanked on a daily basis with maintenance and preemptive spankings; and I want to be given thorough nude inspections so that I know that you are my Master, the one who controls me and to whom I must be obedient and present myself to you naked as you order either for my spanking or your inspection of me. My behavior and body are yours to correct and to be handled as you order.
In other posts, I have discussed the need for "Structure and Discipline" for a girl. The messages and requests I have received indicate that this structure and discipline is much more widely desired than I thought it might be. Now, it is not a question of being a boorish moron, but of giving constructive counseling and control. The girls are not interested in nor do they want some Neanderthal who just beats them and uses them for their own pleasure, but someone who is caring and concerned about the girl's personal ambitions. These girls just realize that they do much better when they are controlled by a loving and caring Master. This sentiment is seen in the following: 
Thank you for all of the advice you have given me and how clearly you explain things that make me feel much better about myself—the control I need, the punishments I need, and especially the spankings I need are all necessary to help me improve and think positively about myself and my abilities and what I do and want.

As a result of your counseling, control and punishment-spankings that you have given me, I am doing much better in school and at work, and when I am negative about myself, or do not succeed as I should in school or at work, you are right there waiting to strip me naked and make me bend over to be spanked hard. And, the hard spankings you give are necessary so that I know that you will not accept anything from me but my best.

As seen here, there is more to the proper care and training of a girl than simply spanking her once-in-awhile when she misbehaves or is disobedient. Training and controlling a girl properly requires a lot of time and dedication. She must be continuously supervised in some manner throughout the day. And, if she needs to be spanked, she must be spanked. 
Too often, a girl's Master will be too "tired" or "has other things to do" to pay attention to the activities of a misbehaving and disobedient girl. Such discipline is totally ineffective, and may be counterproductive. Close daily supervision, strict control, and firm punishment are required to help a girl properly. 
Strictly Controlled:

 
To strictly control a girl, she must be given definite Rules-of-the-Home to follow. Then, her daily activities must be evaluated every day. I prefer an evening "Family Meeting" where the girl has to report naked for the meeting and kneel to discuss her day. She must be naked so that she is ready to be spanked in the event a spanking is required, which it normally is.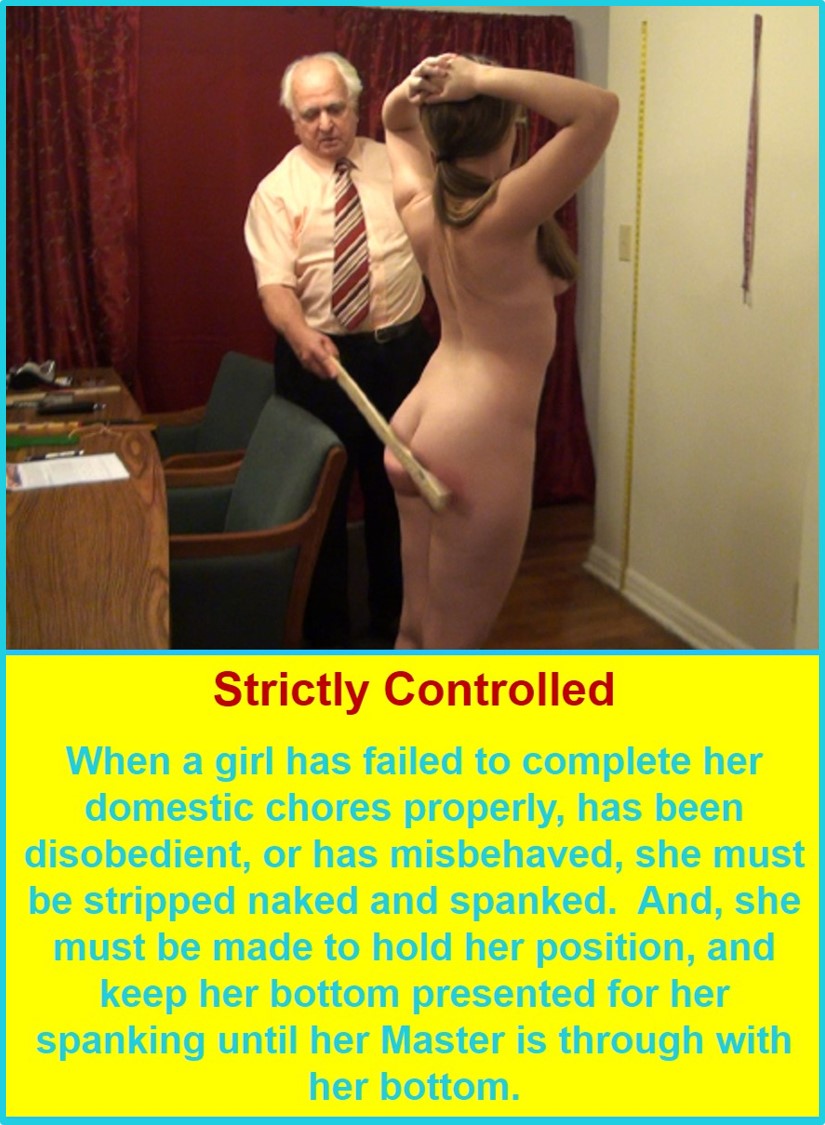 When the girl is at home, I will check up on her at least once every hour. If she is studying, then I will check to see if she is getting her homework done.   I will quiz her on what she has studied and, if she does not answer correctly, I will bend her over her desk for a spanking. 
If she is doing her domestic chores, I will check to see if they are done properly. Of course, if not, she will be made to bend over for a spanking. 
Firmly Punished: 
When a girl has to be spanked, it is not enough to just give her a few pats on her bottom, or to just give light slaps.   To make a believer out of her, she must be spanked hard, but not a "beating" … just a very firm and hard spanking by hand, with a paddle or strap. And, the spanking must be long enough that she actually knows that she has been spanked. A spanking should be at least 3 minutes long, and, most often, it should be 5 to 10 minutes or longer. Of course, she can be given several shorter spankings, 1- to 2-minute spankings, but then the spanking session must be long enough that she is spanked properly.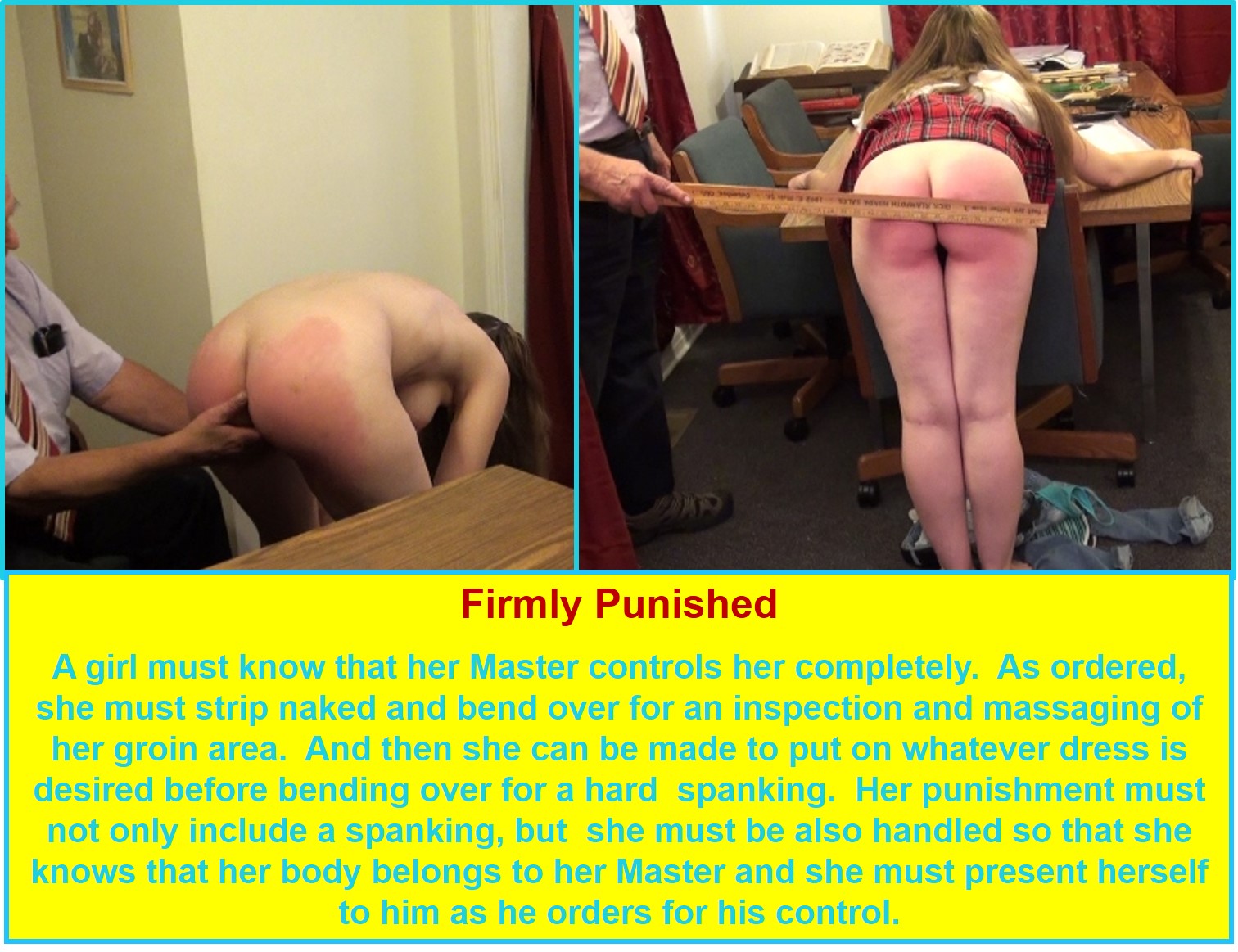 Click the title frame below to see a spanking-session.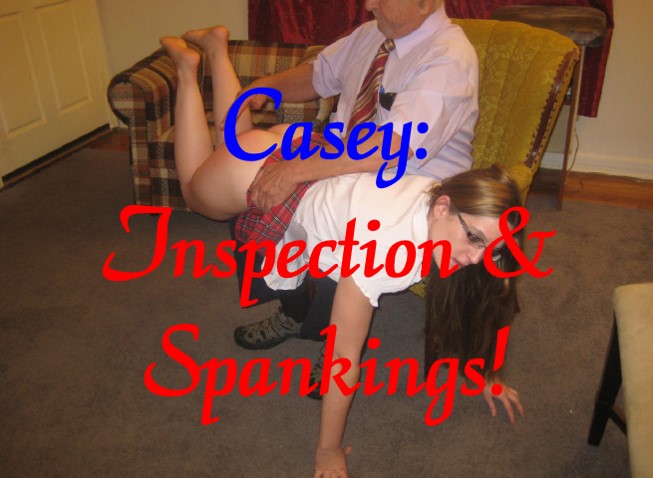 Routinely Disciplined:

 
To make sure that the girl is continually focused on what is expected of her, she should be given frequent

Maintenance Spankings

and

Preemptive Spankings

. For best results, she should be spanked daily for some reason. If she needs to be punished, of course she should be spanked hard. But, if not, then she should be given a

Maintenance Spanking

. This can actually be given as an After-School or

After-Work Spanking

. Each day when the girl comes home, she should be taken to a Punishment Room, made to take her clothes off and bend over for a 5-minute After-School or

After-Work Spanking

. Then she should be sent to study or to get her domestic chores done.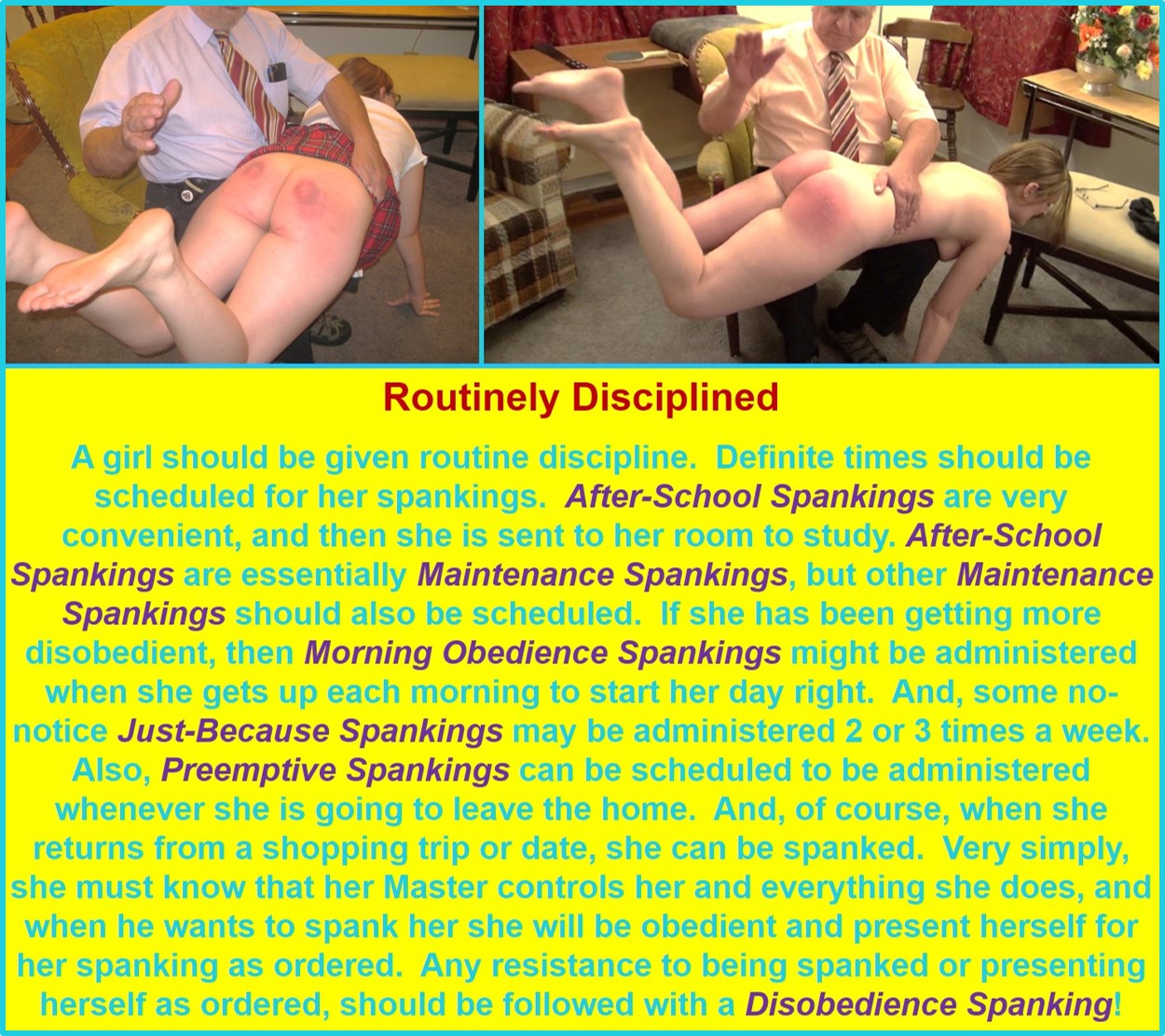 And, she should be given Preemptive Spankings whenever she leaves the home. If she is going shopping, she should be given a

Preemptive Shopping Spanking

, and then when she returns, she must present what she bought and how much she spent. If there is a problem with either, again she must be spanked. If she is going out in the evening with the girls or on a date, she should be given a

Preemptive Spanking

. And, when she returns home, she should be evaluated to see if she had sex or misbehaved in any way. Most often, I will spank the girl regardless, knowing that she will probably not tell me what she actually did, and did misbehave in some manner. 


Go to Spanked Coeds to see more spankings of Casey, along with many other girls.

 

Click on the banner following the below photo to see more girls!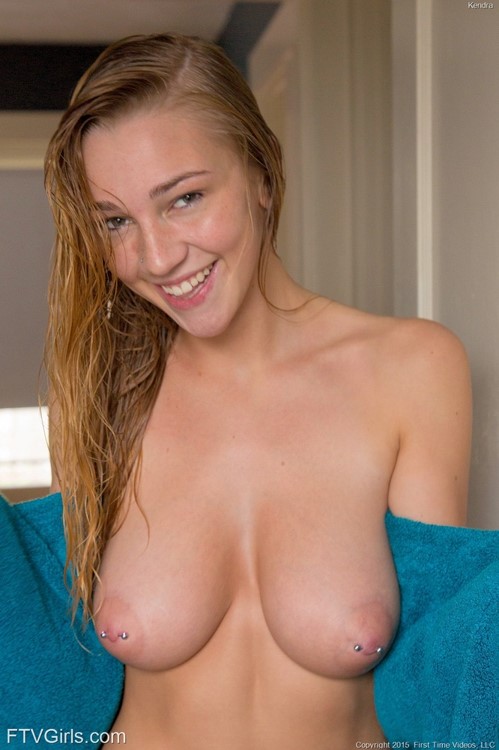 :